Online Extra: Political Notes: Progressive lawyer aims to take on Pelosi in November
Friday Feb 28, 2020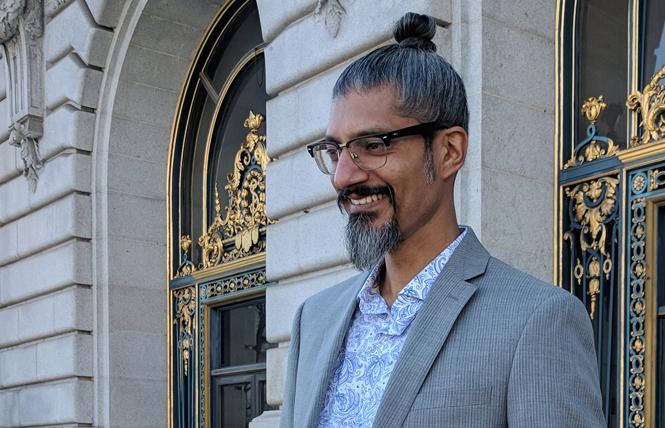 Two years ago progressive Democrat Shahid Buttar's bid for the 12th Congressional District seat in San Francisco came to an end in the primary race. The attorney and deejay fell short by 1,174 votes to advance to the general election that November, landing in third place behind Republican Lisa Remmer.
Remmer — to no one's surprise — lost that fall to Democrat Nancy Pelosi, at the time the House minority leader. As for Buttar, he remained undaunted and immediately began laying the groundwork for a second bid for the House seat this year.
After seeing progressive Democrats Dean Preston and Chesa Boudin elected in November as the city's District 5 supervisor and district attorney, respectively, Buttar is now looking to ride a progressive wave into second place in the March 3 primary race next Tuesday. Preston, a democratic socialist, has endorsed Buttar's House bid.
"There is no credible threat to our second place," a confident Buttar told the Bay Area Reporter in an interview Thursday.
He could also see a boost from the fact that he is running this time in a presidential year. A longtime backer of Senator Bernie Sanders (I-Vermont) for president, as he supported him in the 2016 primary race, Buttar has been endorsed by a number of groups affiliated with Sanders, who is expected to do extremely well in San Francisco Tuesday based on various polls of the presidential race.
"I have been supporting Bernie for five years and doing it very actively with a lot of community people," responded Buttar when asked if he thought it was advantageous to be running this time on the same ballot as that of Sanders. "I am very excited but not surprised to see Bernie rise in the polls."
Fittingly, Buttar will be watching the vote count come in Tuesday night at Mission bar Zeitgeist to see if his electoral boast proves true. But, like in 2018, his House bid could hit a wall next week.
Two other Democrats had been running against Pelosi this year, though neither raised as much money as Buttar, who told the B.A.R. he had garnered more than $500,000 in donations for his campaign. Due to a lack of financial support, former Massachusetts state representative Tom Gallagher, who has taught in the city's public schools, withdrew from the race in early February, though his name is still on the ballot.
Still in the race is millennial and former nationally competitive jump-roper Agatha Bacelar, a Brazilian immigrant who went to Stanford. She quit her advocacy job with Democracy Earth and documentary filmmaking in order to run against Pelosi.
On the GOP side, businessman John Dennis is again running against Pelosi, having lost to her in 2014, as is Deanna Tesoriero, whose ex-boyfriend Omar Navarro was arrested for allegedly stalking her in San Francisco. The San Francisco Republican Party has endorsed Dennis, who sounded a confident note of his own in an email this week to local GOPers.
"The SFGOP has turned a corner and is growing. Standing together, the Republican Party will be a force for a better quality of life for ordinary San Franciscans," wrote Dennis. "This year, in a Primary election critical to the SFGOP's future, we're using the ballot to make a statement: 'Stop the lurch to the left!'"
Dennis could be helped in securing second place come Tuesday — and thus seeing Pelosi again be a shoo-in to win come November — by the two Democratic challengers splitting any protest vote against Pelosi. Plus, Pelosi appears to be riding an even larger wave of support from Democratic voters this year than she has in past elections.
Due to Democrats retaking the House in the 2018 midterm elections, Pelosi was re-elected House speaker last year and has used her powerful post to pass a host of progressive bills, including the sweeping LGBT rights bill the Equality Act (though most have gone on to gather dust on the desk of Republican Senate Majority Leader Mitch McConnell of Kentucky). And after resisting calls from those in her party who wanted to impeach President Donald Trump, Pelosi last summer moved forward with the impeachment process after it was revealed the president had withheld military aid to Ukraine because the Eastern European country had not launched an investigation into his political rival former vice president Joseph R. Biden Jr. and his son Hunter, who had joined the board of a troubled Ukrainian energy company.
The House last December voted along partisan lines to impeach Trump, though the Senate refused to remove him from office in January; the vote again largely broke down along partisan lines. (GOP Utah Senator Mitt Romney was the lone Republican to vote in support of one of the two articles of impeachment.) Nonetheless, the process helped to bolster support for Pelosi among Democrats both at home and across the country.
Case in point, this week Democratic voters in Pelosi's district received a mailer from the slate of progressive candidates seeking seats on the body that runs the local Democratic Party that read as an endorsement not only of their candidacies but also of the House speaker's reelection bid. The mailer not only features two photos of Pelosi side-by-side with gay Democratic Party Chair David Campos but also blares, "For SF Democratic County Central Committee vote for these activists that will support Speaker Pelosi."
Many of the slate members are LGBT leaders who are also members of the city's more progressive Harvey Milk LGBTQ Democratic Club, which took no position in this year's House race after endorsing Pelosi in 2018. (The more moderate Alice B. Toklas LGBT Democratic Club is again backing Pelosi.)
Questions
During the Milk club's endorsement process late last year, Buttar faced questions as for why he hadn't identified himself as queer on its candidate questionnaire. As Buttar has repeatedly explained to the B.A.R. over the last two years, he is a cisgender heterosexual man but also identifies as queer due to his gender expression being fluid.
"I never felt gender policed except in front of the Harvey Milk club," said Buttar. "One of the things that makes our city beautiful is it accepts me for whoever I am. It is one of the reasons I like San Francisco and one reason why I want to represent it in Congress."
But first, Buttar has to survive next week's primary to have any chance of unseating Pelosi come November, an outcome most political pundits would consider a quixotic quest.
Keep abreast of the latest LGBT political news by following the Political Notebook on Twitter @ http://twitter.com/politicalnotes
Got a tip on LGBT politics? Call Matthew S. Bajko at (415) 829-8836 or e-mail m.bajko@ebar.com
Comments on Facebook