Online Extra: Breed, Haney announce supervised injection plans
Thursday Feb 27, 2020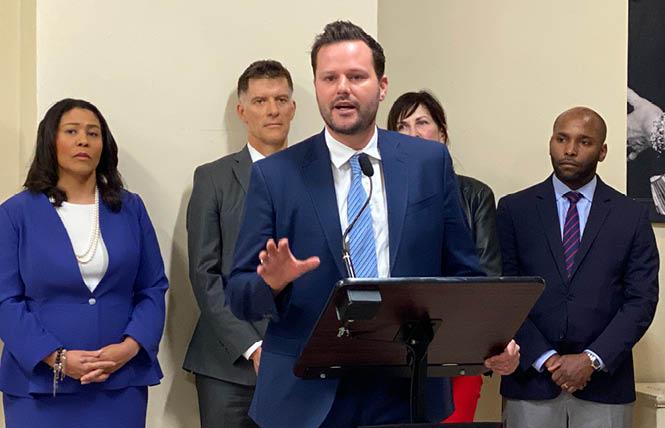 Two days after a judge in Philadelphia issued a final ruling allowing that city to open a supervised injection facility, San Francisco leaders announced Thursday they would introduce legislation next week to prepare for a similar program.
Advocates said the timing of the February 27 news conference at Glide Memorial Church was a coincidence. San Francisco officials still face various hurdles to opening a site where people can use drugs under the supervision of trained staff.
Mayor London Breed and District 6 Supervisor Matt Haney said that they would introduce legislation next week to prepare for the opening of supervised injection sites in San Francisco.
"The challenge that we face in the city and throughout this country is not having an honest conversation about people who struggle with substance use disorder," Breed said at the news conference. "Complaining about it and moving people from place to place to place does not solve the problem. I think we have to change the kinds of services we provide to help people who deal with those challenges."
Harm reduction advocates in Philadelphia said they plan to open the country's first supervised injection site soon. The move follows a federal judge's decision that such a facility would not violate federal drug laws.
"The Philadelphia decision is a victory for science, harm reduction, and people who use drugs," Laura Thomas, director of harm reduction policy at the San Francisco AIDS Foundation, told the Bay Area Reporter. "The judge's ruling doesn't apply to California, but it's a great legal precedent. Supervisor Haney and Mayor Breed's legislation will allow us to be ready to open as soon as possible. We know San Francisco needs and wants these services, and this legislation helps create the pathway to open them."
The San Francisco ordinance, to be introduced at the Board of Supervisors meeting March 3, will establish a process for nonprofit organizations to seek permits from the Department of Public Health to operate indoor injection sites once a California bill authorizing such facilities is enacted. Health Director Dr. Grant Colfax was on hand at the news conference.
Assembly Bill 362, sponsored by gay Senator Scott Wiener (D-San Francisco) and lesbian Assemblywoman Susan Talamantes Eggman (D-Stockton), passed the state Assembly last year and is now pending in the Senate, according to Thomas. A similar bill passed both houses in 2018, but was vetoed by outgoing governor Jerry Brown. Governor Gavin Newsom has said that he would likely sign the new bill.
Safe injection facilities — also known as overdose prevention sites — allow people to bring drugs they obtain elsewhere to use under the watch of trained staff, reducing the risk of overdose death. The sites provide sterile needles, which prevents transmission of HIV and hepatitis C. Indoor sites reduce street-based drug use and discarded syringes. Finally, they offer an entry point for medical care, addiction treatment, and other services for people who use drugs.
"That's what this is about. When they are ready — when they say the word — they are immediately provided the treatment they need to get healthy," Breed said. "This is not just about the conditions that we are tired of seeing out on our streets. This is about saving people's lives."
According to the latest estimate, there are around 24,500 people who inject drugs in San Francisco. While harm reduction programs have widely distributed Narcan (naloxone) to reverse overdoses, the arrival of fentanyl, which is much stronger than heroin, has contributed to a rise in overdose fatalities.
"We are facing right now the most deadly epidemic that this city has seen in a long time. This past year there were over 330 deaths as a result of drug overdoses in San Francisco — a massive increase over 2018," Haney said. "We know that overdose prevention sites are not a radical idea. There are over 100 sites in 65 cities all over the world. At those sites, not a single person has died of an overdose. Thousands of people have been able to enter treatment and care. That is what we know we need here in San Francisco."
Breed and Haney said they expect that there will eventually be multiple San Francisco sites located in areas where people who inject drugs already receive services, though they declined to name specific agencies, locations, or start dates. Glide, which briefly opened a non-operational safe injection demonstration in 2018, and SFAF's Sixth Street Harm Reduction Center currently only offer needle exchange and other services for this population.
"Safe consumption sites are a proven strategy to save lives," Colfax, a gay man whom Breed hired last year as health director, stated in a news release. "Research shows that the presence of these sites and services does not increase drug injecting, drug trafficking or crime. We need to continue to create more places where people who use drugs can find support and be connected to services like primary medical care and housing."
Philadelphia ruling
Across the country, the nonprofit Safehouse said it will open its first supervised injection site in South Philadelphia next week, with additional sites under consideration.
Last February, the U.S. Department of Justice filed a lawsuit to block the opening of the Safehouse site, claiming it violates the so-called crack house provision of the federal Controlled Substances Act, which makes it a crime to operate a site where illegal drugs are produced, distributed, or consumed.
On February 25, U.S. District Judge Gerald McHugh finalized his October ruling that the site would not violate the federal statute, concluding that there was no credible argument that Congress was considering safe injection sites when it adopted the law in 1986.
"The ultimate goal of Safehouse's proposed operation is to reduce drug use, not facilitate it," he wrote.
William McSwain, U.S. attorney for the Eastern District of Pennsylvania, said he would appeal the ruling and has warned that the federal government would "use all enforcement tools" to prevent the operation of the site.
"What Safehouse proposes is a radical experiment that would invite thousands of people onto its property for the purpose of injecting illegal drugs," McSwain said in a statement. "In our view, this would plainly violate the law and we look forward to presenting our case to the U.S. Court of Appeals for the 3rd Circuit."
Some South Philadelphia community members also oppose the site, citing fears about drug-related crime, violence, and disorder. In San Francisco, too, the location of safe injection sites is likely to become a major point of contention.
But the inevitable controversies and legal battles have not deterred harm reduction advocates and elected officials who support the approach.
"[This is] a win for science-based public health policy and a defeat for reactionary Trump anti-health policy," Wiener tweeted in response to the Philadelphia ruling, referring to President Donald Trump. "These sites work everywhere they've ever been tried: fewer overdoses and injections, less crime and syringe litter, more recovery."
Asked about the potential legal ramifications for San Francisco, Breed told reporters, "We can't stop doing what's best for the people of San Francisco because we have someone in the White House who continues to target our city for various reasons. We are going to have to put ourselves on the line in the process of trying to save lives in this city. And that's what I'm prepared to do."
Meth bill proposed
Wiener also introduced Senate Bill 888 this week, which seeks to address the increase in meth usage and overdose deaths. The bill expands substance use disorder treatment options covered under Medi-Cal, requiring Medi-Cal to pay for contingency management, according to a statement from Wiener's office.
Under the bill, participants with meth addiction would receive cash rewards for staying sober, or contingency management. There is currently no form of medication-assisted treatment for meth use, unlike with opioids, where treatment options like methadone are available.
Wiener noted that meth use has spiked all over California and in San Francisco, and is having an outsized impact on LGBTQ and black communities.
He added that an SFAF program wherein LGBTQ men who used meth were given gift cards for staying sober was found to be highly effective. According to SFAF, in one year of the program, 63% of participants stopped using meth entirely and another 19% reduced their use.
Comments on Facebook