Online Extra: Grenell named acting director of national intelligence
Friday Feb 21, 2020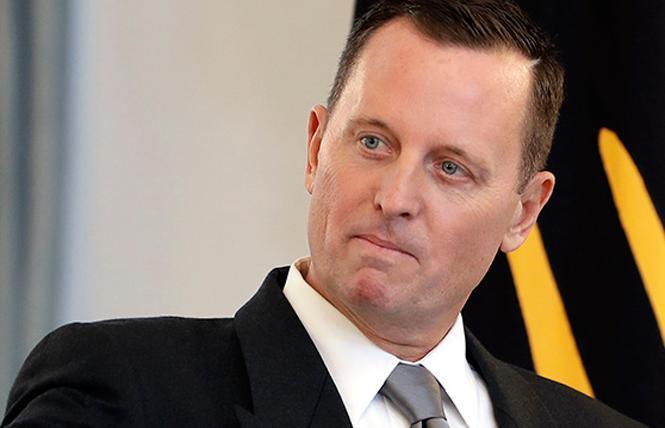 The appointment may last only a few weeks, but President Donald Trump on Wednesday named longtime gay Republican activist Richard Grenell to be his new acting director of national intelligence.
The appointment makes Grenell, who has been serving as ambassador to Germany, the first openly gay person to serve in a cabinet-level position, albeit on an acting basis.
According to Wikipedia, the director of national intelligence is listed as a cabinet-level position in the Trump administration.
The New York Times reported that Grenell is expected to serve in the position until March 11 unless the president formally nominates someone else for the job. Grenell posted on Twitter that he would not be the nominee.
The Times, citing an unnamed administration official, said Grenell was expected to keep his ambassadorship.
Trump announced the appointment in a Twitter post February 19, between tweets admiring the long line of people waiting to see him at a campaign rally in Arizona.
The appointment was quickly criticized by a wide range of people who said Grenell has no qualifications or experience to justify the appointment to such a high position. Others suggested the previous acting director of national intelligence, James Maguire, was ousted because Trump was upset with a classified briefing the DNI office gave to the House Intelligence Committee. That briefing reportedly told lawmakers that Russia is trying to interfere in the 2020 elections, in favor of a Trump reelection.
House Speaker Nancy Pelosi (D-San Francisco) issued a statement February 20, saying Grenell's "sole qualification is his absolute loyalty to the president." She criticized Trump for making the appointment an "acting" directorship to avoid having Grenell go through Senate confirmation.
The position of Director of National Intelligence was created in 2004 by the Intelligence Reform and Terrorism Prevention Act to oversee 17 agencies of the U.S. intelligence network, including the Central Intelligence Agency; the National Security Agency; the intelligence agencies of the Army, Air Force, Navy, Marines, and Coast Guard; as well as the intelligence operations of Defense Department, Homeland Security, and the Federal Bureau of Investigation, among others.
The DNI oversees all these operations and acts as "principal adviser to the president, the National Security Council, and the Homeland Security Council for intelligence matters related to national security," according to the office's official website.
Maguire, who had previously served as the director of the National Counterterrorism Center, assumed the role of acting director of national intelligence last August.
The Washington Post reported February 20 that Trump had considered Maguire for a permanent appointment but had become upset with Maguire over a briefing one of his staffers presented earlier this month to the House Intelligence Committee. The Post said the briefing concerned foreign interference in the 2020 election.
Grenell has earned a reputation as a staunch Trump loyalist and one willing to use social media to score hits against Trump's critics. He's also known to take personal and derogatory swipes at women he takes exception to. He once posted a Twitter message criticizing then-first lady Michelle Obama for "sweating on the East Room's carpet" and suggested lesbian MSNBC host Rachel Maddow "put on a necklace."
During the 2016 presidential campaign, Grenell wrote an essay for Fox News, saying that "Russian or Russian-approved tactics like cyber warfare and campaigns of misinformation have been happening for decades." Russia's motive, he said, was not so much to promote one candidate but "to ensure that whoever is elected leader of the free world understands that Russia is on the offense and unintimidated by America's traditional role."
Former CIA Director John Brennan told CNN that Grenell "doesn't have any experience or credential" to serve in the position, "and he certainly hasn't had any intelligence experience."
Grenell, 51, graduated from Harvard University and, for a while, was an outspoken member of the national gay Republican group Log Cabin Republicans. He served under the administration of President George W. Bush as spokesman for the U.S. Mission to the United Nations, and in 2012, served as a foreign policy adviser to then-Republican presidential candidate Mitt Romney. He resigned from the position after only two weeks, citing "hyper-partisan discussion of personal issues. ..." He then began working as frequent political commentator for Fox News.
Trump nominated Grenell to be ambassador to Germany in 2017, but his confirmation was held up by Democratic opponents in the Senate. He was confirmed in April 2018 by a 56-42 vote in the Senate. Grenell was Trump's first appointment of an openly gay person to his administration.
Once confirmed and on the job in Germany, he made a reputation for himself as a reliable defender of Trump policies who was both tough and abrasive.
Deutsche Welle, a German media outlet, said Grenell had become an "unsavory figure in Berlin," so much so that one German politician called for his expulsion and another characterized Grenell as "a complete diplomatic failure."
In 2013, Grenell underwent chemotherapy for non-Hodgkin's lymphoma but announced in August 2017 that he was "cancer free."
Comments on Facebook