SF Pride kicks off 50th celebration
Tuesday Feb 18, 2020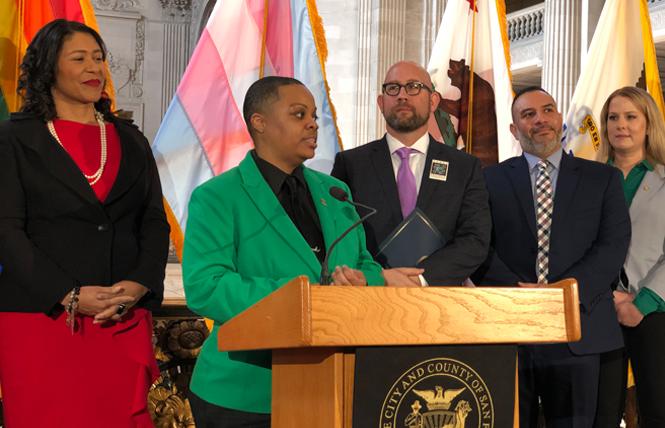 Mayor London Breed, city officials, and members of the San Francisco LGBT Pride Celebration Committee kicked off festivities associated with the upcoming 50th San Francisco Pride parade with a City Hall media event February 18.
About an hour later, protesters outside of City Hall carried signs accusing SF Pride of being "racist" and "anti-queer."
This year will be the 50th iteration of the celebration, which began in 1970 as a march on Polk Street and a "gay-in" in Golden Gate Park. The name of the event that commemorates the anniversary of the watershed Stonewall riots has changed over the years, eventually becoming Pride on its 25th anniversary in 1995.
"As is tradition, the Dykes on Bikes will roar and lead the 275 contingents of the parade from the Embarcadero to the Civic Center," new SF Pride Executive Director Fred Lopez said at the event. "As Harvey Milk said, 'you gotta give 'em hope,' and with your support at SF Pride, we always will."
This year's parade is expected to have over 50,000 marchers and 1 million spectators, Lopez said.
The theme is "Generations of Hope," the culmination of a three-year "generations" theme intended to highlight Pride's half-century. The 2018 theme was "Generations of Strength" and the 2019 theme was "Generations of Resistance."
Lopez also announced that KPIX-TV, which had been livestreaming the parade for the past two years, will also broadcast the event over the air this year.
"Wear something cute and call your moms, because you're going to be on TV," Lopez said.
Civic Center will once again host a festival Saturday and Sunday, becoming the home of "more than 20 community programs, stages, and venues," Lopez added.
SF Pride donated $203,000 to over 40 Bay Area nonprofits last year, and has donated more than $3 million since 1997, according to Lopez.
Until March 10, voting for individual and organizational community grand marshals will be open on Pride's website.
Lopez did not have the names of performers at this year's festivities ready to announce, but SF Pride is accepting submissions for its main stage.
To accompany the festivities, an exhibit titled "Labor of Love: The Birth of San Francisco Pride 1970-80" will be open April 17 through January 2021 at the GLBT Historical Society Museum at 4127 18th Street in the Castro district.
A few weeks later on May 7, another photography exhibit put on by the GLBT Historical Society and the San Francisco Arts Commission titled "50 Years of Pride" will be open in the North Light Court at City Hall.
Pride board of directors President Carolyn Wysinger said that Pride has to be different now than it was at its origin, and will continue to change in this landmark year.
"There is more that is required of us, not just as a board but our supporting agencies, our supporting organizations and our supporting officials," Wysinger said. "Our organizational needs aren't the same as they were in 1970 and neither are the needs of the communities we represent."
Civic leaders praise LGBT progress
Tuesday's City Hall event began with a performance from the San Francisco Lesbian/Gay Freedom Band (the city's official band), playing its signature "California, Here I Come" before remarks from Breed, who thanked members of SF Pride board of directors, and Lopez.
"I get really excited because even though it's February and we are not having a number of activities — especially the parade — until June, it's going to be so exciting we had to announce it right now," Breed said. "There is nothing we do better than celebrate in San Francisco. We celebrate our history, we celebrate our diversity, we celebrate what makes San Francisco so unique."
Breed highlighted actions her administration has taken on behalf of LGBT San Franciscans, such as Trans Home SF, the department of public health's fight against HIV and a new building to house transitional aged youth in District 3 (about 50% of homeless youth are LGBT, Breed said).
"I'm really proud to be in a position as mayor to help support and carry on some of the policies we know are necessary to continue to make sure there is hope for future generations," Breed said. "So many great things, but so much more to do."
Gay District 8 Supervisor Rafael Mandelman, who represents the Castro on the Board of Supervisors and is the only out member, praised Breed for having an administration representative of the city's diversity.
Indeed, the out heads of several departments were acknowledged: Shireen McSpadden, a bi woman leading Aging and Disability Services; Dr. Grant Colfax, a gay man who's the city's health director; Jeffrey Tumlin, a gay man who runs the Municipal Transportation Agency; and Jeanine Nicholson, a lesbian whom Breed named fire chief.
"Madam Mayor, it's worth noting the number of queer department heads," Mandelman said. "You have a very queer administration and we are quite appreciative of that."
Mandelman reflected on if the participants in the original 1970 festivities could have imagined the strides the LGBT community has made since the struggle for liberation started with the 1969 Stonewall riots — when patrons fought against a routine New York City Police Department raid of their Manhattan bar.
"They would not have imagined that AIDS and HIV were coming, nor would they have imagined the extraordinary community response that would come too," Mandelman said. "The resilience of the queer community in responding to that crisis and building a civil rights movement — they would have had no idea. And would they have imagined same-sex marriage?"
Protest outside
Outside City Hall, after the event, about a dozen protesters with signs chanted "SF Pride is anti-queer" and "SF Pride is racist."
Alex U. Inn, a former community grand marshal and former member of the Pride board of directors, said that they were upset with how the Pride board is doing business — particularly with the decision not to ban Google and its affiliates from participating in the parade after a group of seven members voted they do so, as the B.A.R. previously reported.
"We can't see them celebrating and representing the queer community when there's so much against us out there," Inn said. "Google and YouTube have been shutting queer channels down."
Activists had wanted Google banned from the festivities after YouTube didn't take action against conservative commentator Steven Crowder after homophobic and anti-Latino remarks he made against gay video producer Carlos Maza.
The Pride board of directors opted February 5 not to do so, and at that time Wysinger issued a scathing statement against the activists.
"It's appalling what happens in Pride meetings," Inn said.
Wysinger and Lopez did not immediately respond to a request for comment on statements made at the Civic Center protest.
A Google spokesperson previously wrote in an email to the B.A.R.: "Google has been a proud participant in San Francisco Pride for more than a decade and we will continue to support this important community organization and others like it here in San Francisco."
The Pride parade kicks off Sunday, June 28, at 10:30 a.m. at Market and Beale streets.
Comments on Facebook