Updated: Feinstein pledges to look into trans asylum case
Wednesday Feb 19, 2020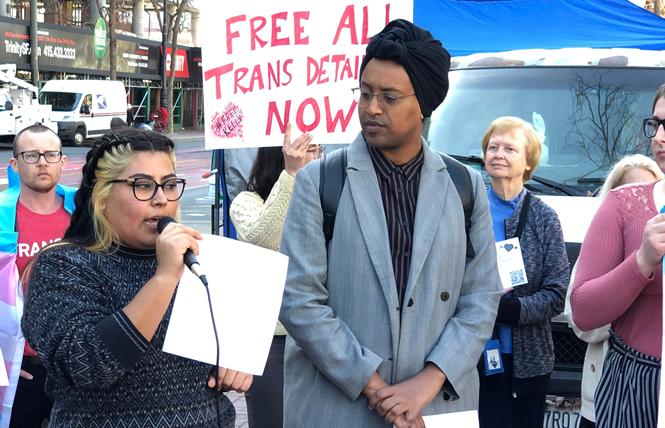 In response to questions from the Bay Area Reporter, Senator Dianne Feinstein's (D-California) office pledged February 19 to reach out to the attorney of the longest-detained trans woman in Immigration and Customs Enforcement custody.
Kelly Gonzalez Aguilar, 23, has been in ICE custody for two and a half years and is currently in Aurora, Colorado.
"Senator Feinstein's staff is reaching out to see if they can help," spokesman Tom Mentzer wrote in an email to the B.A.R. Wednesday.
The news came a week after about three-dozen people gathered at United Nations Plaza in downtown San Francisco February 12 for a news conference where activists asked that Gonzalez Aguilar be freed from ICE custody.
The news conference also urged elected officials to put pressure on ICE to release her.
Congresswoman Barbara Lee (D-Oakland) has already inquired with ICE, and Senator Kamala Harris (D-California) is working on the issue, but at the time the group had received no similar commitment from Feinstein, according to Jessica Lehman, who, with her partner, Lee Staub, said she is willing to be Gonzalez Aguilar's sponsor.
Yessica Gonzalez of the TransLatin@ Coalition, a nonbinary person who helped put on the rally, said they got involved in the matter after the coalition was contacted by Gonzalez Aguilar's attorneys at the National Immigrant Justice Coalition.
While Gonzalez doesn't know Gonzalez Aguilar personally, they hope to call attention to transgender women who are suffering.
"One of our main issues is to highlight the horrifying things going on in detention centers to our family members and friends," Gonzalez said.
Gonzalez Aguilar experienced beatings and psychological abuse in her childhood in Honduras because she acted effeminate, according to Miché Pulido, policy director for the TransLatin@ Coalition.
"She was clearly trans from an early age," Pulido said. "When she was 12, she ended up in Mexico, where she was a victim of sex trafficking and labor trafficking."
By the time she was 17, Gonzalez Aguilar had made it to the United States, where she was placed into custody — but then released, pending a hearing on her asylum claim.
"She found an attorney but they didn't let her know the important dates of her asylum case," Pulido said. "While it was pending, she was arrested and has not been released for two and a half years."
Gonzalez Aguilar was initially put in solitary confinement because of her identity as a transgender woman. She has been transferred three times and is now in Aurora, Pulido said.
Gonzalez Aguilar and her backers think she should be released while her asylum case is pending. They think she should come to the Bay Area because Lehman and Staub, who have agreed to co-sponsor her, live in Oakland.
"We've been ready and waiting to let Kelly into our home and support her financially," Staub, a transgender man, said.
Staub compared Gonzalez Aguilar's story to that of his grandmother. Staub's family was forced to flee the Soviet Union for Poland, where they were subsequently imprisoned by German troops during World War II. After Hitler's defeat, they immigrated to the U.S.
"I hope Kelly is offered the same opportunity my grandma was," Staub said.
Jackie Thornhill, a trans woman and aide to District 1 Supervisor Sandra Lee Fewer, also spoke.
"To simply exist as a trans woman in this world is hard enough," Thornhill said. "The country where (Gonzalez Aguilar) is seeking refuge has sentenced her to indefinite trauma."
Criticizing what she said was a lack of due process in the case, Thornhill added: "This is how fascism takes hold."
Honey Mahogany, a queer nonbinary person who is a legislative aide for District 6 Supervisor Matt Haney, served as an emcee at the news conference.
At the end, Mahogany urged attendees to call Feinstein's office to ask that the senator commit to talking to ICE about the Gonzalez Aguilar. Several immediately did, as the senator's number was placed on a flier passed out to attendees.
There was a news conference at the Colorado State Capitol in Denver February 12, also calling for Gonzalez Aguilar's release, featuring transgender Colorado state Representative Brianna Titone (D-Arvada).
Alma Rosa Silva-Banuelos, a two-spirit person who is a program director for TransLatin@ Coalition, spoke by phone with the Bay Area Reporter from Denver. They met Gonzalez Aguilar while the latter was in custody in New Mexico and said they talk every day.
"She has spent her early 20s in detention and is hoping for liberation and freedom. She wants to live and be free," Silva-Banuelos said, adding that one reason Gonzalez Aguilar needs to be released is because she has since developed a medical problem.
"She wants to fight her case from the outside," Silva-Banuelos said.
ICE officials did not immediately respond to a request for comment.
Comments on Facebook