Gay activist sues SF for violating First Amendment rights
Monday Feb 10, 2020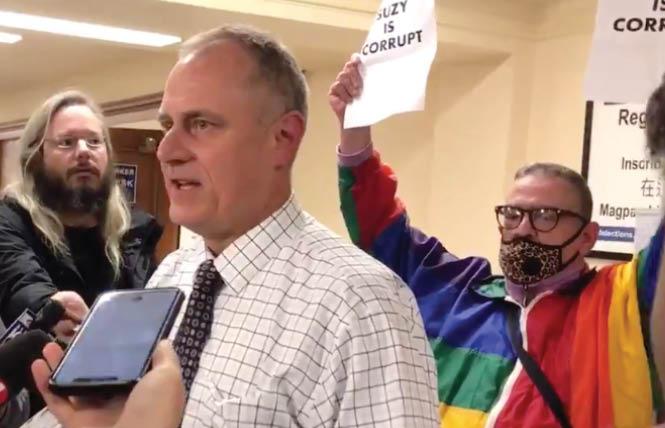 A longtime gay activist has filed a lawsuit against San Francisco, alleging his First Amendment and other constitutional rights were violated.
The complaint, which was filed in the United States District Court for the Northern District of California February 10, alleges that Michael Petrelis, 61, was unlawfully arrested for a peaceful, nonverbal demonstration inside San Francisco City Hall November 6.
The San Francisco City Attorney's office did not immediately respond to a request for comment, but in a phone call with the Bay Area Reporter Monday, Petrelis said the incident was "traumatizing."
November 6 was the day after Election Day. At that time, nobody knew who would win the city's hotly contested race for district attorney, which after multiple rounds of ranked-choice voting was between then-interim district attorney Suzy Loftus and then-deputy public defender Chesa Boudin. (Boudin ultimately won the race.)
The director of the elections department was going to announce new election tallies at a news conference around 4:30 p.m.
"Shortly after the beginning of the press conference, Mr. Petrelis stood peacefully and silently behind speaker John Arntz, the city's director of elections, holding two small paper signs containing the message 'SUZY IS CORRUPT' (referring to Ms. Loftus)," states a February 10 news release from Donald Wagda, Petrelis' attorney. "Mr. Petrelis' signs were in 'exact accordance' with City Hall building policies governing carrying of signs inside City Hall, according to the allegations set forth in the lawsuit.
"Shortly after Mr. Petrelis arrived holding his signs behind Mr. Arntz, a sheriff's deputy interrupted the press conference to express her disagreement with the message of the signs, saying 'Please. Gimme a break.' Three sheriff's deputies then arrested Mr. Petrelis, pushing and dragging him out of the press conference and causing him physical injury," Wagda added.
The incident was partially captured on Twitter by Heather Knight, a San Francisco Chronicle columnist.
First attempt by Jon Arntz to speak didn't go so well.... pic.twitter.com/Y6nGUxEXSu— Heather Knight (@hknightsf) November 7, 2019
Petrelis was released seven minutes after his arrest, but he received a strain in his shoulder as a result of the arrest and had to receive medical treatment, according to a copy of the complaint.
Petrelis is seeking punitive damages against three sheriff's deputies in the amount of $1 million each, as well as medically-related expenses and general damages.
Petrelis declined to comment on the dollar figures.
As the B.A.R. reported October 4, Petrelis protested the news conference where Mayor London Breed appointed Loftus as interim district attorney following the sudden resignation of elected District Attorney George Gascón, saying that it was an example of "corruption" at City Hall.
While the appointment was widely viewed as an example of political favoritism and an attempt to tip the scales in favor of Loftus, whom the mayor had previously endorsed in the November election, no evidence has been revealed since that it was the result of a corrupt scheme.
Loftus did not immediately respond to a request for comment.
Petrelis said he got in touch with Wagda after hearing that the attorney helped Shawn Sunshine Strickland, the "Supergirl of San Francisco," win a $13,000 settlement last year, as the B.A.R. previously reported.
"This is part of an ongoing pattern with the deputies and free speech at City Hall," Petrelis said. "They are applying imaginary rules that hinder free speech. The deputies just pushed us — in this case, they arrested me for holding a sign."
Strickland claimed she was intimidated while holding a one-person demonstration on the steps of City Hall against police inaction.
Petrelis is alleging the violation of his First Amendment rights to freedom of speech, petition and the press, his Fourth Amendment right to probable cause, his 14th Amendment right to due process, and other civil rights laws, according to the complaint.
The complaint also alleges assault, battery, false arrest, and false imprisonment.
The complaint alleges that Petrelis' right to freedom of the press was violated because the arrest obstructed his ability to report. Petrelis attends public functions and reports on them on his social media pages, according to the complaint.
"The First Amendment provides the press and the public an affirmative right of access to newsworthy matters," Wagda said in the release. "Once a public official chooses to hold a general news conference, excluding a citizen journalist based upon that journalist's political viewpoint runs afoul of the First Amendment."
A copy of City Hall policy provided by Wagda states that "signs mounted on sticks or poles are not permitted in City Hall. Banners are permitted only during special licensed events or services and subject to the terms of a written agreement with the City. Small paper or cardboard signs no larger than (11" x 17") that can be carried by hand are allowed."
Comments on Facebook