Online Extra: EQCA rescinds endorsement of Glazer
Tuesday Jan 28, 2020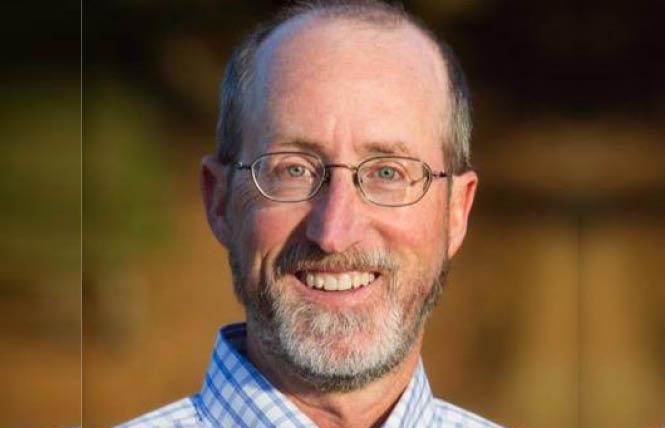 In another sign that Equality California intends to take a harder line with state lawmakers who block LGBT legislation, the statewide LGBT advocacy group Tuesday rescinded its endorsement of state Senator Steve Glazer (D-Orinda) due to his lack of support for a bill that would have banned medically unnecessary surgeries on intersex infants.
The legislation, Senate Bill 201, died earlier this month in the Senate's business, professions and economic development committee, which Glazer chairs. Its author, gay state Senator Scott Wiener (D-San Francisco) acquiesced last April to Glazer's request that he turn the legislation into a two-year bill in order to address the concerns of the committee members.
Despite Wiener's amending his bill this month, the changes did not go far enough for Glazer and other committee members. In the end, four senators on the committee voted against the bill and two voted in support, while Glazer was one of three who abstained.
As the Bay Area Reporter noted at the time, Glazer expressed agreement for ending sexual reassignment surgeries on infants and felt legislators could find a pathway to do that, but said "I don't think this bill is it."
Following the vote, the B.A.R. had inquired with spokesmen for EQCA on if it would rescind its endorsement of Glazer but had received no reply at the time. The East Bay lawmaker, who is seeking a second four-year term, is the sole member of the committee who is up for re-election this year that had won EQCA's support of his campaign.
Because he had earned perfect 100% scores on EQCA's legislative scorecards the past two years, Glazer was among the incumbent lawmakers who were automatically endorsed by EQCA's political action committee in early January.
But Glazer's decision to abstain from voting on Wiener's intersex bill cost him EQCA's support. (EQCA has yet to update its list of endorsements on its website, as of 1:30 p.m. Tuesday it still listed the endorsement for Glazer.)
"Equality California is proud to support leaders of both parties — or no party at all — who stand up for LGBTQ civil rights and social justice. By siding with powerful special interest groups and refusing to defend California children against clear human rights abuses, Senator Glazer no longer meets Equality California's endorsement standard of a 100 percent commitment to the fight for full LGBTQ equality," stated EQCA Executive Director Rick Zbur. "East Bay voters deserve a pro-equality champion in the Senate, and Steve Glazer has shown us that he's not willing to be that champion."
EQCA's PAC is now reviewing whether to back Glazer's Democratic opponent, educator and activist Marisol Rubio, as she has applied for its endorsement. Rubio, who lives in San Ramon, earned the endorsement of the East Bay Stonewall Democratic Club, the main LGBT political club in Alameda County, when it met January 15 and voted on endorsements in the March 3 primary contests.
Wiener told the B.A.R. Tuesday that he has no plans to withdraw his personal endorsement of Glazer in the heated contest for his 7th Senate District seat.
"EQCA makes its own institutional decisions about endorsements, which I respect. My own endorsement of Steve stands," stated Wiener. "While we had a significant disagreement on SB 201, he is a good colleague and has provided significant support to me on important civil rights and criminal justice reform legislation."
This is the second time in recent months that EQCA has penalized a state legislator for blocking LGBT legislation in their committee. As the B.A.R. reported in November, EQCA dinged Assemblywoman Lorena Gonzalez (D-San Diego) on its 2019 Legislative Scorecard for holding up legislation last summer in the Assembly Appropriations Committee that would ensure LGBT adolescents are treated the same as their heterosexual peers when faced with the possibility of being listed on the state's sex offender registry.
As for the fate of SB 145, which was also written by Wiener, he had told the B.A.R. that he believes the issues that Gonzalez has expressed about the legislation can be easily addressed. It is expected to pass out of the appropriations committee when it is heard again this year.
But Gonzalez's tabling the legislation caused her to receive a score of 86% from EQCA. It meant that she was not eligible to receive an automatic endorsement from EQCA in her re-election race this year. She has applied for the endorsement and EQCA's PAC is considering it.
Also seeking re-election this year is Senator Bill Dodd (D-Napa), one of the four who voted no on the intersex bill. He was not eligible for an automatic endorsement from EQCA because he received a 94% on its 2018 Legislative Scorecard.
Only lawmakers who earn 100% scores in the two years prior to their seeking re-election are eligible to be considered for automatic endorsements by EQCA's PAC. Those earning less can request an endorsement from EQCA, but Dodd did not do so since he had informed EQCA of his opposition to SB 201 prior to the committee hearing.
Former Republican Assemblyman Chad Mayes of Yucca Valley, who registered as an independent when he filed to run for re-election this year, was able to secure EQCA's endorsement even though he had earned an 80% score from it in 2018. He had a 100% score in 2019.
"Chad Mayes has proven that pro-equality champions can come from anywhere in the state and from any party — or no party at all," stated Zbur in announcing the endorsement earlier this month. "A longtime ally, Chad received a 100% pro-equality score for the first time in 2019 and has shown that he will fight for LGBTQ civil rights and social justice. We enthusiastically support Chad's candidacy in 2020 and know that he will continue to be an ally for our LGBTQ community in Sacramento."
For his part, Glazer told the San Francisco Chronicle that he "had a 100% record of supporting LGBTQ issues for the past four years" and that Equality California had chosen to focus on their difference.
"I will continue to fight for equal rights for persons of all sexual orientations," Glazer said.
Comments on Facebook