Online Extra: CA Supreme Court Justice Chin to retire
Wednesday Jan 15, 2020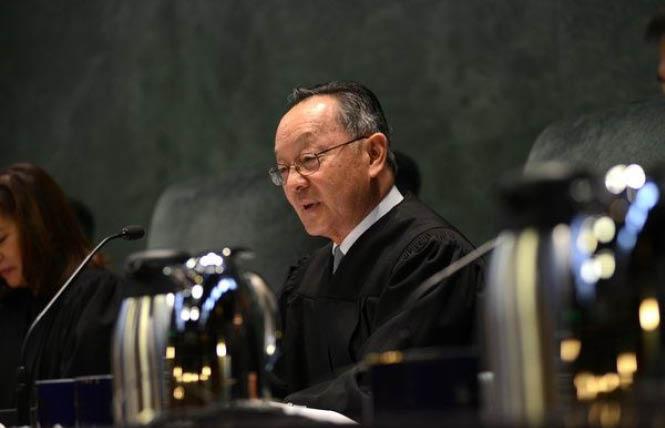 The first Chinese American justice and the longest-serving sitting member on the Supreme Court of California will retire this summer, giving Governor Gavin Newsom his first opportunity to name a member to the state's highest court.
Justice Ming Chin, 77, announced Wednesday that he will retire after the end of the court's current term on August 31. It will bring to an end a nearly 25-year career on the state high court.
"I've had the honor and privilege to serve with three very different but spectacular chief justices," stated Chin. "The judicial system has faced some major challenges in my time on the bench, but I believe the branch is now in a strong position. Justice Chuck Vogel once said my opinions are characterized by clarity and courage. If that is what is written about me in 50 years, I would be happy."
In a statement announcing Chin's pending retirement, Chief Justice Tani G. Cantil-Sakauye noted she had long admired her judicial colleague and that his leaving the bench "will be incalculable." When she first became the chief justice, Cantil-Sakauye recalled that Chin had taken her under his wing.
"Before he joined the bench, he spent years performing at the very highest levels of the legal profession and is an accomplished teacher and lecturer," she stated. "He has been a leader in helping our courts embrace technology to expand access to justice to all Californians. His signature mix of intelligence, wisdom, and practicality will be greatly missed."
Chin's departure from the seven-member court allows Newsom, now in his second year of his first gubernatorial term, to name his replacement and begin to reshape the court. Chin, who authored over 350 majority opinions and more than 100 separate opinions during his tenure, is considered to be the court's most conservative member. Nonetheless, he expressed his support for abortion rights at his confirmation hearing and voted with the majority in 1997 to strike down a requirement that a teenager needed parental permission to receive an abortion.
Former Republican Governor Pete Wilson named Chin to the court in 1996. He was part of the minority in 2008 that dissented against the court's decision in favor of same-sex marriage.
Newsom, while serving as San Francisco's mayor, had sparked the court fight over marriage equality by ordering city officials to wed same-sex couples just days prior to Valentine's Day in 2004. While the state's supreme court that summer annulled the marriages that had been performed, it opened the door to the legal challenge brought by City Attorney Dennis Herrera and LGBT advocates that resulted in the resumption of the same-sex nuptials four years later.
Voters, however, overturned the court's ruling at the ballot box in November 2008 by passing Proposition 8. Their decision led to another legal battle that culminated in late June 2013 when the U.S. Supreme Court allowed a federal district court ruling that struck down Prop 8 to stand.
Now Newsom could make LGBT history again by appointing the first out LGBT justice to the California Supreme Court. While rumors have spread about closeted justices serving on the judicial body, all seven of the current members of the court have identified as being straight on reports about the demographic makeup of the state's judiciary, as the Bay Area Reporter has noted in previous stories.
Newsom's predecessor Jerry Brown, during his second go-around as governor, named four of the current Supreme Court justices. Having named the first out LGBT judge in the state when he first served as governor in the late 1970s and 1980s, Brown disappointed LGBT advocates by not breaking another judicial pink ceiling.
They may be disappointed again, as Newsom already opted to name a straight person to an appellate court vacancy last year rather than name the first bisexual or transgender jurist to one of the state's appeal courts. The seat on the Court of Appeal, First Appellate District opened up last January when Newsom named former justice Martin Jenkins of San Francisco as his judicial appointments secretary, and Jenkins is likely to be in the mix as Newsom considers Chin's successor. Newsom named San Francisco Superior Court Judge Teri Jackson to the appellate seat.
In a statement, Newsom expressed gratitude to Chin for his three decades of "distinguished service" on the bench and noted he was widely regarded for his "collegiality, abiding professionalism and commitment to public service."
His professional success, stated Newsom, exemplified the promise that California holds, "where a son of potato farmers could become a Supreme Court justice, and in turn help grow the next generation of lawyers and jurists in our state."
Chin is the son of Chinese immigrants and the youngest of eight children who grew up on a potato farm near Klamath Falls, Oregon. He earned a B.A. in political science in 1964 and a Juris Doctor in 1967 from the University of San Francisco, where he later became an adjunct professor. After graduating law school, he served two years as a captain in the U.S. Army and was decorated with the Bronze Star and the Army Commendation Medal for his service in Vietnam.
In 1970, Chin joined the Alameda County District Attorney's office and was promoted to felony trial deputy. Three years later he joined the Oakland law firm Aiken, Kramer & Cummings to head its trial department and became a partner in 1976.
Chin and his wife of 48 years, Carol, have two children — Jennifer Chin, who is senior counsel for the University of California's Office of the President, and Jason Chin, an Alameda County Superior Court judge.
Updated, 1/15/20: This story has been updated.
Comments on Facebook