Online Extra: LGBTQ Agenda: Berkeley disputes less-than-perfect LGBT equality score
Tuesday Dec 17, 2019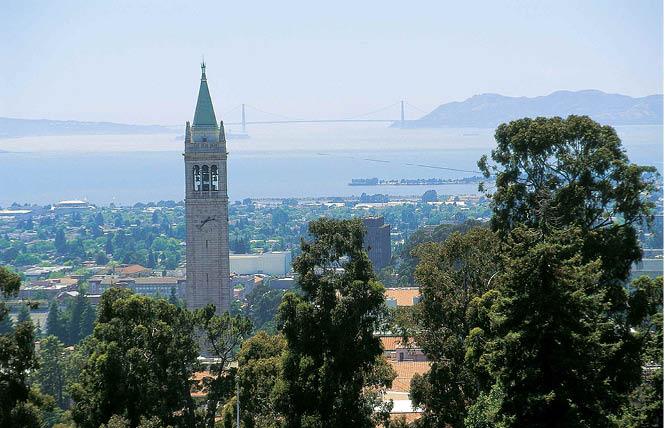 The city of Berkeley is disputing its less-than-perfect score on the Human Rights Campaign's latest Municipal Equality Index, with a spokesman saying it should have received points in several categories.
In its 2019 Municipal Equality Index, HRC awarded perfect scores to several major Bay Area cities and lesser scores to some smaller ones. The report was released last month.
The Municipal Equality Index is the only nationwide evaluation of how inclusive city laws and services are of LGBT people, according to HRC. The 2019 edition was HRC's eighth, and it rated 506 cities (57 of which are in California) on 49 different criteria. Cities are rated based on non-discrimination laws, the municipality as an employer, municipal services, law enforcement, and the city leadership's public position on equality, among other items.
San Francisco, Oakland, and San Jose each earned perfect scores (100 is the top score), as did other major California cities such as Los Angeles, Sacramento, and San Diego.
Berkeley received a score of 96. A Berkeley spokesman told the Bay Area Reporter that it wants to correct the record with HRC because the city should have a higher score under the organization's criteria.
Berkeley public information officer Matthai Chakko said that the city should have "a total of 108."
HRC downgraded Berkeley by giving it zero out of two points under the "inclusive workplace" category, zero out of two points for enforcement of a non-discrimination ordinance by a human rights commission, and zero out of 10 points for "LGBTQ police liaison or task force," according to a copy of the Municipal Equality Index.
"Berkeley Police actually have two liaisons to the LGBTQ community, Sergeant Mel Turner and Officer Ethell Wilson. Berkeley Police have taken steps to ensure our LGBTQ staff are treated, like everyone here, with dignity and respect," Chakko wrote in an email to the B.A.R. "Our organizational advocacy for inclusion touches on things like a City Council resolution last year to remove all gendered terminology from our municipal code to a message from the city manager to all staff about LGBTQ inclusion."
Chakko touted Berkeley's participation at San Francisco Pride. The parade contingent included Turner and Police Chief Andy Greenwood.
Per HRC, the organization contacted the city of Berkeley about the score but didn't receive a response and could not find information on the police department's website about any liaisons to the LGBTQ community.
Berkeley's 2019 proclamation declaring June to be LGBTQ Pride Month does state that it is "the first city in the nation to establish a domestic partner registration system that includes same-gender couples, to establish an LGBTQ sensitivity training with the LGBTQ liaison for all members of the Police Department, and the first City Council in the nation to endorse marriage equality," but the reference to the police liaison in the proclamation was not sufficient for inclusion in the Municipal Equality Index report, according to HRC.
Other Bay Area cities scored lower than Berkeley. Concord and Vallejo tied for 81, Santa Rosa received a 78 and Brisbane received a 53.
HRC's report states that Brisbane lacks "transgender-inclusive health care benefits," which is worth 10 points, LGBTQ liaisons, and a human rights commission.
The city of Brisbane did not respond to a request for comment as of press time, however City Manager Clay Holstine called the B.A.R. later Tuesday to say that Brisbane "takes pride in providing for equality."
Holstine said that Brisbane — which according to census data is a community of less than 5,000 — doesn't have enough staff for specific positions like an LGBTQ liaison.
"We're a very small city. We don't have called-out positions to deal with a variety of situations, but everything on this list we deal with as issues come up," Holstine said. "We wear multiple hats and have multiple assignments."
Holstine said that Brisbane just flew the LGBT pride flag in its community park this summer, and couldn't name any specific complaints of discrimination he remembers receiving.
Trans-inclusive health care plans for municipal employees have expanded in recent years, from only five cities offering such plans to workers in 2012 to 164 cities in 2019, according to the Municipal Equality Index.
The California average was a score of 79; the average score nationwide was 60.
"These inclusive and welcoming cities are standing up to the unrelenting attacks on the LGBTQ community by the Trump-Pence administration, and sending a clear message that the fair and equal treatment of our community, our families and our neighbors is a true American value," Alphonso David, who became president of HRC in August, said in a news release. "Support for non-discrimination protections to protect LGBTQ people topped 70 percent, which includes a majority of Democrats, Republicans and Independents."
To read HRC's 2019 Municipal Equality Index, go to https://www.hrc.org/mei
LGBTQ Agenda is an online column that appears weekly, usually on Tuesdays. Got a tip on queer news? Contact John Ferrannini at j.ferrannini@ebar.com
The column will be on holiday break until January 14.
Updated, 12/17/19: This story has been updated with comments from the Brisbane city manager.
Comments on Facebook