City will provide assistance to Castro businesses damaged in fire
Monday Nov 18, 2019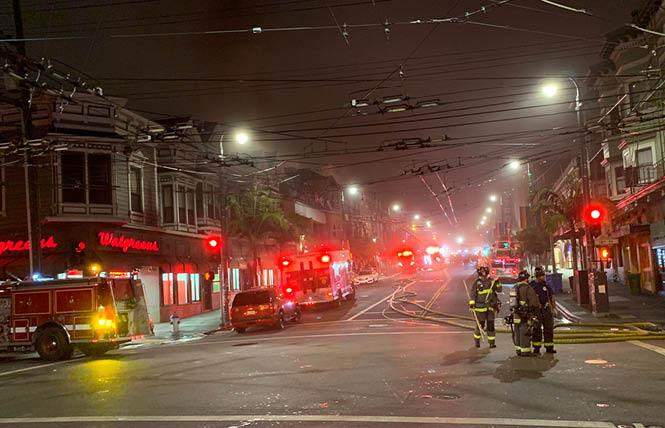 The mayor's Office of Economic and Workforce Development will be assisting four businesses impacted by a four-alarm fire that left two injured and seven residents displaced on Castro Street early Saturday, according to a city news release.
The four businesses, which can apply for up to $10,000 for fire and water damage, are Q Bar, Body, Osaka Sushi, and Cafe Mystique.
The money will come out of the office's small business disaster relief fund, according to the release. The fund provides assistance to San Francisco small businesses so that they can recover as quickly as possible, as disaster loans can sometimes be held up for weeks or months.
"The city family is here to provide more than financial support," Mayor London Breed said in a statement. "We will also help to provide technical assistance with permitting so these small businesses can reopen as quickly as possible."
Employees who were put out of work by the fire can contact the office for assistance in getting public services and benefits such as unemployment insurance, according to a statement it sent to the Bay Area Reporter on Monday.
The cause of the fire, which was reported at 4:23 a.m., is still under investigation, Lieutenant Jonathan Baxter, a San Francisco Fire Department spokesman, wrote in an email to the B.A.R. on Monday.
The fire department got there at 4:29 a.m. and 121 firefighters were involved as it swept through the apartments above the businesses, leaving seven residents displaced, Baxter wrote. The fire was put out at 7:51 a.m., he added.
At least three people were injured, including a firefighter who had minor injuries and another victim who was taken to the hospital due to smoke inhalation. A third person who suffered from smoke inhalation reportedly declined transportation to the hospital.
Here's what the back of the two buildings look like after the fire is out ... pic.twitter.com/3wRjdeJFYN— Sammy Zoeller (@SammyZoeller) November 16, 2019
There will be a fundraiser for those affected at Oasis, an LGBT bar in the South of Market neighborhood, Wednesday, November 27, according to Sister Roma of the Sisters of Perpetual Indulgence.
Gay District 8 Supervisor Rafael Mandelman is coordinating with Christopher Vasquez, the communications director of the National Center for Lesbian Rights, to put on a fundraiser at the Castro bar and nightclub Beaux for the victims Saturday, November 30, from 3 to 7 p.m., according to Mandelman aide Tom Temprano.
Q Bar is also partnering with DNA Lounge to present its legendary Saturday night party, Cake, at DNA Saturday, December 21, at 10 p.m., according to an announcement on the South of Market nightclub's Facebook page.
The Castro LGBTQ Cultural District Working Group set up a GoFundMe page (https://bit.ly/2CQTCoL) seeking to raise $25,000 to help those displaced by the fire and for the employees at Q Bar and Osaka Sushi, which are closed for the time being. Fifty dollars has been raised as of press time.
Mandelman said in a statement to the B.A.R. Monday that "this fire is an additional burden that the neighborhood doesn't need."
"This fire in the Castro upended the lives of the people who live in the buildings and the people who own and work at these important small businesses. The Castro is already experiencing significant challenges with vacant storefronts and quality of life issues," Mandelman said. "Thank you to the brave firefighters from the San Francisco Fire Department for their quick response."
Body, a Castro Street clothing store where over $5,000 in merchandise was destroyed, is open Monday and Tuesday, according to general manager Isaiah Carter. Carter anticipates the store — which experienced water damage — staying open going forward, but it is currently cash only because the credit card readers were destroyed.
"It'll probably only be a half day because nobody carries cash anymore," Carter said.
Cafe Mystique is also open for business Monday.

Updated, 11/18/19: This article has been updated.