Online Extra: Political Notes: SF LGBT Dem club set to early endorse Wiener
Monday Sep 30, 2019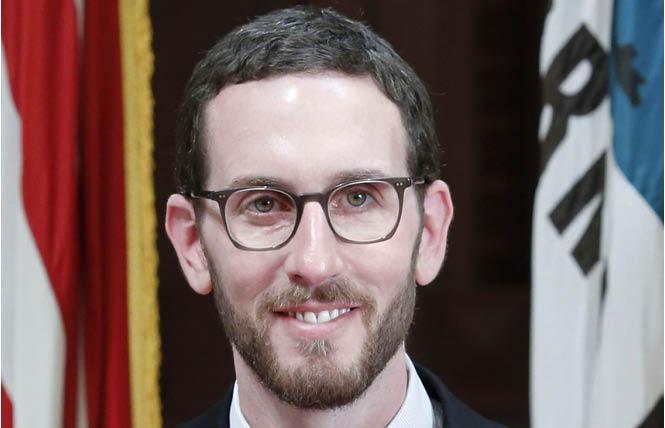 As he gears up for his re-election bid in 2020, gay state Senator Scott Wiener (D-San Francisco) is set to pick up an early endorsement from a major political group in his hometown.
The Alice B. Toklas LGBT Democratic Club is expected to early endorse Wiener, a former co-chair of the political group, at its meeting October 7. Alice's board had voted in August to recommend an early endorsement in the state Senate race, which the club's membership voted to accept at its September 9 meeting.
The result all but guarantees that Wiener will have the backing of Alice, one of the city's two main LGBT political clubs, when it meets next Monday night to vote on finalizing the early endorsement. Gina Simi, a co-chair of Alice, did not respond to requests for comment by deadline Friday.
Simi and her fellow co-chair, gay attorney David Fujimoto, met with Wiener this summer to discuss holding an early endorsement vote and brought the idea up with the board, Wiener told the Bay Area Reporter.
"Alice is my home club; I have been a member for 20 years and chaired the club. It is a really very, very important institution for me, and Alice has always supported me going back 15 years," he said. "I am very, very grateful for their consideration of an early endorsement."
Two other local Democratic clubs, the Eastern Neighborhoods Democratic Club and the United Democratic Club, have already early endorsed Wiener. Since no other Democratic candidate filed a challenge for the state Democratic Party's endorsement in the race by the deadline to do so Thursday and Wiener is the incumbent, an endorsement of his re-election bid is now automatically placed on the consent calendar to be voted on by delegates Sunday, November 17, at the party's state convention in Long Beach.
Wiener, 49, first won election to his 11th Senate District seat in 2016 and is seeking another four-year term next year. His district includes all of San Francisco, Colma, Daly City, a part of South San Francisco, and the unincorporated community of Broadmoor.
First up will be the March 3 primary, where the top two vote-getters regardless of party will advance to the November 3 general election. To date, Wiener is the only person to be actively seeking the seat and raising money, reporting a campaign war chest of more than $1 million as of August 1.
Former state Senator Quentin Kopp, 91, an independent moderate who served three terms in the Senate, pulled papers expressing interest in running for Wiener's seat. Listed on the state's campaign financial database as selecting no party preference, Kopp is working to establish the new Common Sense Party for political independents.
A Republican is likely to enter the race by the filing deadline in early December. Seeing a well-known progressive candidate jump into the contest, however, seems unlikely at this point.
Several local progressive leaders have told the Bay Area Reporter in recent weeks that they have not heard of any candidate to the left of Wiener politically who is interested in running against him. A formidable campaign opponent, Wiener has beaten strong progressive challengers in his past races for the Senate seat (former District 6 Supervisor Jane Kim) and the District 8 seat on the San Francisco Board of Supervisors (Rafael Mandelman, who was elected to the seat in 2018).
Tenants rights activist Dean Preston, when asked by the B.A.R. during a recent editorial board meeting if he would run against Wiener should he lose his race this November for the District 5 supervisor seat, responded with a firm "No." While he listed off a number of people from the city's progressive political circles who he felt would be a great candidate, Preston said he was unaware if any of them would contest Wiener's Senate seat.
Asked if he had heard of any progressive leader set to announce a bid for the Senate seat, Kevin Bard, president of the progressive Harvey Milk LGBTQ Democratic Club, said he hadn't. He noted it was pretty late for someone to be launching a campaign against Wiener.
"Progressives in town are more eager to challenge (House Speaker) Nancy Pelosi than Scott Wiener. That doesn't make sense to me," replied Bard.
He expects the Milk club will consider an endorsement in the Senate race after the December 3 filing deadline. Long opposed to Wiener's political career, the Milk club isn't expected to endorse his re-election bid.
As for Wiener, he told the B.A.R. that no matter who ends up on the ballot, he isn't taking anything for granted about the race.
"I have been in enough tough races to know anything can happen. It is my responsibility to let the voters know what I have done for our community and what I intend to do in the future," he said. "It is my job to make the case why I deserve another term."
For 2020, 15 out candidates so far
Wiener is the current chair of the seven-member Legislative LGBTQ Caucus, and his re-election next November is seen as key to helping maintain or possibly expand the caucus's membership during the 2021-2022 legislative session. He and lesbian Senate President pro Tempore Toni Atkins (D-San Diego) are both up for re-election next year, while lesbian state Senator Cathleen Galgiani (D-Stockton) will be termed out of office.
In the Assembly, gay Assemblyman Evan Low (D-Campbell) and lesbian Assemblywoman Sabrina Cervantes (D-Corona) will both be seeking re-election to two-year terms. Their colleagues gay Assemblyman Todd Gloria (D-San Diego) and lesbian Assemblywoman Susan Talamantes Eggman (D-Stockton) will both be departing from the Legislature's lower chamber.
Eggman is a leading candidate to succeed Galgiani in the state's 5th Senate District, while Gloria is the frontrunner in next year's mayoral race in San Diego. (He received the LGBTQ Victory Fund's endorsement Thursday.) Gay San Diego City Councilman Chris Ward is the heavy favorite to succeed Gloria in the 78th Assembly District, while queer single mom and midwife Sarah Davis is also running for the seat.
Gay former Assemblyman John Laird (D-Santa Cruz) has broad Democratic support in his bid to succeed state Senator Bill Monning (D-Carmel), who is termed out of his 17th Senate District seat along the Central Coast. Laird is now facing a challenge from fellow Democrat Maria Cadenas, a lesbian single mother and nonprofit leader, while two Republicans have also pulled papers for the race.
San Bernardino City Unified School District board member Abigail Medina, who identifies as both queer and lesbian, is running in the 23rd state Senate District race. She is one of a number of candidates vying to succeed the incumbent, Mike Morrell (R-Rancho Cucamonga), who is termed out of office next year.
Both the Legislative LGBT Caucus and Equality California, the statewide LGBT advocacy group, have early endorsed Eggman, Laird, Medina, and Ward in their races. EQCA's political action committee has yet to announce endorsements for incumbent state legislators.
There are also several out Democratic candidates embarking on long shot electoral bids next year. In Los Angeles, David Cunningham officially entered the race for the 64th Assembly District seat September 13. He is running against the incumbent, Assemblyman Mike Gipson (D-Carson).
At 21, Cunningham reportedly would be the youngest person ever elected to the California State Legislature as well as the first gay African American state legislator.
Godfrey Santos Plata, a gay Filipino immigrant who lives in Los Angeles' Koreatown, is running for the 53rd Assembly District seat. He is trying to unseat the incumbent, Assemblyman Miguel Santiago (D-Los Angeles).
Gay Mission Viejo Realtor and grandparent Scott Rhinehart is running again for the 73rd Assembly District seat after losing last year to the incumbent, Assemblyman William Brough (R-Dana Point). Brough has since been accused of inappropriate behavior by four women and already has one Republican opponent for his Orange County seat in addition to Rhinehart.
In August, lesbian former San Jose resident Jackie Smith launched her second bid to unseat Assemblyman Kevin Kiley (R-Granite Bay) from his 6th Assembly District seat in Placer County. She lost to Kiley in 2018.
So far the lone LGBT Republican known to be mounting a state legislative race in 2020 is San Jose resident Anthony Macias. He is running again for the 15th Senate District seat, which is open due to Senator Jim Beall (D-San Jose) terming out in 2020, but has little chance of winning in the heavily Democratic district.
Two lesbian Democrats who lost Assembly bids in 2018 did pull papers with an eye toward a future campaign but have yet to indicate that they will run in 2020. Former Richmond City Councilwoman Jovanka Beckles, who lost to freshman Assemblywoman Buffy Wicks (D-Oakland) in the East Bay's 15th Assembly District, formed an exploratory committee and is sitting on more than $80,000. Wicks, meanwhile, has raised close to $137,000 toward defending her seat.
Real estate agent Sunday Gover lost last year to Assemblyman Brian Maienschein (D-San Diego) when he was still a member of the Republican Party. She hasn't raised any money toward a rematch for the 77th Assembly District, whereas Maienschein is close to having $1 million to defend his seat.
Keep abreast of the latest LGBT political news by following the Political Notebook on Twitter @ http://twitter.com/politicalnotes
Got a tip on LGBT politics? Call Matthew S. Bajko at (415) 829-8836 or e-mail m.bajko@ebar.com.
Comments on Facebook