Online Extra: Castro Merchants group supports planned falafel eatery
Thursday Sep 5, 2019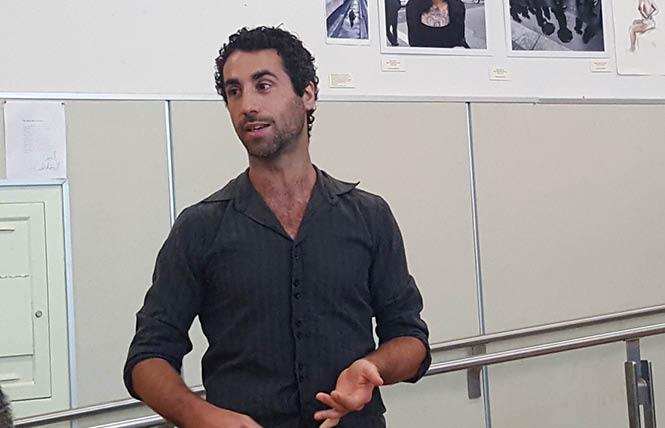 Against the backdrop of additional commercial vacancies in the Castro, members of the area's business group gave their support to a proposed falafel eatery Thursday, but not before engaging in a discussion about whether a restaurant should move into a former retail space.
Castro Merchants members voted overwhelmingly September 5 to support Assaf Pashut's The Flying Falafel vegan sandwich bar, located at 463 Castro Street. The letter of support will be submitted to the city's planning commission, which is expected to hear the matter next month because a request for a discretionary review was filed by Cem Bulutoglu and Volkan Akoglu, who run Gyro Xpress at 499 Castro Street.
Pashut told members that his eatery is a 100% vegan concept, with "very small" overlap with a couple of other establishments in the Castro.
Some speakers argued that the restaurant should be located in the site of a former eatery, rather than in a former retail space (it had housed All American Boy). They said it's rare for a restaurant space to go back to being a retail space.
Pashut, who said he is a member of the LGBT community, countered that available restaurant spaces in the neighborhood were too large and too expensive for his business model.
"A lot of restaurants are available but they have very high rent," he said, adding that his goal was "not to go in and fail." As it is, he said, his rent is high, but he thinks he'll succeed because "it's tough in the Castro to find vegan food."
Terry Asten Bennett, general manager at Cliff's Variety, worried that merchants were having the wrong discussion given the increasing number of vacant storefronts.
This week, the Bay Area Reporter noted that Coldwell Banker is closing its Market Street real estate office in the Castro and will consolidate its operations at its Van Ness Avenue office. Finn Town restaurant recently closed, and its companion Little Finn shop will not open. Cook Shoppe also closed last week due to problems with its liquor license and various investigations.
"The idea of not filling spaces, we're hurting ourselves," Asten Bennett said.
She pointed out that having another restaurant in the neighborhood would help foot traffic for surrounding businesses, including other eateries.
"The retail landscape has changed. Amazon is our greatest competitor now. I don't think it will hurt your business. I think it will enhance it," Asten Bennett said, referring to Gyro Xpress.
Pashut said that he has two other locations, one near Market and Sixth streets in San Francisco and one in downtown Berkeley.
Terry Beswick, executive director of the GLBT Historical Society, said he'd eaten at the Market Street location and enjoyed the food.
Akoglu told the audience that he didn't think another restaurant was needed.
"We serve vegan," Bulutoglu said, adding that "lots" of restaurants in the Castro do too.
Several audience members pointed out that even if other restaurants offer vegan food, along with non-vegan dishes, many vegans wouldn't eat there due to fears of cross-contamination.
"I love your restaurant," one woman told him, "but my vegan friends will never go there. I don't see it as direct competition."
In another matter at Thursday's meeting, Steve Adams of Sterling Bank and Trust received unanimous support from the merchants' group for the company's plan to move from its current location at 2122 Market Street to the ground floor retail space next door at 2100 Market Street, at the corner of Church and Market streets. He needs a conditional use permit.
The prominent corner retail space for decades was home to various restaurants, but the developer of the property, Brian Spiers, had told the B.A.R. last month that he did not plan to lease the newly built storefront to a restaurant. Spiers' project made headlines in August when news broke that he had partnered with an extended stay rental agency to lease out the building's apartments.
Comments on Facebook