Castro eatery must end alcohol sales
Tuesday Aug 20, 2019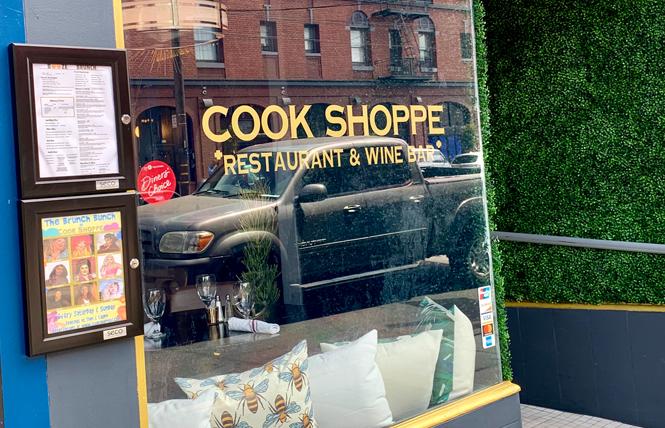 A new Castro eatery has been ordered to stop serving alcohol because it doesn't have a liquor license and authorities have launched a criminal investigation.
Cook Shoppe, the restaurant at 215 Church Street that took over the space when longtime cafe Chow abruptly closed last winter, must stop serving alcohol until it receives a license from Alcoholic Beverage Control, the state agency that issues permits that allow businesses to sell alcoholic beverages.
On August 16, ABC officials notified owner Mark White that the restaurant must immediately stop serving alcoholic beverages, following a complaint filed with the agency this month that the restaurant was serving alcohol without a license.
In a telephone interview, White, a gay man, said he believed the dispute came about because of a "clerical error" in filing the application. White told the Bay Area Reporter that he hoped the dispute could be resolved "quickly" and that his attorney was handling the details.
White, who moved to San Francisco from New York, is also working to open Gramercy Park, under construction at 216 Church Street, where Crepevine used to be.
But a spokesman for ABC said the issue was a bit more complicated. Justin Gebb, the ABC supervisor in charge of San Francisco and San Mateo counties, told the B.A.R. in a telephone interview that a new owner cannot start serving alcohol until the agency has approved their application. After the agency surrendered Chow's license, a new owner had to start from scratch, he said.
On Wednesday, Gebb said the agency has launched a criminal investigation into the matter.
"A criminal investigation is underway," Gebb said. "Until that is resolved, their application will remain in pending status."
Complicating the matter, said Gebb, was that two different people had filed "protests" that the license to serve beer and wine should not be granted. The agency has determined that both protests are considered "valid" and must be resolved before a license can be issued.
The protests could delay the approval for months, said Gebb. If the protesters withdrew their complaint, the license application could be issued "within weeks," he said.
If the restaurant owner believes that the dispute is "just a clerical error," Gebb said, "I need to go out and talk to the owner about our process."
The protests were filed shortly after White submitted his application to ABC in May, Gebb said.
White conceded that the protesters "have every right to be heard." He said he knew who they were, but preferred to keep their identities confidential.
In the meantime, Cook Shoppe is not allowed to serve alcoholic beverages and also cannot allow customers to bring their own bottles, said Gebb.
Updated, 8/21/19: This article has been updated.
Comments on Facebook