Online Extra: Political Notes: EQCA gears up to endorse in 2020 presidential race
Monday Aug 5, 2019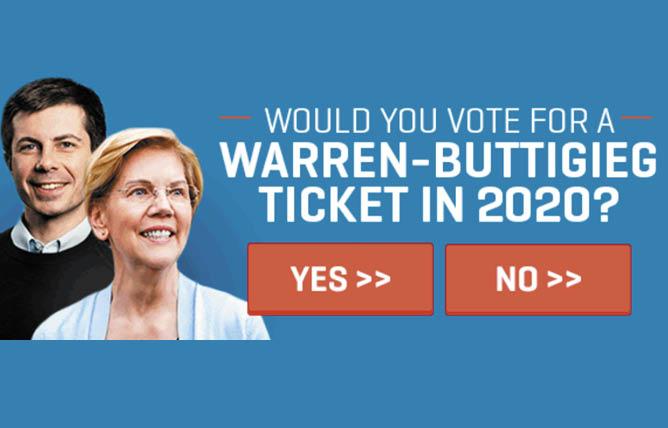 For months Equality California, the statewide LGBT advocacy organization, has been polling its members about which of the Democratic candidates they favor in the 2020 presidential primary race.
In June, for instance, emails went out to gauge support for U.S. Senator Bernie Sanders, an independent from Vermont, and gay South Bend, Indiana Mayor Pete Buttigieg. Last month, one emailed query from EQCA sought people's opinion of a Democratic ticket with U.S. Senator Elizabeth Warren of Massachusetts as the presidential candidate and Buttigieg as her vice presidential running mate.
A week prior an email hit inboxes of EQCA members asking how likely they were to vote for U.S. Senator Kamala Harris of California, formerly the state's attorney general and before that the district attorney of San Francisco. It was one of several emails, in fact, that went out in July asking about Harris.
It led some to wonder if it signaled that EQCA was endorsing her presidential candidacy. The answer, as of now, is not yet. An endorsement of Harris, or Buttigieg, or any of the Democratic candidates won't come until later this year or in early 2020 ahead of the Golden State's March 3 primary.
The responses culled from the emails to EQCA's members, which the group says numbers 800,000 people, will be used as it assesses the candidates and their positions on various LGBT issues and other concerns during its endorsement deliberations for the race.
"As part of our endorsement process, we've been sending surveys to our members to gauge their interest in and enthusiasm for each of the top tier pro-equality candidates," explained EQCA spokesman Samuel Garrett-Pate.
What has been abundantly clear about the 2020 presidential race is that EQCA is focused on ensuring that President Donald Trump and his vice president, Mike Pence, are not elected to a second term next November. It has launched a new initiative, called Equality California Votes, in order "to defeat Donald Trump in 2020 and replace him with a pro-equality president who will fight for all Americans," as a recent email declared.
In terms of its endorsement in the race, EQCA had told the Bay Area Reporter in May that it would conduct a formal process this year in order to decide which Democrat to endorse. Its political action committee will be sending questionnaires to all the candidates early this fall.
It then intends to follow up with the candidates and interview them prior to deciding which one will receive its backing in the race. A dual endorsement is possible, as EQCA has not ruled out such a scenario.
During the 2016 presidential race, EQCA gave an early endorsement to Hillary Clinton in March 2015 before she had even officially declared her candidacy. It prompted criticisms from some within the LGBT community, including the editorial board of the B.A.R., that it had squandered an opportunity to get Clinton on the record about where she stood on various LGBT issues.
This time around EQCA has fielded calls from the Democratic campaigns about its endorsement in the 2020 race, the organization's executive director, Rick Zbur, recently told the B.A.R.
"We are monitoring the race. We want to have an impact on the California primary," said Zbur, adding that, "Right now, we are preparing our endorsement materials."
EQCA will not publicly release its questionnaire or the responses to it from the candidates.
"No, we don't do that," Zbur said. "It has always been an internal process that we follow."
It is a strategic decision, explained Zbur, as the Trump campaign and Republican groups could use the Democratic candidates' answers against them, particularly in advertisements and campaign materials in more conservative areas of the country.
"Any group wants a candidate to be candid with you about their position on issues. We want to understand where they are," said Zbur. "Making them public could harm our better candidates in other states."
Although EQCA does not intend to disclose its questionnaires, it did provide the B.A.R. myriad topics it will be asking about. The issues run the gamut from support for federal LGBT legislation like the Equality Act and their history of advocacy on LGBTQ rights to gun safety regulations and health care reforms.
"Many of these national candidates have evolved over time," noted Zbur. "We want to look at their advocacy during periods of time when LGBT rights were less popular, how was their journey to supporting LGBT issues, and what was the timing of their support."
Several LGBT groups have already endorsed Buttigieg in the race. Earlier this year the San Diego group GLBT Vote and the National GLBT Network USA, the civil rights arm of the International Imperial Court System, both endorsed him for president. In June, during Pride weekend, the LGBTQ Victory Fund threw its support behind Buttigieg.
It is unclear if any Bay Area LGBT political groups will endorse in the presidential race. If they do it will likely also be around the same time as EQCA does. Last week, the Gay Asian Pacific Alliance, a group for queer Asians and Pacific Islanders in the Bay Area, told the B.A.R. that it was talking with its membership on if it would weigh in on the contest.
It has decided not to endorse in the local San Francisco elections on the November ballot, which includes Mayor London Breed's bid for a full four-year term and contests for District 5 supervisor, district attorney, city treasurer, public defender, city attorney, sheriff, and school and college board seats. The decision came as a bit of a surprise, as GAPA co-hosted a recent debate with the DA candidates.
Plus, it had come out with an early endorsement of the late mayor Ed Lee during his 2014 race and backed gay former state Assemblyman and supervisor Mark Leno in last year's special election to serve out Lee's term following his sudden death in December 2017.
"GAPA will not be making endorsements in the upcoming November election and we will review membership interest in the March presidential primary," GAPA PAC chair and political director Oliver Truong told the B.A.R. Friday.
Part of the reason, said GAPA Chair Michael Trung Nguyen, is that the group has been more focused on increasing its member ranks this year.
"We are really focused on growing our membership and seeing how they want to proceed," he said, in terms of endorsing in political races.
The decision of who to endorse among the Democrats seeking to become president is expected to get a bit easier as the candidates scramble to be included in the next debates, hosted by ABC and Univision at Texas Southern University on September 12 and 13. As of Friday, eight of the 24 contenders had qualified, leaving many to expect those that are not on the debate stage will drop out of the race.
Buttigieg, Harris, Sanders, and Warren will all be taking the stage. Joining them will be former Vice President Joseph R. Biden Jr.; U.S. Senators Cory Booker of New Jersey and Amy Klobuchar of Minnesota; and former Congressman Beto O'Rourke of Texas.
Former housing secretary Julián Castro and entrepreneur Andrew Yang are both close to meeting the criteria to be included. If 10 or fewer candidates do, then the debate will be held on one night.
Keep abreast of the latest LGBT political news by following the Political Notebook on Twitter @ http://twitter.com/politicalnotes .
Got a tip on LGBT politics? Call Matthew S. Bajko at (415) 829-8836 or e-mail m.bajko@ebar.com.
Comments on Facebook