Online Extra: Political Notes: In a 1st, all Napa County cities fly Pride flag
Friday Jun 14, 2019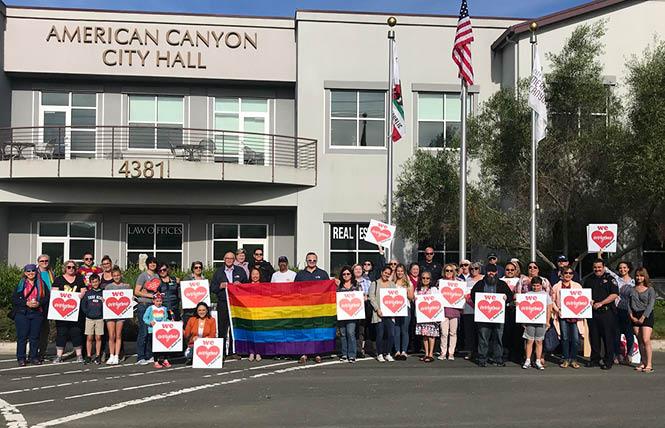 For the first time, all five cities in Napa County have agreed to fly the rainbow flag in honor of June being Pride Month. While LGBT advocates are hailing the achievement, it was not without controversy.
In Calistoga, which in 2013 was the first city in the North Bay county to raise the Pride flag, this year marked the first time the vote to do so was not unanimous among the mayor and four council members. While in American Canyon, residents criticized a city staff report that recommended against flying the LGBT community's symbol.
The city's five-person council, however, unanimously voted to reject that advice and hoist the flag for the first time the morning of June 7. The councils in Napa, St. Helena, and Yountville all voted to fly the flag this year, as did the county's Board of Supervisors for the first time.
The show of support from the local governments is something many longtime residents didn't think would happen, said Napa resident Ian Stanley Posadas, 41, a gay man who grew up in the wine country city.
"I never thought I would be openly gay in my hometown," said Posadas, the founding director of LGBTQ Connection, a program of the nonprofit On The Move that provides services in Napa and Sonoma counties. "Now, to have local elected officials approve visible signs of support means our efforts are paying off. We are creating a community where no one has to leave to find care and understanding."
Six years ago, his agency's request that the city of Napa fly the rainbow flag was denied. And while Calistoga's council consented to a request from several of its residents to fly the flag that year, the city took it down after only a few days after receiving two complaints.
Mayor Chris Canning, a gay man who has called the town home for 13 years and was first elected to the council in 2010 and as mayor two years later, said the issue at the time had to do with the city not having a flag policy in place. He had suggested the town leave the flag up while it worked on creating the policy but was overruled.
"I remember this to this day — I was in Los Angeles for work and on a conference call with the city attorney and city manager. I told them the minute we take this flag down we will have far more controversy and headache, and sure enough, we ended up on the NBC national news," recalled Canning in a phone interview with the Bay Area Reporter. "I got all sorts of nasty emails and people saying they would boycott the city when it literally had nothing to do with being an unwelcoming community. It was all about protocol."
The controversy is eerily similar to what occurred this year in the East Bay town of Dublin, where gay freshman City Councilman Shawn Kumagai's request to fly the Pride flag was at first denied due to the lack of a flag policy. Following a national outcry, the city's mayor and two other council members reversed course, adopted a flag policy, and voted with their two other colleagues to fly the Pride flag for a month.
A similar reason, of not having a flag policy, was cited in the staff report American Canyon City Manager Jason Holley presented to his town's five-person council. His report also stated that the staff felt "commemorating the values of one subset of the community based on their sexual orientation is unwarranted at this time" and advised the council not to fly the Pride flag.
"Staff does not recommend commemorating any particular group based on their sexual orientation because doing so may offend the culture, religion, and/or political beliefs of other community members who do not share these values," read the report. "Said differently, the city's current practice is to broadly include all groups, but it has not taken action to promote individual groups whose values may otherwise be offensive to other included groups."
Infuriated by the staff report, a number of LGBT residents and allies addressed the council at its June 4 meeting about why they felt it was important for the city to fly the rainbow flag. It was no different than the city touting its support for immigrants and people of different faiths, they argued.
"If you can support immigrants, you can certainly extend an arm out and support gays or members of the LGBTQ community," said Juan Cisneros, a gay immigrant who had asked the council in May to fly the flag. "Without support from our leaders and other members of the community, we will continue to stay marginalized."
An emotional Mayor Leon Garcia, choking back tears, spoke about witnessing the discrimination his daughter faced growing up when she came out of the closet as for why he supported flying the rainbow flag and issuing a Pride proclamation.
"As a father of a gay child this is important to me, and as you can hear in my voice, it is very emotional," said Garcia, noting his daughter and her wife now have a son of their own. "Somewhere between junior high and high school she came out to us as a family at dinner and she was not sure of our response. I told her, 'You are my daughter; I will always love you.'
"I think we need to proceed with this proclamation and flying of the flag as a statement as a city and for the values I uphold and I think the values a lot of people in America Canyon uphold," he added.
Posadas, who addressed the American Canyon council at its meeting, told the B.A.R. that the push to see the county's quintet of cities fly the Pride flag this year came about due to the advocacy of his agency as well as that of First 5 Napa County, which works with families and community leaders to promote early childhood education and other services.
"They held a focus group with LGBT families and one of the things they said was they would like to have more visible support from local governments. So they approached the Napa City Council again this year, and someone said why not approach the other city councils and school districts," he said. "We didn't know it would be a domino effect; it just started rolling."
Napa resident Joelle Gallagher, executive director of First 5 Napa County, told the B.A.R. that the credit for having the cities fly the flag goes to the members of the community who contacted their local officials and asked them to do so. She did note that during interviews her agency conducted with LGBT families a recurrent theme they heard was the desire to see more public support within the county.
"We discovered there are a lot of issues for LGBTQ parents and families around feeling welcomed in the community and feeling a part of the community," said Gallagher, whose adult stepson is gay and has flown a Pride flag for years at her home. "We pulled together a small group of parents and asked about their needs and desires. Out of that conversation came this notion that small gestures of inclusion were really, really important."
It manifested itself in the push this year to see the Pride flag unfurled at city halls and government buildings throughout the county. Asked about the milestone achieved this month, Calistoga's Canning replied, "That is great everyone is finally on board. I don't know why it took so long. Each city had to go through its own processes and a couple used our flag ordinance as a model."
Council vote not unanimous
At the same time, Canning told the B.A.R. he is disappointed by the fact his council's vote was not unanimous this year. Without explaining why, City Councilman Donald Williams, elected last year, pulled the Pride flag item from the consent calendar at the June 4 meeting, forcing a roll-call vote on the matter. He then abstained from voting.
Williams did not respond to an emailed request for comment. Canning said he did talk with him privately about the matter but declined to reveal the details of their conversation.
"He is entitled to his own opinion," said Canning. "But as an elected official there is a reasonable expectation you should share the reasons for your positions with the community you are representing."
Williams' silence on the matter caused a bit of a stir in the town, with a number of residents sending in letters to the local paper, the Calistoga Tribune. Lisa Marie Gift, who lives in the city with her husband, has been so angered by the councilman's actions that she told the B.A.R. she would like to see him be recalled from office.
"I just think inclusion of LGBT members in a society is incredibly important," she said. "Individual exclusion has serious psychological effects on people and that is not OK."
Gift said Williams owes the people he represents a reason.
"As a community we deserve an explanation for why he took it off consent and why he abstained. If he is leaning that way, I don't think anyone should hide homophobia behind an abstention in a vote on inclusion," she said.
Pat Hampton, who launched the weekly Calistoga newspaper in 2002 with her wife, Ramona Asmus, told the B.A.R. that she confronted Williams about his non-vote and that he at first refused to explain his actions. When she pressed him, he cited it being a "private matter" and declined to go into detail.
She also asked him if he would issue a Pride Month proclamation were he the town's mayor, and after hemming and hawing, he admitted he would not. Following publication of her story in the June 7 issue, controversy continued to build around Williams.
He wrote a letter to the editor to explain his viewpoint published in the June 14 issue of the paper. In it he noted he applauded when Canning presented the proclamation to members of the LGBT community during the council meeting but that he believes sexual orientation should be "a private matter."
"What he doesn't understand, I think, is it is not about sex. It is about inclusion, equal rights, and access," said Hampton, who has lived in the town for 34 years and raised a son there.
Councilman Gary Kraus told the B.A.R. he remains "bewildered" by his council colleague's actions.
"This is a small town. If you don't explain yourself, sometimes people will explain you for you," said Kraus.
As he explained in a letter to a Napa paper as for why he supports the Pride Month observances, Kraus wrote, "We have a significant LGBTQ population. They are part of the fabric of our community. Our diversity is one of the strengths of Calistoga."
Despite the outcome of this year's vote, Canning told the B.A.R. he takes heart in the fact that the council, in addition to approving flying the rainbow flag Monday, June 17, through June 22, voted to fly the transgender flag for the second year in a row.
"We are now the first city and only city in Napa to fly the transgender flag," he said.
The Political Notes column will return Monday, July 15. Keep abreast of the latest LGBT political news by following the Political Notebook on Twitter @ http://twitter.com/politicalnotes .
Got a tip on LGBT politics? Call Matthew S. Bajko at (415) 829-8836 or e-mail m.bajko@ebar.com.
EDITED 6/19/2019 to state the weekly Calistoga newspaper launched in 2002.
Comments on Facebook