Activists ask SF Pride to ban Google after homophobic YouTube dust-up
Friday Jun 7, 2019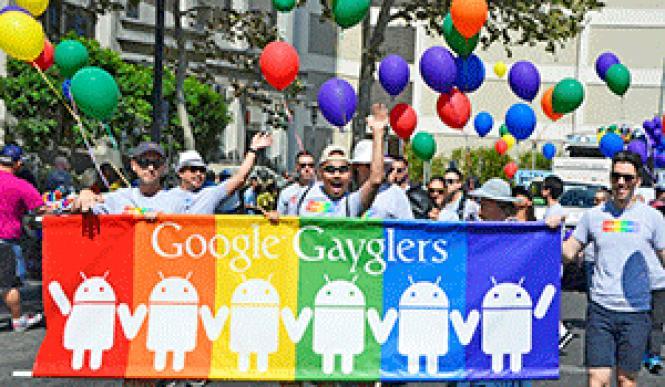 At a Wednesday night San Francisco Pride board meeting, current and former Google employees joined with LGBTQ activists in demanding that Google be ousted from the 2019 Pride parade and celebration. Participants in this action have accused Google of "rainbow-washing" their corporate image while refusing to enforce their anti-harassment policies against monetized YouTube channels that direct bigotry and abuse toward LGBTQ individuals.
A Google employee spoke with the Bay Area Reporter on the condition of anonymity about the current mood among LGBTQ Googlers, saying by phone that, "I'm really worried that they [company leadership] don't know how unsustainable this is. They want to have it both ways: to monetize the engagement that comes from really odious content, but to bear no responsibility for it. And all of us queers who work here see how they're getting away with making money off people who hate us while doing nothing to stop them. Meanwhile, most queer creators' channels are demonetized or marked 'adult' because they use words like 'trans.' Google has no right to be at Pride. They're just capitalists. They don't care."
The board of the San Francisco LGBT Pride Celebration Committee, which produces the Pride parade and festival, did not take any action at the June 5 meeting, which was first reported by Hoodline.
SF Pride communications manager Fred Lopez wrote in an email that the organization is "monitoring the story."
"San Francisco Pride seeks to build space for diversity, inclusion, and respectful dialogue. We encourage the elevation and protection of marginalized voices," Lopez wrote.
"We are monitoring this story as it develops, listening to the concerns of the community, and have raised these concerns with our contacts at Google," Lopez added. "Google is a longtime partner of San Francisco Pride and is a sponsor of the 2019 Parade and Celebration. Google is a registered contingent of the Parade."
Over the past week, YouTube, which is a subsidy of Google, has gone through a whiplash-inducing series of decisions, reversals, and public upsets about its own published hate speech and harassment policies. After a series of high-profile and detailed tweets exposing ongoing racist and homophobic abuse by the conservative pundit Steven Crowder mounted against Carlos Maza, a gay Latino journalist, YouTube was forced to respond.
So, I have pretty thick skin when it comes to online harassment, but something has been really bothering me.— Carlos Maza (@gaywonk) May 31, 2019
Maza gathered the evidence: Crowder calls Maza as a "lispy queer" in multiple videos, derisively refers to Maza as "the gay Mexican," and sells T-shirts emblazoned with the slogan "Socialism is for Fags." In a thread directed at YouTube itself, Maza appealed for enforcement of policies that state that the platform does not allow "content that is deliberately posted in order to humiliate someone," and "content that makes hurtful and negative personal comments."
YouTube responded in a series of tweets explaining that although the language used is hurtful, it did not violate their terms of service.

(1/4) Thanks again for taking the time to share all of this information with us. We take allegations of harassment very seriously—we know this is important and impacts a lot of people.— TeamYouTube (@TeamYouTube) June 4, 2019
After this thread went viral, multiple news outlets (most notably Maza's employer, Vox Media) published articles about the cognitive dissonance between YouTube's stated policies and its choices in enforcing them. YouTube responded yet again by announcing the platform would start removing content from Holocaust and Sandy Hook denialists, as well as applying more stringent standards to remove neo-Nazi videos from the site. YouTube did not, however, directly address the question of anti-LGBTQ bigotry in monetized content.
Representatives from Google and YouTube did not immediately respond to requests for comment.
Maza spoke with the B.A.R via Twitter direct message, agreeing that Google should be barred from SF Pride based on their actions in this conflict.
"YouTube's design pushes millions of viewers towards anti-LGBT bullies who use racist and anti-gay slurs with relative impunity," he said. "If YouTube wants to march as an ally to the LGBT community, it should probably start by enforcing the plain language of its anti-abuse policies and protecting its most vulnerable creators."
As of this article being posted, Crowder has not been deplatformed or censored in any way. His content has not been demonetized, although he has removed his "Socialism is for Fags" T-shirt from his official shop. His video alleging that Vox and other liberal media outlets are attempting to censor him has 900,000 views. Crowder did not respond to a request for comment.
It is believed that SF Pride has never banned an organization from their festivities, though the vote was very close (5-4) in 2015 after Facebook's rollout of its "real name" policy disproportionately affected queer, trans, and drag queen users of the platform, Hoodline reported.
Facebook ultimately apologized and created a work-around for people in "special circumstances" to use a pseudonym if necessary.
This article was updated to include comment from SF Pride.
Comments on Facebook