Online Extra: Political Notes: CA bill aims to direct hospital contracts to LGBT firms
Monday Apr 8, 2019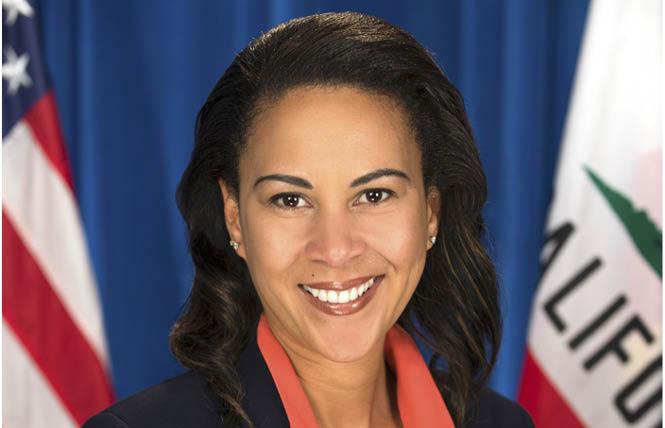 Under legislation currently making its way through the state Legislature, California hospitals would have to publicly disclose how much they are contracting with LGBT-owned businesses as well as those owned by women, minorities, and other disadvantaged groups.
The transparency requirement is aimed at seeing more such companies benefit from the estimated $230 billion the state's hospital industry spends annually. It mirrors recent efforts to encourage other industries in the state, from public utilities to transportation agencies, to also increase their contracts with minority-owned firms.
Assemblywoman Autumn Burke (D-Inglewood) and Assemblyman Rob Bonta (D-Oakland) co-authored the legislation, Assembly Bill 962. The Assembly Health Committee passed it last week and the Assembly Appropriations Committee will next take it up.
"It is crucial that we continue to encourage increased diversity in our state across all levels," stated Burke. "Promoting economic opportunity for our diverse businesses has benefits that extend well past the hospital-supplier relationship because when our diverse businesses benefit, we all benefit."
The legislation would require all hospitals with annual operating budgets of more than $25 million to report their supplier diversity broken down by minority-, women-, LGBT-, and veteran-owned businesses. It is similar to a bill that went into effect in 2015, AB 1678, that required electrical, gas, water, and other public utilities with annual revenues of more than $25 million to include LGBT-owned firms in their contracting diversity outreach efforts.
The California Public Utilities Commission certifies if a business is disadvantaged and owned by one of the various groups targeted, such as LGBT entrepreneurs. It also releases reports each year from more than two-dozen utility providers about their diversity contract outreach efforts.
AT&T, for example, reported in 2018 that it had awarded $324 million in subcontracts to disadvantaged businesses, though it did not break it down by category. It did disclose it was aiming to spend .04% with LGBT firms in the Golden State.
Pacific Gas & Electric reported it had spent $3 billion in 2018 with various minority-owned businesses, or 41.43% of its total procurement. PG&E did break down the totals by category, reporting it spent $2.50 million with LGBT-owned firms, a significant increase from the $1.45 million it spent with such businesses in 2017.
"While there continue to be challenges related to the limited number and types of LGBTBEs that have capacity to meet PG&E's specific industry needs, the company achieved greater success in 2018," stated the company's report, which noted the amount of contracts LGBT-owned firms received had jumped by more than 70 percent last year. "PG&E also increased the number of LGBTBEs it worked with as direct and subcontracting suppliers to nine in 2018."
Certain hospital chains, such as Kaiser Permanente, already do extensive outreach to certified disadvantaged firms, but not all do, noted Oakland-based Greenlining Institute, which is co-sponsoring the legislation. It sees the legislation as incentivizing hospitals to follow Kaiser's lead.
"Hospitals are uniquely positioned to build relationships with the communities they serve by partnering and contracting with diverse businesses," stated Greenlining Institute health equity director Anthony Galace. "The data provided by AB 962 will enable California to leverage the expansion of the state's health sector to benefit small businesses that employ people of color, women, LGBT people and veterans."
Having reliable data is important to ensure contracts are being awarded to disadvantaged businesses. As an example, the California Department of Transportation for years has outreached to LGBT-owned firms.
But it wasn't until this year, due to a law enacted by state lawmakers in 2017, that Caltrans was required to report the results. As the Bay Area Reported noted in a story in February few LGBT-owned firms have secured contracts with the state agency.
In the fiscal year 2016-2017 a bisexual-owned business won a construction contract worth $1,367,300. The following year, a bisexual-owned business won a contract worth $458,781, though it was unclear if it was the same firm because Caltrans did not disclose the names of the businesses.
Going forward Caltrans must annually report to state lawmakers its minority contracting outreach efforts and results. The backers of AB 962 would like California hospitals to be required to release similar reports.
"Without this information, all we can do is speculate about the health sector's engagement with diverse businesses and the communities they serve," noted Galace in a blog post about the legislation. "Making this information public is the only way to accurately evaluate the market the hospitals operate in, and it's the best way to guarantee these discussions occur equitably."

Keep abreast of the latest LGBT political news by following the Political Notebook on Twitter @ http://twitter.com/politicalnotes .
Got a tip on LGBT politics? Call Matthew S. Bajko at (415) 829-8836 or e-mail m.bajko@ebar.com.
Comments on Facebook