Online Extra: Political Notes: Buttigieg promises to make Equality Act law if president
Friday Mar 29, 2019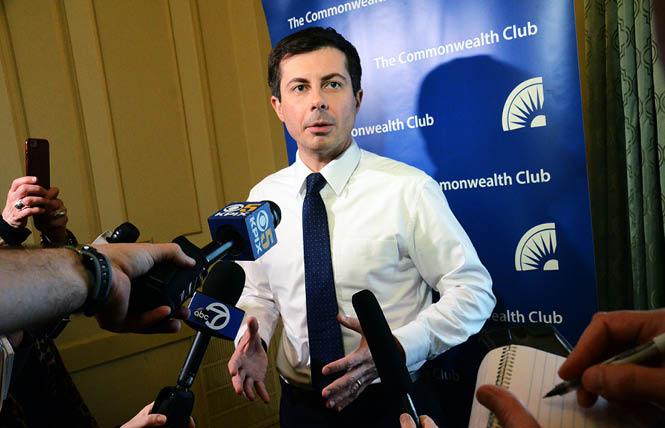 Should he become president of the United States in 2021, Pete Buttigieg promises to sign into law sweeping federal legislation that would protect the rights of LGBT people across the country.
The law, known as the Equality Act, was recently re-introduced into Congress and is likely to pass out of the Democratically-controlled House. Its chance of passage is much less certain in the Republican-held Senate, nor is it clear that President Donald Trump would sign it into law.
Asked by the Bay Area Reporter during a press avail in San Francisco Thursday (March 28) if he would commit to ensuring the law was enacted within the first six months of his presidency, Buttigieg was resolute in his commitment that he would.
"As soon as it hits my desk I will sign it," said Buttigieg, noting that he had recently spoken to one of the law's lead sponsors, gay Congressman David Cicilline, Democrat of Rhode Island. "It's just common sense. Americans get that you shouldn't be vulnerable in employment and to other sources of discrimination because of who you are, and yet so many people, including a great many people in my home state of Indiana, live without that protection. It's the right thing to do. And it's a shame we haven't gotten there yet. I will act on that right away."
As he eyes running for the White House as the first openly gay Democratic presidential nominee, Buttigieg charmed a San Francisco crowd Thursday night during a swing through the Golden State. Buttigieg, 37, the mayor of South Bend, Indiana, took part in a sold-out conversation hosted by the Commonwealth Club in San Francisco.
Friday, he is scheduled to appear on Bill Maher's live HBO show taped in Los Angeles before heading back to South Bend for an event Saturday. One of his aides told the B.A.R. that he wasn't invited to the Human Rights Campaign's Los Angeles gala dinner, as were presidential candidates Senators Cory Booker of New Jersey and Kamala Harris of California.
Even if he had been, the aide said Buttigieg wouldn't have been able to attend the national LGBT advocacy group's fundraiser due to the already scheduled event in South Bend. Asked by the B.A.R. how he could beat Harris in the California primary next March, Buttigieg responded that he isn't running against any other candidate.
"You know, I don't think I'm running against any individual person, especially when there's something like 20 of us," he said. "I think somebody like me is really competing against the house. I admire a lot of the other people in this process but each of us I think has a different message, a different view, and vision, and we simply have to take it out there and see what the response is going to be."
It could be difficult for Buttigieg to win over Democratic primary voters in the state. Several who came to hear him speak Thursday told the B.A.R. they are conflicted over who to support in the race even though they came away impressed by Buttigieg.
"It is a tough battle with the likes of Cory Booker and Kamala Harris being a Californian, especially with me being a Californian," said Melissa Burnell, who works in San Francisco and lives in Oakland with her wife and their 6-year-old child. "But I am super intrigued by his positions, his humility, and him being gay certainly helps."
Burnell said she is struggling between wanting to vote for a woman and voting for a gay man to be president.
"I think he is an ideal prospect and I want to learn more," she said.
Her friend Stephanie Smeekens, who is straight and lives in San Francisco, is similarly conflicted about the Democratic primary race.
"I heard a lot of buzz around him and he seems to be saying all the right things from my perspective. I just wanted to hear more," said Smeekens, 34, as for why she wanted to hear Buttigieg in person. "I am still thinking about who to vote for. Supporting a woman is my general thing, but I can relate more to him as a younger candidate."
Since releasing his best-selling memoir "Shortest Way Home: One Mayor's Challenge and a Model for America's Future" last month Buttigieg (pronounced Buddha-judge) has been riding a wave of national publicity as he explores entering the 2020 presidential race. During the press avail with local media prior to his talk, Buttigieg declined to say when he would officially launch his presidential bid.
"We are not going to make any news about that today," he said, though, in response to a question from the B.A.R., he did say it would be held in South Bend when he does, as the city is "the center of gravity of this whole project."
"In many ways South Bend is our message," he added. "We found a better future. Not by pretending that we could rewind our economy and our society, but by accepting the changes that were coming and figuring out how to make them work for us. And that is part of my reply to this presidency and it's going to be at the centerpiece of anything we do moving forward."
The flurry of media attention for Buttigieg has corresponded with a spike in voter interest in his campaign. A recent poll of Iowa Democratic caucusgoers had him in third place behind former Vice President Joe Biden, who also has yet to make his bid official, and Senator Bernie Sanders (I-Vermont).
Last weekend former San Francisco mayor Willie Brown raved about the boyish politician in his San Francisco Chronicle column as one to watch and compared him to former Democratic presidents Barack Obama and Bill Clinton.
"He graduated from Harvard and was a Rhodes scholar, so he hits a homer with the overeducated crowd. But he's also a Navy Reserve veteran who served in Afghanistan, which gives him purple-state credibility," wrote Brown. "And he's not on the socialist bandwagon with so many of the other Democratic hopefuls who want everything to be free."
His military background also received fawning attention from conservative blogger Matt Drudge this week. He posted a photo of Buttigieg in military fatigues and holding a rifle to his influential Drudge Report website Tuesday (March 26) above a link to a news article touting the candidate's improving poll numbers, media attention, and campaign funds.
As the B.A.R. noted in a story Thursday only one other openly gay person has ever tried to run for a major party presidential nomination: Fred Karger ran for the Republican nomination in 2012. Karger beat eventual nominee Mitt Romney in one New Hampshire college straw poll, but he never made it onto a nationally televised debate stage and appeared on the primary ballot in only six states.
It is looking increasingly likely that Buttigieg will meet the necessary requirements to be invited to take part in the first nationally televised Democratic primary debate in June.
Keep abreast of the latest LGBT political news by following the Political Notebook on Twitter @ http://twitter.com/politicalnotes .
Got a tip on LGBT politics? Call Matthew S. Bajko at (415) 829-8836 or e-mail m.bajko@ebar.com.
Comments on Facebook