Online Extra: LGBTQ Update: Access issues at Lesbians Who Tech confab frustrate attendees
Tuesday Mar 12, 2019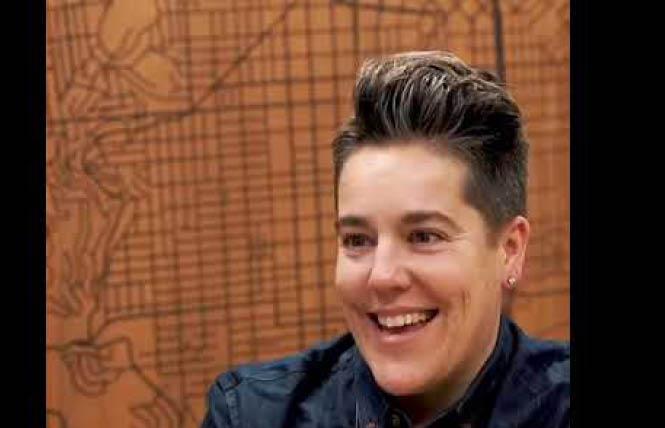 Some people who attended the recent Lesbians Who Tech + Allies conference in San Francisco were not able to get into speaker talks they paid for due to a 21-and-over age restriction that was enforced by the Cafe, a bar in the Castro, where some events occurred.
Since 2012, the tech conference has been held in the Castro, where events bring awareness to LGBTs in tech. This year's session was February 28-March 2 and brought upward of 6,000 attendees to the city's gay district.
Rumblings on Twitter began with one of the speakers herself, Nina-Marie Amadeo, a software engineer at Google. After her 10 a.m. March 2 talk at the Cafe about the Google walkout, a protest last November in cities around the world rebuking the way the search giant handled sexual harassment, she tweeted, "If you're at #LWTSUMMIT and couldn't get into my talk on #GoogleWalkout due to venue's age restriction, I'm writing up a Medium post detailing my points. Stay tuned! May take time due to a busy calendar, but I'm on it & so sorry you weren't allowed in. Unacceptable, @lesbiantech."
Then another user, in response to Amadeo's tweet, placed blame on the Cafe.
"As someone who helped on this event, @TheCafeSF misled @lesbiantech team and never communicated age requirements either in the contract or in negotiations. This was a total surprise to us too. I wonder if ... @eBARnews would be interested in this story. #Misogyny," user Kristen wrote on Twitter.
In a second tweet published hours after her original, Amadeo also criticized the Cafe. "Addendum — the Cafe is to blame here, not @lesbiantech. They were extremely disrespectful to organizers on this and other issues. Really disappointing to see, but @lesbiantech has our backs on this one," Amadeo's tweet read.
When the Bay Area Reporter spoke to Michelle Skoor, vice president of operations and programs at Lesbians Who Tech, they discussed what happened and their displeasure with the Cafe's actions.
Lesbians Who Tech has partnered with the Cafe for the past three or so years to host day and evening events, Skoor said, and that until this year have never had an age limit for daytime events. The two companies have a contractual agreement, but there are no specifications regarding age constraints, added Skoor, who identifies as genderqueer and prefers they/them pronouns.
"It was a surprise to us when attendees weren't being allowed in the venue," Skoor said. "In the past we have been with the understanding that only the after-party had an age requirement because they serve alcohol."
There was no alcohol served at Amadeo's talk, Skoor said, and that people under 21 were not let in for any portion of the event, something they were unhappy about. To Skoor's understanding, all Lesbians Who Tech events held at the Cafe March 2 had a 21-and-over age limit.
"This prevented the attendees from being able to access and hear a diverse set of speakers talk that day," they said. "That is really an unfortunate experience and not what we would have gone into the understanding and agreement with."
Skoor also said they and their team are still trying to reach the owner of the Cafe. The bar's general manager has informed Skoor that the owner wants to speak with them. The Cafe did not respond to a request for comment from the B.A.R.
"They haven't been incredibly responsive to us," Skoor said. "The person we dealt with the day of was unhelpful in trying to get us to a better resolution that better served the attendees."
When this was brought to the attention of the leadership team at Lesbians Who Tech, they redirected the people who were not let into the Cafe to other events happening simultaneously.
Lesbians Who Tech does not know if it will work with the Cafe for the 2020 summit, noted Skoor. It could present a major logistical issue for the event organizers, who are already facing space constraints due to the increasing popularity of the annual winter gatherings and shutting down a block of 18th Street this year in order to provide an additional venue to hold various sessions.
Due to it being an LGBT-oriented summit, Lesbians Who Tech organizers have repeatedly informed Castro merchant leaders that they are reluctant to move the gathering out of the neighborhood. It uses the Castro Theatre as its main base of operations and rents out various bars, clubs, and other businesses within a few blocks walking distance to host smaller sessions and gatherings, as does its event sponsors.
It is expected, therefore, that the 2020 summit will again be held in the Castro.
Both Amadeo and the twitter user Kristen did not respond to requests for comment from the B.A.R.
LGBT history preservation organization gives out scholarly award
A Berkeley-based organization dedicated to preserving history and encouraging scholarly study of LGBTs, the LGBTQ Religious Archives Network, has honored K. Mohrman, Ph.D., with its 2018-19 LGBTQ Religious History Award.
Mohrman is the 10th recipient of the award. Her paper titled, "Becoming White: Theologizing Heteronormativity in Mormonism, 1890-1945," was chosen for the award out of eight papers submitted to a review jury.
An instructor at the University of Colorado, Denver in ethnic studies, English, and interdisciplinary studies, as well as history and religious studies, Mohrman's paper is part of her book project "Exceptionally Queer: Mormon Peculiarity and U.S. Exceptionalism."
It argues that "contestations over Mormonism in popular and political culture have played a central role in shaping national identity and ideology, particularly through the production of sexual normativity and racial hierarchy," states a news release from LGBTQRAN. "More specifically, the project highlights how Mormonism has been used as a foil against which 'Americanness' has been defined as white, heteronormative, capitalist, and Protestant, thereby justifying and facilitating many of the exclusionary and imperialist policies and practices of the U.S. nation-state."
Mohrman, who could not be reached for comment, has also been the recipient of the University of Minnesota's Steven J. Schochet Endowment's 2016-2017 Interdisciplinary Dissertation Fellowship in Queer, Trans, and Sexuality Studies. She has been featured in multiple peer-reviewed publications and has spoken at universities and symposiums across the nation.
Members of the LGBTQRAN jury, Joanne Carlson Brown, Ph.D.; Heather Rachelle White, Ph.D.; and Bernard Schlager, Ph.D., described Mohrman's work in a news release as offering a "detailed, nuanced analysis of a self-defined religious group — the LDS church — with attention to how dominant discourses about religion as a cultural category inflected the church's changing social and political status. The author also insightfully analyzes interlocking dynamics of race and racialization with normative sexuality and religious/moral authority."
They also stated "the author uses sources well and constructs a very convincing argument of how Mormonism gained entry into the American religious mainstream in an entwined process of becoming racially white and sexually normal. This process, in short, is the invention of Mormon heteronormativity, a process that secured both religious toleration and white racial status."
The LGBTQ Religious History Award was started by the LGBTQ Religious Archives Network in 2005. The network is a project of the Center for LGBTQ & Gender Studies in Religion at the Pacific School of Religion. It is the only award given for outstanding scholarship in this field of study, according to the organization.
LGBTQ Update is a weekly online column addressing issues affecting the community. It runs weekly. Please submit comments or column ideas to Alex Madison at (415) 875-9986 or a.madison@ebar.com.
Comments on Facebook