Online Extra: Political Notes: CA lawmakers commit to aging plan
Monday Feb 25, 2019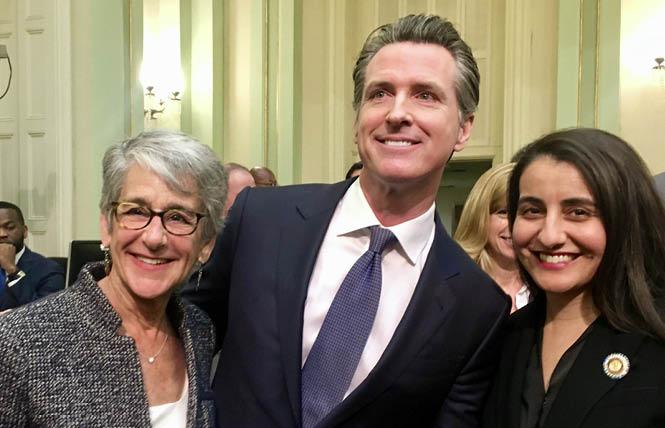 California lawmakers are moving forward on the creation of a statewide aging plan that is expected to include the needs of the Golden State's LGBT community.
Having committed to develop a statewide plan addressing the myriad issues confronting the state's rapidly aging residents during last year's gubernatorial race, Governor Gavin Newsom called for its development during his State of the State address February 12. His remarks came just days after state Senator Hannah-Beth Jackson (D-Santa Barbara) introduced legislation, Senate Bill 228, that would require development of a master plan for aging Californians.
This Thursday, February 28, members of the California Association of Area Agencies on Aging will descend on the Statehouse for a day of lobbying on aging issues. In addition to visiting with lawmakers, the aging advocates are scheduled to hear from a number of state leaders, including Assemblyman Adrin Nazarian (D-Van Nuys), who chairs the Assembly Aging and Long-Term Care Committee, and Keely Bosler, the state's director of finance.
As the Bay Area Reporter first reported in October, LGBT senior advocates have been involved in the lobbying efforts to see that California create a comprehensive strategy to meet the needs of older adults in the state. They have been working with the SCAN Foundation and West Health, a San Diego-based nonprofit health care provider and advocacy group for seniors, to promote a Master Plan For Aging.
The campaign, known as We Stand With Seniors, posted on its Twitter account in reaction to Newsom's remarks in his speech that he was "the first governor in recent history to address California's aging population and the associated socioeconomic challenges. It's time for a Master Plan for Aging."
California has the most people age 60 and older of any state in the country with 8.22 million as of 2018. It also has the fastest-growing senior population, with an additional 2.1 million residents expected to turn 65 or older by 2026, according to projections by the state Department of Finance.
A study released in August by the Williams Institute, an LGBT think tank at the UCLA School of Law, found that roughly 3.5 percent of adults in California age 50 and older identify as LGB. The study, using data from the 2015-2016 California Health Interview Survey, found there were 268,800 older adults in the state who identify as lesbian or gay and 163,000 as bisexual. (There is no statewide data for the transgender senior population.)
In his remarks during his first State of the State speech, Newsom acknowledged what demographers refer to as the coming "gray tsunami" of Californians age 55 and older. He noted that policymakers expect that older adults will soon outnumber young children.
Newsom also noted that, by 2030, the statewide senior population is set to increase by 4 million people and double within 25 years. More than half will need some form of long-term care, he added.
"The Golden State is getting grayer. We need to get ready for the major demographic challenge headed our way," said Newsom, noting that "growing old knows no boundaries — aging doesn't care what race you are, your economic status, or if you're single with no other family support."
He related how he had personally witnessed the needs of older adults with the death of his father late last year. The experience had been "painful," said Newsom, 51, a Democrat and former mayor of San Francisco.
"I lost my father over the holidays, after years of declining physical health and dementia. He was determined to live out his days with dignity," said Newsom. "He also happened to be a retired public official with a pension and a support circle of family and friends. Even with all those advantages, it was a daily challenge to meet his needs so he could live in place and maintain a good quality of life."
Millions of Californians have similar stories to tell about their aging parents, relatives, or friends, said Newsom, adding that their numbers will only grow.
"It's time for a new Master Plan on Aging," said Newsom. "It must address: person-centered care, the patchwork of public services, social isolation, bed-locked seniors in need of transportation, the nursing shortage, and demand for In-Home Supportive Services that far outpaces its capacity."
Jackson, 68, applauded Newsom in her own tweet following his remarks, noting that he "drew attention to a group that is at times overlooked, our state's aging population, which faces a patchwork of public services, social isolation, & poverty. I look forward to working with him on a Master Plan for Aging Californians with my SB 228."
Her bill calls for Newsom to appoint an "aging czar" to oversee a 15-member task force that would be responsible for drafting the aging plan. It would be required to work with various stakeholders and state agencies to identify various policies and priorities to include in it.
California's aging population is growing quickly and people are living longer. That's why I introduced SB 228 today to develop a Master Plan for Aging Californians and appoint an "Aging Czar" to lead the effort. https://t.co/UuAXfFqJ77— Hannah-Beth Jackson (@SenHannahBeth) February 7, 2019
The task force members would include representation from consumers, health care, long-term services and supports, labor, transportation, housing, government, and traditionally overlooked communities, according to a news release about the legislation. It also calls for specific areas that the plan should address, such as expanded access to coordinated, integrated systems of care, support for family caregivers, and increased affordable housing options.
"California's aging population is growing quickly and living longer. Without adequate services and planning, many of our state's older adults face a risk of becoming homeless or losing access to essential care," stated Jackson. "We cannot afford to leave our aging adults behind. California must step up and prepare for this rapidly growing population."
Keep abreast of the latest LGBT political news by following the Political Notebook on Twitter @ http://twitter.com/politicalnotes .
Got a tip on LGBT politics? Call Matthew S. Bajko at (415) 829-8836 or e-mail m.bajko@ebar.com.
Comments on Facebook