Online Extra: LGBTQ Update: Trans immigrant released from detention
Tuesday Feb 12, 2019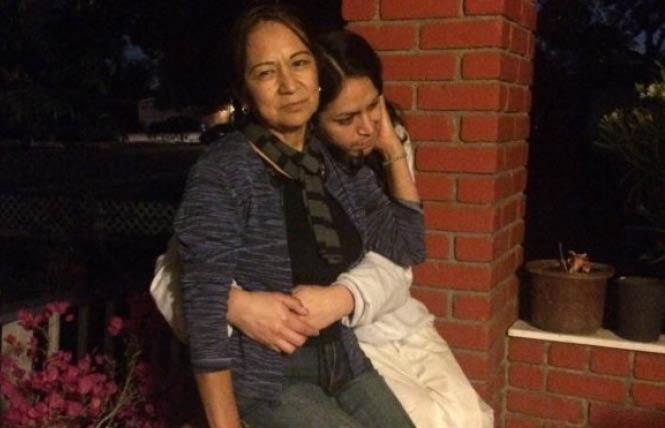 After a five-year legal battle, Christina Lopez, a transgender immigrant and human trafficking victim, was released from immigration detention in New Mexico February 8 and granted a special visa, according to the Transgender Law Center, which represented Lopez.
Lopez spent almost four years in custody after being detained by immigration officials in 2014.
"I am so happy!" Lopez said in a TLC news release. "I have been in detention for so long and I wasn't sure if I would ever be able to see my mother again, but now I am able to go home because of Transgender Law Center. TLC helped me stay strong through all of this and I now know I can continue to be strong. I am very grateful for the support I have been given from people I know and even from people I don't know. It is what has gotten me through these years in detention."
Lopez left Peru for the United States to escape violence against the transgender community in her home country. She also had hopes of reuniting with her parents, who had come to the U.S. to secure better paying employment.
In March 2018, the Board of Immigration Appeals took on Lopez's case after TLC filed a motion to reopen it. TLC also filed a motion for stay of removal, saying that her past criminal convictions were due to the fact she'd been a victim of human trafficking. Due to exceptional circumstances the petition was granted even though the motion to reopen was several years past the deadline, according to the news release.
Lopez won her case at the BIA and her case was reopened. On January 31, her trafficking visa was approved.
"Christina walking free after almost five years of incarceration is a huge victory, but it is not the only victory here," Lynly Egyes, interim legal director at TLC, said in the release. "Transgender women, and particularly those without immigration status, are frequently targeted for trafficking and forced into illegal activity against their will, leading to criminal convictions that the government uses to justify deportation. Through the precedent and novel legal arguments created in Christina's case, countless other survivors of human trafficking could now be protected from deportation."
Lopez was the face of a #Not1More campaign that received support from Familia: Trans Queer Liberation Movement and GetEQUAL, among others.
Study finds increase in LGBT millennials who want children
A recent study conducted by the Family Equality Council revealed an increasing number of LGBTQ millennials plan to have children.
The nonprofit group, which advances equality for LGBT families, surveyed 500 LGBT adults from across the nation in 2018 for The LGBTQ Family Building Survey.
It found that 63 percent of millennials, ages 18-35, are considering either expanding their families or becoming parents for the first time. There was a significant difference in the number of older LGBT adults who wanted, or already had, children, the survey found.
Only 33 percent of respondents age 55 and older either already have children or are considering having children.
"By comparing the family-building experience of older LGBTQ survey respondents to younger generations, we are able to better understand how barriers and aspirations about parenthood are changing," read the survey.
The Family Equality Council's survey also concluded that the gap between LGBT and non-LGBT parenthood rates are narrowing when compared to a 2013 survey conducted by the Pew Research Center. It showed that 68 percent of non-LGBT people over the age of 54 already have children, compared to only 28 percent of LGBT people in the same age range. The survey showed the same narrowing trend in LGBT millennials, revealing that 55 percent of non-LGBT individuals and 48 percent of LGBT individuals reported that they are planning to have children, a 7 percent difference.
"Since marriage equality became the law of the land, we've known anecdotally that more and more young LGBTQ people are fully expecting to form families, just like their straight and cisgender peers, but no research has been conducted to test this," said Stan J. Sloan, chief executive officer of Family Equality Council, in a news release. "This research is of truly groundbreaking importance to LGBTQ people interested in forming families, and to the work of Family Equality Council in supporting our community.
"We believe that every LGBTQ person should be able to form a family and know the joys of parenthood, no matter who they are or where they live," Sloan added. "Family Equality Council exists to make that dream a reality, and the data released today show just how many loving families are waiting to be formed with the right supports."
The survey can be found at https://www.familyequality.org/resources/lgbtq-family-building-survey/.
Judge rules for Christian group that banned gay student from leadership role
It was a win for a University of Iowa student Christian group, Business Leaders in Christ, which barred a gay student from a leadership role.
A federal judge ruled February 6 that UI was wrong to take away the group's registration status after it denied the gay student the post.
U.S. District Judge Stephanie M. Rose granted a permanent injunction banning the university from rejecting the group's status, the Des Moines Register reported. Rose found that the university had not fairly applied its human rights policy by allowing other groups on campus to limit membership based on religious views, race, sex, and other protected characteristics.
"The Constitution does not tolerate the way defendants chose to enforce the human rights policy," the decision stated. "Particularly when free speech is involved, the uneven application of any policy risks the most exacting standard of judicial scrutiny, which the defendants have failed to withstand."
A spokesperson for the university told the Bay Area Reporter in an email that, "We are reviewing the ruling and will follow the court order."
In a statement the university put out in December 2017, it said, "The University of Iowa does not tolerate discrimination of any kind in accordance with federal and state law. The University of Iowa respects the right of students, faculty, and staff to practice the religion of their choice. However, when a voluntary student organization chooses to become a registered student organization, it must adhere to the mission of the university, the UI's policies and procedures, and all local, state, and federal laws.
"Membership and participation in the organization must be open to all students without regard to race, creed, color, religion, national origin, age, sex, pregnancy, disability, genetic information, status as a U.S. veteran, service in the U.S. military, sexual orientation, gender identity, associational preferences, or any other classification that deprives the person of consideration as an individual," the statement read.
Business Leaders in Christ did not respond to a request for comment from the B.A.R. but the legal counsel representing it in the case, Becket Fund for Religious Liberty, put out a news release calling the court's decision "a win for basic fairness."
The case is Business Leaders in Christ v. University of Iowa.
LGBTQ Update is a weekly online column addressing issues affecting the community. It runs weekly, but will be off for Presidents Day, returning February 26. Please submit comments or column ideas to Alex Madison at (415) 875-9986 or a.madison@ebar.com.
Comments on Facebook