AIDS expert Colfax to lead SF DPH
Wednesday Jan 30, 2019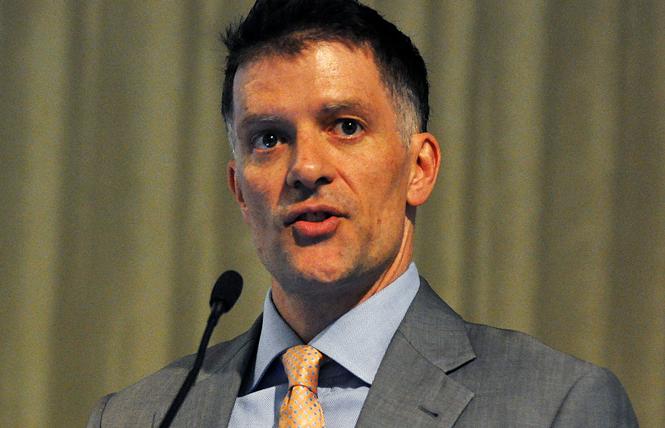 AIDS expert Dr. Grant Colfax is returning to San Francisco to lead the city's Department of Public Health. The news maintains decades-long LGBT leadership of the health agency.

Colfax, 54, who is gay and lives in Sausalito, has been the health and human services director for Marin County since May 2015. He plans to start as San Francisco's health director Tuesday, February 19.

"I think San Francisco has a history of leadership in health and I think the amazing DPH workforce, the community partnerships, and the innovative approach San Francisco has the legacy of taking from HIV to health coverage for all residents to building a state-of-the-art public hospital," Colfax told the Bay Area Reporter when asked why he wanted the job. "San Francisco has always been a leader in health. It is an honor to rejoin the team."

Between 2007 and 2012 Colfax had been San Francisco's HIV prevention director, a position in which he instigated sweeping changes to how the city addressed the epidemic. He was an early advocate for a number of policies once viewed as controversial, such as rapid HIV testing and treatment on demand in order to lower patients' HIV viral loads so they are less likely to transmit the virus.

Those prevention approaches are now pillars of San Francisco's Getting to Zero strategy aimed at reducing the number of new HIV cases by 90 percent come 2020. Colfax was also an early supporter of another part of the strategy, PrEP, the once-a-day pill that has proven effective at keeping people HIV negative when taken as prescribed. He did so at a time when many questioned its merits as an HIV prevention tool.

"The key thing with HIV right now is the great progress made in the last decade or so. New HIV infections have been cut in half," said Colfax. "We also see in HIV health inequities, particularly among communities of color. We can do better, clearly, from access to PrEP to linkages in care. We need to continue to figure that out."

He succeeds lesbian former health director Barbara Garcia, who resigned last summer after questions were raised about a contract granted to her wife's employer. For nearly three decades a gay or lesbian person has overseen the city's public health department.

Mayor London Breed made the hiring announcement Wednesday during her State of the City address, calling Colfax "one of our own" due to his years of working at the health department.

"He knows our city and its challenges, and he is ready to get to work," said Breed. "And he knows that we need to get to zero HIV infections in San Francisco. We need to reach our most vulnerable populations, particularly our African-American and Latino communities who are not seeing their HIV infection rates drop as others do. This means getting everyone — and I mean everyone — access to services, treatment, and preventative medication like PrEP. And I know that Dr. Colfax will get us to that goal."


Colfax, who grew up in Mendocino on a goat farm, left northern California in 2012 to lead the White House Office of National AIDS Policy in the Obama administration. Two years later the nonprofit Programs for Appropriate Technology in Health, or PATH, hired him to lead its HIV/AIDS and tuberculosis program in its South San Francisco office.

After that he went to work for Marin. The last four years, said Colfax, "has been a privilege" and he believes the health agency "made significant progress." He sees room for the two county health departments to work in collaboration moving forward.

"We know health and wellness knows no borders," he said. "There are lots of shared priorities."

Colfax expects to move back to San Francisco at some point. In addition to ensuring the city meets its goal for reducing HIV transmissions, Colfax will be in charge of opening a supervised injection site for intravenous drug users should state lawmakers grant San Francisco permission to pilot the program and federal officials fail in their attempts to block it.

"I have looked at the data — we have years of data — and it shows safe consumption sites save lives and have a positive effect on the community," said Colfax. "I look forward to looking at how that possibility can potentially be realized."

He added that he is "certainly supportive of the concept" and stressed that, "as a priority for health, it is important." But Colfax also said there "are a number of concerns and issues" that the city will need to address in opening up such a facility, such as ensuring the "people accessing the services are safe."

Asked about recent media reports detailing the high cost of medical services at the city-run Zuckerberg San Francisco General Hospital and Trauma Center, Colfax said it is an issue he plans to address.

"It is something I will be looking at with the team there. Beyond that, I can't comment," said Colfax.

He also said he is "in alignment" with Breed's plans for how the city addresses behavioral health, homelessness, and community health.

A main question he will grapple with, said Colfax, is "how do we ensure our care system in mental health and substance abuse treatment continues to expand and grow and meet the people most in need?"

One way, noted Colfax, is for DPH to work closely with the Department of Homelessness and Supportive Housing in "ensuring we are doing everything we can for people anywhere along the continuum of homelessness to permanent supportive housing so they are getting the care and support they need on the medical side to do better and improve."

Colfax graduated from Harvard College in 1987 and from Harvard Medical School in 1993. He completed his medical residency at UCSF and then was hired by DPH in 1997 to direct its HIV clinical prevention studies.

The mayor's office did not yet know what his salary would be as DPH director.

Contact the reporter at m.bajko@ebar.com.