Online Extra: Political Notes: Low rules out religious exemption in conversion therapy ban
Friday Jan 11, 2019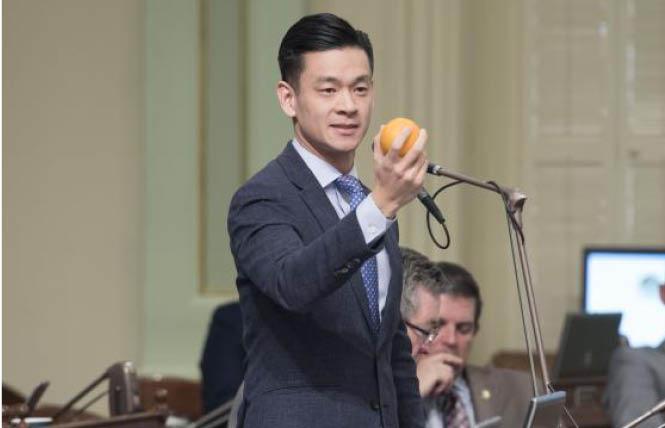 As he works to build support among religious leaders for a ban on the practice of conversion therapy, gay Assemblyman Evan Low (D-Campbell) has ruled out granting them an exemption in his legislation.
Last August, Low shelved his Assembly Bill 2943 that would have outlawed the controversial practice with adults struggling to accept their sexual orientation. After getting it passed by both chambers of California's Legislature, Low opted not to send it to then-governor Jerry Brown for signage due to concerns he had heard from church leaders in meetings over the summer.
His bill would have designated conversion therapy for adults as consumer fraud in the Golden State; California in 2012 had banned the practice in youth under the age of 18. If the bill had become law, then licensed professionals found to be offering what mainstream medical groups decry as junk science would be stripped of their license to practice in California.
Apart from the usual anti-gay lobbying groups that opposed the bill, religious leaders throughout the state had feared Low's bill would adversely harm priests and pastors if they were to counsel parishioners struggling with their sexual orientation. In announcing his decision to scrap his legislation, Low promised to work with religious leaders and LGBT advocates on redrafting it and resubmitting it in the future.
It remains to be seen, however, if a compromise can be reached to allow religious leaders to support a revised bill, which Low told the Bay Area Reporter he intends to introduce this legislative session. The deadline to do so is February 22.
"We will be introducing something this legislative session. I am going to be working on coming up with the legislative wording to address this harmful practice," Low said during a phone interview January 8. "I am hopeful it will elicit support from a wide variety of evangelical leaders in the state of California who told me they agree with us this is a harmful and hurtful practice."
He pointed to an op-ed that said as much by Azusa Pacific University chaplain Kevin Mannoia, the former president of the National Association of Evangelicals. In the opinion piece published August 27 by the Orange County Register, Mannoia wrote that there is no evidence that reparative therapy is effective and called it "inconsistent with Christian living."
Yet he also warned that Low's bill as written "overreaches into the ministry of congregations in caring for people. This legislation may be used in the future to exceed its intended purpose."
How Low can revise his bill in such a way that accomplishes his goal of banning conversion therapy without provoking a fight over religious rights is an open question. He was emphatically against including a religious exemption in the bill when asked by the B.A.R. if he would entertain doing so.
There is legislative precedent for including such an exemption. When gay former state lawmaker Mark Leno of San Francisco was trying to pass marriage equality legislation, he inserted wording in the bill to make it clear religious leaders and churches would not be forced to marry same-sex couples.
Since then the issue of people using their religious beliefs to justify discriminating against LGBT individuals has led to the passage of anti-LGBT legislation in states across the country and pitched legal battles that are expected to be settled at some point by the U.S. Supreme Court.
Low, in fact, carried legislation that bans state agencies, as well as publicly funded colleges and universities, from using taxpayer dollars to travel to states with anti-LGBT laws. Several states, such as Mississippi and Tennessee, were added to the banned travel list because of their allowing residents and businesses to discriminate against LGBT people based on their religious beliefs.
"We will not provide a religious license to discriminate," said Low. "Some say, 'Why not insert language so Christians are exempted?' Just like there should not be a religious exemption to deny me from being served in a restaurant, we will not provide a blanket guide to discriminate."
Low said he has been meeting regularly with religious leaders to craft a new conservative therapy ban. He remained confident he could find a legislative solution for them to endorse his bill.
"We will work with the religious community on these issues and try to get them to a place of partnership," said Low. "The evangelical community is not monolithic, some support the gay community. We want them to partner on this with us."
Low hosts Lunar New Year party
Next month Brown will be the special guest at Low's 2019 Lunar New Year Celebration. It will take place from 5:30 to 7:30 p.m. Sunday, February 10, at the San Jose Dynasty Restaurant at 1001 Story Road in San Jose.
The event ushering in the Year of the Pig is also a fundraiser for Low, who is already gearing up for his re-election race in 2020 for his 28th Assembly District seat. Low told the B.A.R. that he has no plans to seek the state Senate's District 15 seat next year.
Senator Jim Beall (D-San Jose) is termed out in 2020, leaving his Silicon Valley seat open. But were Low to succeed Beall, he would only be allowed to serve one four-year term in the Senate due to the state's term limits law. Instead, Low is expected to serve all 12 years he is allowed to in the Assembly.
"No, I will be running for re-election to the Assembly in 2020," said Low, who will be termed out of the Legislature in 2026.
The cost to attend his Chinese New Year's bash begins at $250 for individuals, $3,000 to host a table of 10 seats, and as high as $4,700 to be an event sponsor with VIP seating. Tickets can be purchased online at https://secure.actblue.com/donate/lunar2019.
Due to Martin Luther King Jr. Day January 21, the Political Notes column will not return until Monday, January 28.
Keep abreast of the latest LGBT political news by following the Political Notebook on Twitter @ http://twitter.com/politicalnotes .
Got a tip on LGBT politics? Call Matthew S. Bajko at (415) 829-8836 or e-mail m.bajko@ebar.com.
Comments on Facebook