In what one researcher said was "jarring," 54% of HIV-negative young adults didn't report using condoms or PrEP — two critical tools in preventing the spread of the virus that causes AIDS — according to the results of a survey released Monday.
Viewing 1 thru 12 of 455 Stories
In television ads and campaign videos, LGBT candidates for state legislative seats are highlighting California's twinned homelessness and housing crises.
The LGBTQ and Black caucuses of the state Legislature have asked Governor Gavin Newsom to posthumously pardon gay civil rights leader Bayard Rustin.
With billions of federal funding at stake and California at risk of seeing its congressional representation diminish, the state's LGBT residents are being urged to fill out their 2020 census forms.
Friends of a gay San Francisco man who a federal judge says was erroneously deported by U.S. Immigration and Customs Enforcement presented a petition to the local office of Senator Dianne Feinstein January 21 to urge his safe return to the country.
In a move that LGBT legal activists see as "deeply worrisome," the U.S. Supreme Court on Friday said it will review two appeals in religious exemption cases.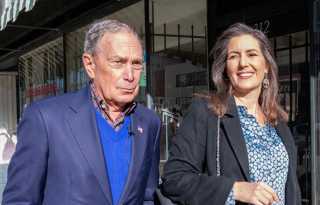 Former New York Mayor Michael Bloomberg brought his presidential campaign to the East Bay, and while he didn't pick up an endorsement from Oakland Mayor Libby Schaaf, he did excite a small crowd that met at Everett & Jones Barbecue.
As preparations ramp up for the 50th annual San Francisco Pride parade, members of the LGBT community are questioning the role of Bay Area-headquartered tech corporations in the festivities celebrating LGBT people and culture.
A nascent effort has been launched to add San Francisco to the list of American cities with a street named after the late gay Supervisor Harvey Milk.
The first Chinese American justice and the longest-serving sitting member on the Supreme Court of California will retire this summer, giving Governor Gavin Newsom his first opportunity to name a member to the state's highest court.
In a cryptic tweet January 13, gay Assemblyman Evan Low (D-Campbell) teased he would announce this week his "new political adventure."
Political observers gave Senator Elizabeth Warren (Massachusetts) high marks in Tuesday night's Democratic presidential debate — the last one before the first voting, at the February 3 Iowa caucuses.
The third largest Christian denomination in the United States — the United Methodist Church — may split over the issue of acceptance of LGBT people.
Viewing 1 thru 12 of 455 Stories