Attention business owners and marketers! America's longest continuously-published and highest weekly circulation LGBTQ newspaper proudly presents BESTIES 2020: The LGBTQ Best of the Bay
Viewing 1 thru 12 of 563 Stories
Longtime SF AIDS physician sees promising results in experimental HIV drug to treat COVID-19.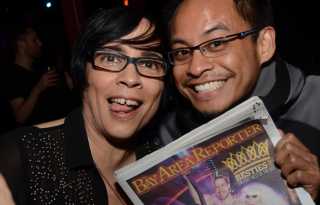 San Francisco is one of 11 US cities that is fortunate to have a legacy LGBT publication by us, for us, and about us. Help preserve the BAR as an historic and important community institution for the future.
Attorneys for four proponents of Prop 8 filed a motion in federal court April 1 to keep video recordings in the case of Perry v. Schwarzenegger sealed from public view.
San Francisco Supervisor Rafael Mandelman is introducing a resolution Tuesday urging the FDA to lift its ban on gay men donating blood.
Frameline, the San Francisco LGBTQ film festival usually held in June, has been postponed due to the coronavirus outbreak, Executive Director James Woolley announced Tuesday.
With Idaho's adoption of two anti-transgender bills this month, the state can now expect to see it be added to the banned travel lists kept by California and San Francisco.
A growing number of immigrant rights advocates are calling for U.S. Immigration and Customs Enforcement to release undocumented immigrants in its custody due to the coronavirus outbreak.
Public animal shelters in Alameda and Contra Costa counties are asking pet owners to prepare a plan for how their companion animals will be cared for should they become ill with the novel coronavirus.
And now for something completely different, to steal a catchphrase from the Monty Python's Flying Circus troupe.
Organizers of the 2020 International AIDS Conference announced Friday that the in-person meeting, scheduled for July 7-10 in San Francisco and Oakland, will be replaced with a virtual conference in the wake of the ongoing coronavirus crisis.
State Senator Scott Wiener has sent a letter to the Food and Drug Administration asking that it lift its ban on gay men donating blood.
Robb "Lord" Martine, a writer who was once called "the king of San Francisco nightlife," died Friday, March 20. He was 50.
Viewing 1 thru 12 of 563 Stories