Coronavirus raises concerns for people with HIV
Wednesday Mar 11, 2020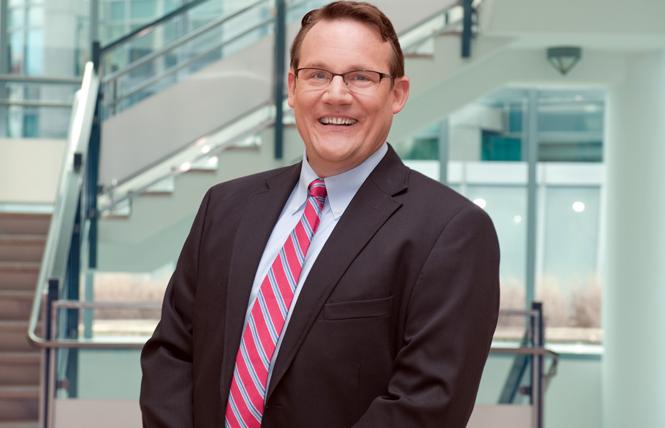 With much still to be learned about the new coronavirus, experts are offering recommendations for people at higher risk for severe complications and making provisions for vulnerable populations.
At press time, the San Francisco Department of Public Health reported 14 cases of COVID-19, as the respiratory illness caused by the virus is known. Nationwide, there have been 938 cases in 38 states and D.C., and 29 deaths as of March 11, according to Centers for Disease Control and Prevention.
Public health officials from the United States and China, where the novel virus first emerged, gave an update on the growing COVID-19 epidemic during a special session at the Conference on Retroviruses and Opportunistic Infections March 10.
Two days before the conference was set to open in Boston, organizers decided to make the meeting virtual, with presentations given by webcast, due to concerns about the coronavirus.
CROI was just one of many conferences canceled in recent weeks. Organizers of the large International AIDS Conference, scheduled for San Francisco and Oakland in July, have not yet made a decision.
"At this point, we are too far away from AIDS 2020 to have a definitive decision yet on whether it will be held in person or virtually until we can observe the course of containment over the next month or so," conference co-chair Dr. Monica Gandhi of UCSF and Zuckerberg San Francisco General Hospital told the Bay Area Reporter. "We will make this decision thoughtfully and with plenty of time for people to arrange travel if needed."
Vulnerable populations
While a majority of people infected with the coronavirus have mild symptoms — most often fever, a dry cough, and shortness of breath — around 20% develop more serious illness, including pneumonia. The most severe cases require intensive care and mechanical ventilation.
Older people, individuals with underlying health conditions, and people with compromised immune systems have a higher likelihood of developing severe illness. Health officials are particularly worried about the spread of the coronavirus in nursing homes and other residential care facilities, such as the recent outbreak that led to more than a dozen deaths in Seattle.
The mortality rate for COVID-19 will likely be in the range of 0.5% to 3.5%, making it five to 35 times more deadly than the seasonal flu, said Dr. John Brooks of the CDC.
"How many people die depends on how quickly the disease can be detected and treated," he said.
However, the true mortality rate is not yet known because it is unclear how many people have contracted the virus. If a large number of people have no or mild symptoms and never seek medical attention, the infected population could be much larger and the death rate could be lower.
This uncertainty is exacerbated by a shortage of tests for the new virus. Symptoms emerge about five days after exposure and transmission can occur before symptom onset, according to Brooks. This raises the possibility that the coronavirus has been spreading undetected in the United States for some time.
According to a recent study of more than 45,000 cases in China, people with coexisting conditions had higher death rates, including about 6% for those with cancer, high blood pressure, or chronic respiratory disease; 7% for those with diabetes; and nearly 11% for those with cardiovascular disease. The greatest risk was seen among people age 80 or older, at nearly 15%.
Although people with HIV or AIDS were not included in this study, based on experience with other respiratory viruses, their risk is "all based on level of immune suppression," Dr. Steve Pergam of the Vaccine and Infectious Disease Division at Fred Hutchinson Cancer Research Center wrote in an email to the B.A.R.
"For an HIV patient who is on stable antiretroviral therapy and has a normal CD4 count, their risk may be slightly increased," he said. "HIV is a different disease than it was years ago. For people who have a reconstituted immune system because of treatment, I think the risk is not going to be tremendously different."
Noting that nearly half of the HIV-positive population is over 50 and therefore more vulnerable, Brooks recommended that people living with HIV ensure an ample supply of their medications — which can be difficult due to cost and insurance restrictions — and get vaccinated against flu and pneumonia.
"Establish a plan for clinical care if isolated or quarantined," he advised. "Maintain a social network, but remotely — social contact helps us stay mentally healthy and fights boredom."
Unfortunately, some people with HIV are not receiving consistent antiretroviral treatment and do not have an undetectable viral load, which takes a toll on CD4 T-cell counts. Just 33% of HIV-positive homeless people in San Francisco have full viral suppression, according to the latest DPH HIV epidemiology report.
On March 10, Mayor London Breed, Supervisor Aaron Peskin, and DPH announced measures to increase protection for people who are living on the streets, in homeless shelters or in single-room-occupancy hotels. These include increased cleaning of shelters and SROs, expanded shelter hours, more meal deliveries, deployment of hand-washing stations, and providing temporary isolated housing for those who need to be quarantined.
These measures are in addition to broader health department recommendations issued in recent days. On March 7, the city banned all non-essential group events of more than 50 people in city-owned facilities, including Moscone Center and the main branch of the San Francisco Public Library at 100 Larkin Street.
"Our chief concern is for vulnerable populations who are most at risk of getting very sick, or dying, if they get COVID-19," said San Francisco health director Dr. Grant Colfax, a gay man whom Breed hired last year to run DPH. "That is why we are recommending that people over 60, or with certain underlying health conditions, stay home as much as possible. For the general public, reducing the opportunity for exposure to the virus is the top priority. That means cutting back on the time you spend in groups and washing your hands consistently."
To watch the virtual presentation on COVID-19 at CROI, go to https://special.croi.capitalreach.com/
Comments on Facebook