Commentary: Resist: Defending People's Park
Wednesday Feb 6, 2019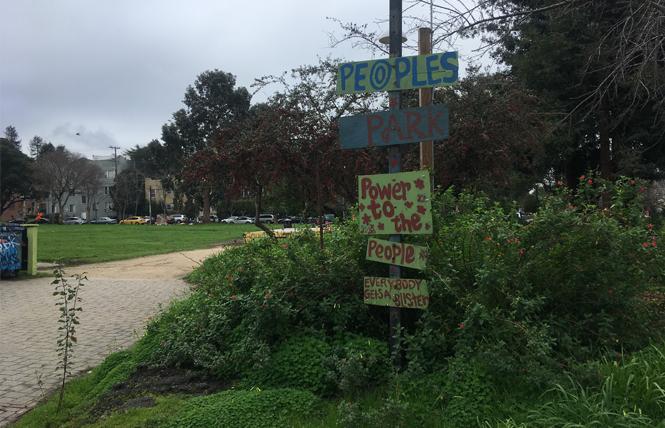 It's strange to be writing about the latest round in a fight that has gone on for 50 years (and that originally began when I was 2 months old), but that seems to be the nature of any story about People's Park in Berkeley.
The park, which sits on land owned by UC Berkeley, was born in April 1969 after activists and locals volunteered sod and sweat equity to turn a derelict lot into a green space. Since then, it has withstood an invasion of California Highway Patrol and Berkeley Police officers (sent in at then-Governor Ronald Reagan's order to clear the park) and multiple efforts by UC Berkeley administrators over the ensuing decades to pave over the space.
The most recent chapter in this struggle began last May, when UC Berkeley announced it would replace the park with a new dorm for 1,000 students plus "75 to 125 apartments" for "supervised" housing of Berkeley's homeless. Since that plan would eliminate the park's present role as a sanctuary for the homeless, as well as one of the few green spaces in that area of town, those who love the park are fighting back against the plan, just as they and their forebears have since 1969 when Reagan's centurions tried to storm it.
As in 1969, defending the park has come with a cost. On January 22, as supporters of People's Park marched down Telegraph Avenue to Sproul Plaza, a driver ran through their blockade, drove up on the sidewalk, and severely injured a homeless man who was resting on the sidewalk. While the driver was ultimately apprehended and investigated by the Berkeley Police Department, so far, BPD has refused to release his name, which is a strong indicator that the driver isn't in custody, since Alameda County jail records are public.
BPD's reticence regarding releasing information about a person who allegedly used a deadly weapon and nearly killed somebody stands in marked contrast to the glee it displayed last August in releasing mug shots with personal data of those antifascists arrested during the Fifth Battle of Berkeley on far lesser charges (and most, if not all, of whom ended up never being prosecuted). Then again, BPD's right-wing political sympathies aren't exactly a secret to those of us who repeatedly watched officers stand idly by when fascists committed crimes (including assault and battery) literally in front of them.
Accordingly, at 1 p.m. Saturday, February 9, the People's Park Committee will conduct a rally at the park at 2556 Haste St. in Berkeley, with a march to follow. The goal is to hold BPD accountable for its actions January 22 and in the weeks that followed. Other sponsors include the Bay Area Landless People's Alliance, the Gray Panthers, Neither Here Nor There, Poor magazine, and the United Front Against Displacement.
Strike ready
At 5 p.m. Friday, February 8, at the Oakland Museum of California at 1000 Oak Street in Oakland, Bay Resistance and a coalition of other groups will present "Strike Ready Happy Hour: How Can We Support Students & Teachers?" As with their colleagues in Los Angeles who recently won a new contract after a weeklong walkout, Oakland educators are demanding a reduction in class sizes and an increase in support services for students as well as increased wages. On Monday, February 4, the teachers' union announced that 95 percent of its membership who voted authorized the union to call a strike, so the training in effective solidarity could be very timely.
Hands off Venezuela
At 1 p.m. Sunday, February 10 (date changed due to rain), at the Lake Merritt Columns at 599 El Embarcadero in Oakland, a protest against what many consider to be an American-sponsored coup against Venezuelan President Nicolás Maduro will take place. Maduro won re-election last May following a boycott of the vote by most opposition groups there, but in late January Juan Guaido, president of the National Assembly, claimed the vote was illegitimate and declared himself to be the "acting" president of Venezuela. While Guaido didn't back this up by seizing any government offices — let alone any territory — the Trump regime, Canada, and several European countries promptly recognized him as the legitimate president of the country, while the United Nations and most of the rest of the world recognizes Maduro. After years of U.S. sanctions, the Venezuelan economy is in dire straits and some worry that a recent deployment of several thousand marines to neighboring Colombia is the prelude to armed American intervention against the Maduro government.
The action is sponsored by We Are All Venezuela, Marcha Patriotica-Capitulo California, Task Force on the Americas, and the Communist Workers League-Bay Area and supported by a coalition of many other groups.
Destigmatizing abortion
At 5:30 p.m. Saturday, February 9, at Revolution Books at 2444 Durant Avenue in Berkeley, the Berkeley chapter of Students United for Reproductive Justice will present "Artivism: Destigmatizing Abortion," where speakers will share their experiences with abortion through both the spoken word and photos. Admission is free and the space is ADA accessible.
Remember EO 9066
At 11 a.m. Sunday, February 10, at the Japanese Community Youth Council at 2012 Pine Street in San Francisco, the Nikkei Resisters will host "Why We Remember the Japanese American Incarceration." The event is designed to raise awareness of youth and young adults about the internment of over 120,000 Japanese-Americans after Pearl Harbor by the federal government under Executive Order 9066. They were locked up without trial purely due to racism.
Given the current regime in Washington's threats to "build a wall" using the executive branch's emergency powers, it bears remembering that EO 9066 — which turns 77 February 19 — was issued using the same justification.
Got a tip? Email me at christina@diedoardolaw.com.
Updated, 2/8/18: The item on Hands Off Venezuela rally was updated to include date change due to rain.
Comments on Facebook