Bay Area Cannasseur: Affordable cannabis gifts can fill stockings
Wednesday Dec 4, 2019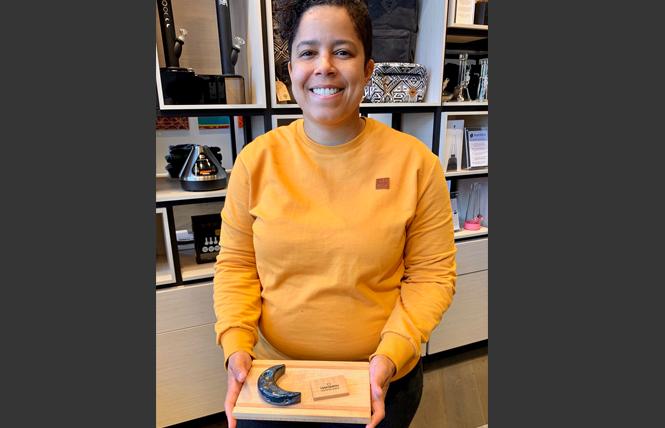 From $5 stocking stuffer socks to $175 edible-making machines, you'll have no trouble finding gifts for the cannabis aficionado in your life this holiday season.
If you plan ahead, there are some amazing sales in December, including discounts on popular edibles, books, and clothing. Read on.
When I'm looking for a cannabis gift, I always ask Marcella Sanchez, the knowledgeable and cheerful boutique operations coordinator at the Castro Apothecarium, for ideas.
Sanchez, who identifies as queer, has been managing the dispensary's gift shop for the past three years and keeps her eye out for new products, good values, and custom-made gift items.
This year, the holidays discounts are better than ever, Sanchez said.
In an interview with the Bay Area Reporter at the Apothecarium's flagship store at 2029 Market Street, Sanchez suggested some newer products that she thinks would make great gifts.
"I really love Hi-Fi Hops," she said, referring to the new infused beverage made by ABX and Lagunitas. It tastes "like a light IPA" and is "fantastic" for cannabis cocktails, mixed with vodka and cranberry syrup, she said. For a gift, there are 10-packs priced at $75, or individual bottles for $9 each.
Other fun ideas include the ECO Four Twenty, which filters odor and smoke upon exhale. "Remember using dryer sheets in a toilet paper roll?" Sanchez asked. It is $40.
Along similar lines, the Apothecarium is selling a $20 room spray, Veil, which is formulated to hide the dank smell of herbs with a seasonal orange scent.
If you're looking for something more practical and know the recipient's taste in cannabis edibles, check out these deals at the Apothecarium. From December 5-8, cannabis-infused marshmallows, brand name Mellows, will be 30% off, including the seasonal peppermint flavor. From December 12-15, the entire line of Somatik cannabis-infused coffee products will also be 30% off. Somatik, by the way, is a gay-owned San Francisco company that teams up with Ritual Coffee to produce high quality products.
Other deals coming up at the Apothecarium: 40% off Grav Glass pipes, first week in December; 40% off all books, December 13-15; and 40% off all apparel, including the new trucker hats, December 20-22. Beginning December 2, HUF cannabis socks will be available for $5 a pair, until the supply runs out. Free gift boxes with any purchase, limited supply.
And for that someone special, Sanchez brought out an artisan made wooden rolling tray by Oaksmith commissioned by the Apothecarium ($80) and one-of-a-kind moon pipes ($90) made by artist Wandering Bud.
Despite the health concerns surrounding vaping, including a number of deaths attributed to it, Sanchez said that vape pens are still a popular gift choice.
"I am 100% certain that our products have been triple tested and have not been involved with product recalls," she said.
Other gift ideas include many that are available online.
- A new line of clothing by www.girlsgonehigher.com, a company that supports the LGBT community and is offering 20% off its entire line of hoodies, tote bags, and phone cases with the promotional code Higher20.
- The state-of-the-art edible-making machine, at www.magicalbutter.com, starts at $174.95. This high-end machine sells for less on Amazon and eBay but is not covered under warranty from these sellers. Highly recommended for home chefs with other full-time jobs.
- A new, limited-edition cannabis-infused Turkey Gravy, is from the people known for their chocolates, https://kivaconfections.com/ According to the Kiva website, "this cheeky take on a normally mundane holiday staple features a groundbreaking, fast-acting technology that allows for faster THC absorption. Awkward family dinner conversation? In just under 15 minutes you'll start feeling the effects, so you can sit back, relax, and let the holiday cheer wash over you." Check the website for retail locations carrying Kiva products.
My personal favorite cannabis product is the 10-ounce bottle of cannabis-infused lemonade from the local Flower Company, known as the "Costco of cannabis." It is a delivery-only membership business whose everyday prices usually beat the competition, hands down. Each bottle contains 100mg of THC, providing a respectable serving for as little as $1.30. For further information, visit https://flowercompany.com/edibles/good-stuff-tonics-lemonade
Bay Area Cannasseur runs the first Thursday of the month. To send column ideas or tips, email Sari Staver at mailto:sfsari@gmail.com
Comments on Facebook