As it approaches its third anniversary, an LGBT social club in San Francisco's Castro district is expanding, opening the doors to an increase in membership and more offerings for non-club members.
Sterling Bank & Trust wants to relocate its Castro branch into a prominent corner retail space on upper Market Street, but city planners have raised objections to the financial company's plans.
The yearly holiday shopping season between Thanksgiving and Christmas is peak sales time for a gay watch designer and a queer-owned candle business that also sells a line of "unmentionables."
Until recently Sergio Lobito was working as a landscaper in San Francisco and starring in the wildly popular drag parodies of television shows.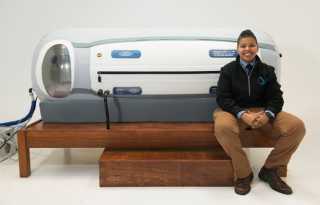 Bay Area native Alex Williams two summers ago opened her Holistic Hyperbarics spa in a small Albany storefront. At the time, it was all the business owner could afford.
LGBT employee resource groups have come a long way since their early days — it is believed that the first such ERG was formed in 1978 by workers at Hewlett Packard.
A bustling crowd showed up for the August 1 opening of local artist Ariel Gold's solo exhibition featuring her works inspired by the street life of San Francisco.
Five years after See's Candies moved into the Safeway shopping center in San Francisco's gay Castro neighborhood, the company is shuttering the location this weekend.
Living mere blocks from the Twin Peaks Tavern, Pond Street residents Bret Parker and Petey Barma consider the historic gay bar their neighborhood watering hole.
Lesbians Who Tech + Allies is retooling its 2020 San Francisco summit as it remains determined to stay in the city's LGBT Castro district amid growing popularity.
The city's planning commission voted Thursday to make it easier for nonprofits and harder for formulaic health care centers to lease sidewalk-fronting storefronts along upper Market Street in the city's gay Castro district.
A year after Erin Uritus took over as CEO of Out & Equal Workplace Advocates, she is turning the nonprofit's attention toward the 13 states that comprise the southern United States and lack robust protections for LGBTQ workers, if they have any at all.