Leather Alliance's Mr. SF Leather 2019 & SF Bootblack contests
Wednesday Mar 13, 2019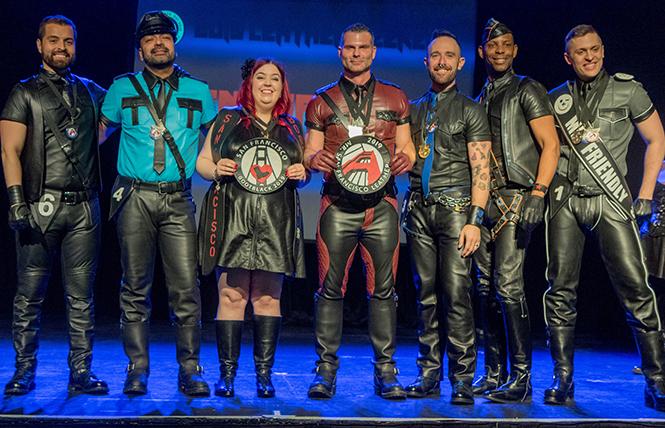 One of the annual projects of the San Francisco Bay Area Leather Alliance is producing the Leather Alliance Weekend, which took place February 28 through March 3. The weekend included the San Francisco Bootblack and Mr. San Francisco Leather 2019 contest.

Mr. S Leather hosted the opening meet and greet party at their store on Thursday night. A large, diverse crowd socialized while some also shopped. The contestants were introduced and the audience immediately started deciding on their favorites.

On Friday night at SOMArts, the Alliance mixed together a formal dinner, SF Bootblack technical competition, the community awards presentation, and the Mr. SF Leather contestants doing impromptu fantasy scenes.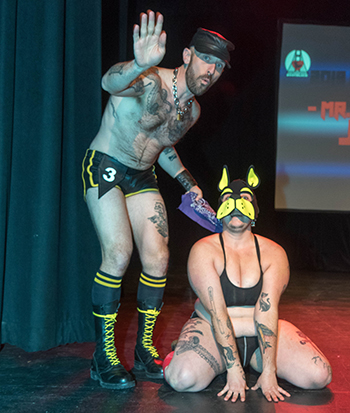 I liked the way they handled the fantasies. Each contestant pulled three items from a bag and had to create a two-minute scene with the same selfless volunteer bottom. It was fun, sometimes silly, and it put every contestant on a level playing field; a great addition to the contest.
For the leather community awards portion of the evening, local people, clubs, organizations and events were honored for their contributions in 2018.

The winners were:
Best New Organization
The Piercing Guild
Next Generation
Ub Kelly
Outstanding Community Business
Wicked Grounds
Outstanding Community Nonprofit
Center for Sex and Culture
Best Bay Area Leather Contest
IMsLBB
Jim Remer Unsung Hero Award
Andrew Coile
Best Community Education Event
LDG Mentoring Program
Best Organization Anniversary Event
ONYX Northwest
Best Community Leather Event (Not a Contest or Street Fair)
Leather Invasion of the Castro
Best Community In-Town Weekend Event
Leather Alliance Weekend
Most Visible Community Organization
ONYX Northwest
Best Community In-Town One Day Run
Dykes On Bikes Pride Contingent
Best Community Out-of-Town One Day Run
Golden Gate Guards Springtime in Yosemite
Best Community Out-Of-Town Weekend Event
Gear Up Weekend
Frank Benoit Award
Ryan Mattson
Woman of the Year
Dorian Katz
Non-Binary Person of the Year
Leigh Ann Hildebrand
Man of the Year
Trey Onyx and Christopher Wood (tie)
Philip M. Turner Lifetime Achievement Award
Dr. Carol Queen.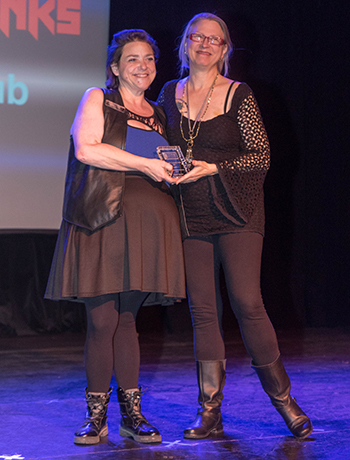 On Saturday, those vying for a sash in this year's contest were interviewed at SOMArts in open-to-the-public interviews and there were also kink education sessions and a vendor area open for business.

That evening the main contest event was held.

Well-known stage performer Alotta Boutté sang the National Anthem to start the evening off. Then she and Lance Holman served as the night's emcees.

The contestants this year for the Mr. SF Leather title were: Amp Somers, Mr. Friendly 2019; Gunner Friesen, Independent; AJ Huff, Mr. Powerhouse 2019; Timothy Valdivia, Mr. Sober Leather 2019; Jawn Marques, Mr. Daddy's Barbershop 2019; and Manny Ojeda, Mr. SF Eagle 2019.

Competing for the SF Bootblack title was Allison Boots.

This year's Mr. SF Leather judges were Bamm Bamm (Head Judge), Annie Blue, Al Rahm, Keao Lani, Erick Lopez, Trey Onyx, and James Lee.

The judges for SF Bootblack were Lucky Ordaz (Head Judge), Ryan "Pawlish" Garner-Carpenter, and Marlene Hoeber.

Charged with making sure the score tally totals were accurate were Jay Rose and Rob Brooks.
There was one Bootblack contestant and there were six men competing to be Mr. SF Leather 2019. I was amazed at how well they all did. Many people in the audience were telling me as the contest progressed that they couldn't decide who they thought was going to win the Mr. SF Leather portion.
They all did themselves proud.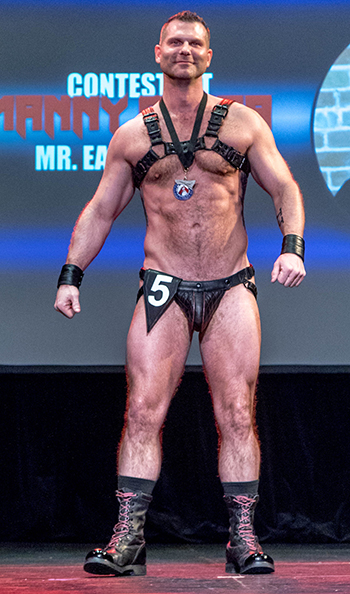 Allison Boots entered and exited the stage to cheers and applause from a clearly supportive crowd and when the scores were tallied, she garnered the points to become the new SF Bootblack 2019.

For Mr. SF Leather, the anticipation when the judge's results were announced was palpable. This year's new Mr. SF Leather 2019 is Jawn Marques. First runner up is Amp Somers. Second runner up is Gunner Friesen.

Amp Somers won the Leather Heart Award voted on by his fellow contestants.

Congratulations to Allison and Jawn. I hope your title years are both fun and fulfilling.
All the people who work hard to create such a weekend often go unrecognized. I'd like to point out some of the main contributors to the weekend's success. I'm sure I'll miss someone. So, apologies in advance.

The Producer of the Mr. SF Leather Contest was Angel Garfold, who was also produced the overall weekend. Producer of the SF Bootblack contest was Teagan Bootblack.

The weekend and associated contest could not happen without a lot of volunteers. Spencer Adam was the Stage Manager with Fifi LaFille the Assistant Stage Manager. Den Staff was Jesus Nunez-Jirgl, Ub Kelly, Boy Lynn, Ken Berard, and Alex. Lighting Technical Director was Jesbian with Kevin as the Sound Technical Director. Judges' Coordinator was Pixie Alexandrite and Judges' boy was Boy Tyler. Community Awards Co-Chairs were Larry Rivera and Rio Spooner. The weekend's logo was created by Colton Long. Catering was done by Gather and Grub. Staff Photographer was Devlin Shand.
And, that's a wrap for another Leather Alliance Weekend. Lots of other fun stuff took place I didn't have the space to report. So, you'll have to come check out next year's Weekend for yourself to experience it all firsthand. Be on the lookout for details which you can do by bookmarking the Alliance's website for future reference. www.leatheralliance.org

Race Bannon is a local author, blogger and activist. www.bannon.com

For Leather events, go here: https://www.ebar.com/events/nightlife_events/273464
Comments on Facebook