Business Briefing: Gay chocolatier opens Oakland store
Wednesday Oct 13, 2021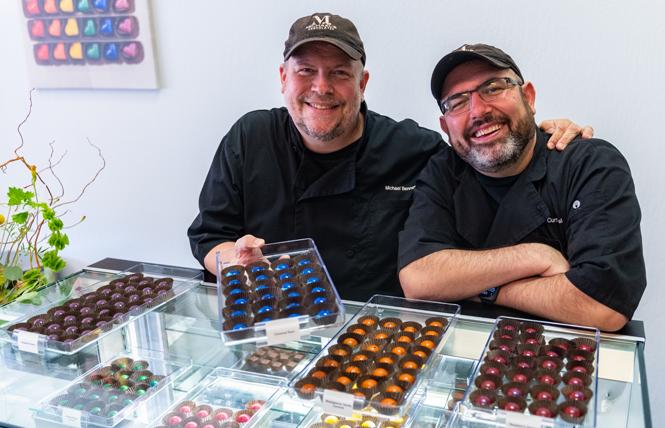 Michael Benner began making his own specialty chocolate confections in 2015 and, within two years, had launched his own business under the brand name Michael's Chocolates. His husband, Curtis Wallis, assisted him with marketing and sales on a part-time basis.

Ever since then they had largely run the business out of their San Francisco home in the city's Mission Dolores micro-neighborhood, while renting a shared commercial kitchen in South San Francisco. His focus went from catering specialty events to adding online sales and getting local stores to sell his products.

The industry took note and routinely awarded Benner for his chocolate concoctions, from bars to caramels. He was named a 2021 6 Star Grand Master best chocolatier and confectioner in the U.S. by the International Chocolate Salon, which also had named his Bourbon Caramel Pecan bar as the best chocolate bar.

After surviving a brutal 2020 due to the COVID-19 pandemic wiping out many of the corporate events he would normally have been hired to provide sweet treats for, Benner is taking his chocolate business into a new stage. As of October 2 he now has his first brick-and-mortar retail location.

That Saturday he soft opened the new home of Michael's Chocolates at 3352 Grand Avenue in Oakland's Grand Lake district. The retail shop is a short walk from the city's Lake Merritt, which is home to the East Bay's largest farmers market on Saturdays, and from the Oakland LGBTQ Community Center.

"It literally came out of nowhere. We were not prepared," Benner told the Bay Area Reporter during a phone interview the day prior to his store's first day being open. "We were in survival mode."

For several years he had looked at renting a storefront in San Francisco but could never find a suitable space or a reasonable rent. Then came the global health crisis, and the money the gay couple had saved up for a retail location was diverted to keeping the business afloat last year.

"2020 was supposed to be the year we found a location but that didn't happen," said Benner. "The money we had saved for opening a store went to pay for the commercial kitchen and we scrambled to find enough business to keep us going."

Earlier this year Benner fielded a phone call from a fellow chocolatier with a tip that Michael Mischer, after 17 years of operating his own eponymously-named chocolate store, had decided that he was going out of business and was looking for someone to take over the lease at his Grand Avenue location. As it happened, Benner had thought about opening in the area but ruled it out because he didn't want to compete with another chocolate maker, nonetheless one also named Michael.

After talking to Mischer and checking out his location, which totals about 1,500 square feet and features an 18 foot high ceiling, Benner put in an offer. He beat out another chocolatier who also vied for it.

"We prevailed and we bought out not only his lease but also all of his equipment. It is a full turn-key kitchen," said Benner. "It has an ADA-compliant bathroom, sinks, and refrigerators. It kind of happened by serendipity; it was meant to happen."

Once their deal was finalized, Mischer announced his last day would be July 10 and notified his customers that "another, different Michael, will take over the store on Grand Avenue and will continue to produce and sell his own chocolates and other products."

Benner moved in August 1 and gave up the lease on the commercial kitchen he had been renting. All of his chocolates will now be made on-site at the Oakland store, where he carved out a roughly 650 square foot space for the retail section.

"We did a major facelift of the space for the retail aspect. We painted, put up different shelving and are giving it our touch," said Benner, noting that one defining design feature is the giant pink stylized M from his brand logo on the back wall that has been painted black to match the colors of his packaging. "It is a lot of room for a little chocolatier."

Twelve of his most popular chocolate bonbon flavors will be available for purchase at the store. He is also debuting several new items he cooked up during the COVID pandemic, from new chocolate bars to fruit jelly confections.

The shop will also offer house made marshmallows to pair with chocolate beverages. There will be hot chocolate for kids and espresso drinks for adults.

Benner hired one of Mischer's employees to stay on and help him run his own shop. And he will continue selling the same Berkeley-based brand of gelato that Mischer offered, Almare Gelato.

He is already making plans to offer various classes, from making chocolate to pairing the sweet with wine, as he previously worked as a sommelier. His next-door neighbor is a natural wine shop he hopes to collaborate with on the classes and other events.

"It will work out well when COVID finally settles itself down. I love doing classes and things like that," said Benner, who doesn't have a liquor license of his own.

For now Benner plans to be open Tuesdays through Sundays from noon to at least 6 p.m. and likely as late as 8 or 9 p.m. depending on the foot traffic in the neighborhood. Customers can also expect expanded hours during the holiday shopping season in mid-November through December.

To learn more about his chocolates, visit https://www.michaelschocolates.com/#/
Castro chocolatier scares up Halloween treats
The lesbian-owned Kokak Chocolates at 3901 18th Street in San Francisco's LGBTQ Castro district has scared up a few special treats for Halloween. Chocolatier Carol Gancia opened her shop during Pride Month in 2020 and routinely dishes up unique offerings during the holidays.

Her Halloween Truffle Collection this year features three new flavors of pistachio crunch, kalamansi almond pie, and hot hot chocolate, inspired by her popular hot hot chocolate drink ($24.50 for a nine-piece box). There is also a Halloween Choco-Foot Lolly featuring 40% premium single origin caramelized milk chocolate from Ecuador with candy corn, organic chia seeds, organic cocoa nibs and organic almonds ($5 a pop).

And Kokak is featuring a special fall cacao porridge ($7.95) this season. It is made with premium chocolate noir and sweet pillowy rice topped with fresh strawberries and walnuts. It is then drizzled and layered with strawberry condensed milk.

To learn more about Kokak and its offerings, visit https://www.kokakchocolates.com/

UPDATED 10/19/2021 to correct the address for Michael's Chocolates.

Got a tip on LGBTQ business news? Call Matthew S. Bajko at (415) 829-8836 or e-mail m.bajko@ebar.com


Help keep the Bay Area Reporter going in these tough times. To support local, independent, LGBTQ journalism, consider becoming a BAR member.