Gay insurance chief stresses 'fair deals' to LGBT, allied biz leaders
Wednesday Feb 6, 2019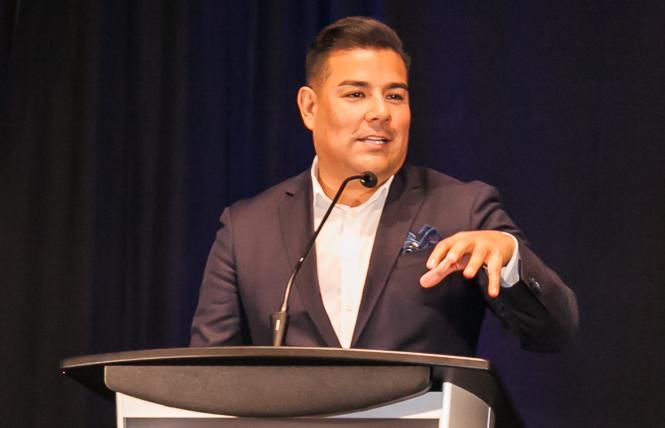 Gay state Insurance Commissioner Ricardo Lara told a crowd of 600 LGBT and allied business leaders that he ran for the post, in large part, to make life better for working Californians.
Lara, the first openly gay person to win statewide elected office, was greeted with applause at the Golden Gate Business Association's fifth Power Lunch February 1 at the Marriott Marquis Hotel.
"It was a close race," Lara said, referring to the weeks he had to wait after the November 6 election while returns were processed in counties across the state. A former state senator, Lara was the first out gay person of color elected to the Legislature's upper chamber.
He talked about his goals for the insurance department, which oversees more than 1,000 employees, regulates 1,300 insurance companies, and oversees an insurance industry that sees $310 billion of premiums paid in California per year.
"In a sense, we're the department of fair deals," Lara said. "We look at the devastating fires we've seen in Paradise, and I like to say we're the department of hope."
Besides Paradise, in Butte County, wildfires also caused widespread property damage in southern California and elsewhere in northern California last year. Wildfires in 2017 caused billions of dollars in damages in the North Bay.
He said it would take the state coming together to help Paradise rebuild. The small community lost 90 percent of its businesses, resulting in a significant blow to its tax base, Lara pointed out.
Lara also told the business-friendly audience that diverse corporate boards are important, as is supplier diversity.
"I have made it my life's work to ensure Californians can live their lives openly, safely, and affordably. Free of fear, prejudice or injustice." - @ICRicardoLara #NationalFreedomDay pic.twitter.com/rALZaKDuKB

— CA Dept of Insurance (@CDInews) February 1, 2019
One of his priorities is access to health care. While in the Legislature, Lara co-authored a bill to create a single-payer system, but it did not advance. He said he has not given up on that goal and issued a warning to the Trump administration and Republican-controlled U.S. Senate.
"Any attempt to dismantle the Affordable Care Act will be met with harsh opposition from this insurance commissioner," he said.
San Francisco Mayor London Breed made an unexpected stop at the luncheon and told attendees that "help is on the way" regarding empty storefronts and small business owners.
"My office of small business is looking at ways to do just that," she said.
Breed was moved by a performance by trans singer Breanna Sinclairé, who wowed the crowd with a rendition of "Summertime," from "Porgy & Bess." Afterward, Breed went over to Sinclair's table and talked to her for a few minutes before leaving.
One highlight of the afternoon was a fireside chat with Stacy Lentz, a lesbian who is part of the ownership group of the Stonewall Inn in New York City. As reported in last week's Bay Area Reporter, Lentz expects a "crazy" June at the historic gay bar, where patrons rose up against homophobic police 50 years ago this June.
"The Stonewall's capacity is about 300 people," Lentz said in response to a question from gay BART board President Bevan Dufty, who interviewed her on stage.
Lentz spoke about Stonewall's philanthropic work that consists of raising funds for LGBT organizations mostly in smaller, rural communities in conservative states.
"That fight is still going on," she said. "We're one executive order away from losing rights. Our trans sisters are under attack. LGBT businesses have a responsibility to keep up that fight."
Going global
There was a global aspect to the program as well.
Fabrice Houdart, with the United Nations Free and Equal campaign, talked about the "horrific" headlines out of Chechnya, where reports of gay men being persecuted continue to emerge.
"Social change is possible," he said, and when the private sector speaks, people listen.
Juan P. Novello with the California Hispanic Chamber of Commerce told the group that he's a gay man and son of gay dads. Formerly undocumented, he began his life in Mexico and arrived in San Diego when he was 12.
"After the Pulse club massacre, I was asked to build the gap between the Latino and LGBT communities," he said, referring to the 2016 mass shooting at the gay nightclub in Orlando, Florida that left 49 people dead and 53 others injured.
Cesar Casas Ferrer, a cis man with the Mexican Federation of LGBT Business, also spoke. He said the organization prides itself on its diversity.
"For us, businesses are agents of change," he said.
Gay District 8 Supervisor Rafael Mandelman took the opportunity to present a proclamation commending GGBA on its 45th anniversary.
"The history of queer politics started with queer small businesses," he said, referring to Harvey Milk's Castro Camera shop.
Comments on Facebook