Viewing 13 thru 21 of 21 Stories
It all began with a sleepless night in June 2014. Mason Funk, a writer and producer of nonfiction TV programs for Discovery Channel, A&E, Fox Sports, and others, began reviewing his life from the time he knew he was gay, realizing how much it had changed.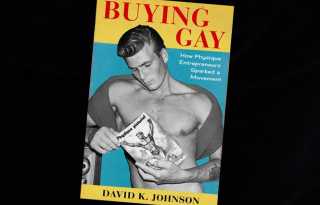 One never knows what treasures they might find in an attic.
Perhaps the best way to characterize Camille Beredjick is atheism with a smile.
For readers bewildered by how to make sense of gender today, a new book by sociologist Arlene Stein, "Unbound: Transgender Men and the Remaking of Identity," recently published by Pantheon Books, follows the journey of four patients.
New book examines the intersection of drag and camp within the Sisters of Perpetual Indulgence.
Mark Dowd has experienced two vocations. One was a calling to the priesthood, which didn't last, but the second was to journalism, which wound up becoming his life's work.
With his recent vulgar ranting about "shithole countries" vis-à-vis immigration, President Donald Trump has once again been accused of being a racist, which makes Randy Boyd's new e-book, the perfect opportunity to discuss race relations.
They may be the worst eight words a gay man can hear - "I have bad news on the HIV test" - but health journalist John-Manuel Andriote endured them in 2006 when he received an HIV diagnosis, turning his world upside down.
San Francisco, Mid-1970s. A perfect place at a perfect time. Mark Abramson's memoir is the next best thing to being there, and here's a sample.
Viewing 13 thru 21 of 21 Stories