She was America's last great literary star, her beautiful, glamorous face adorning popular magazines in the 1960s, photographed by Andy Warhol and Richard Avedon. A new biography looks at Susan Sontag.
Gay investigative journalist Ronan Farrow, whose new book about serial abusers is flying off the shelves, told the Bay Area Reporter Monday that independent reporters are more important than ever.
It has been 25 years since brash gay journalist Randy Shilts died of AIDS.
While aging presents challenges for everyone, LGBT people who plan to grow old in San Francisco will have more than their share of obstacles.
Local attorney Jim Haas has written a book about the history of San Francisco's Civic Center.
It all began with a sleepless night in June 2014. Mason Funk, a writer and producer of nonfiction TV programs for Discovery Channel, A&E, Fox Sports, and others, began reviewing his life from the time he knew he was gay, realizing how much it had changed.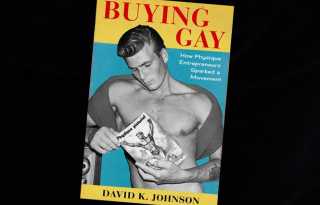 One never knows what treasures they might find in an attic.
Perhaps the best way to characterize Camille Beredjick is atheism with a smile.
For readers bewildered by how to make sense of gender today, a new book by sociologist Arlene Stein, "Unbound: Transgender Men and the Remaking of Identity," recently published by Pantheon Books, follows the journey of four patients.
New book examines the intersection of drag and camp within the Sisters of Perpetual Indulgence.
Mark Dowd has experienced two vocations. One was a calling to the priesthood, which didn't last, but the second was to journalism, which wound up becoming his life's work.
With his recent vulgar ranting about "shithole countries" vis-à-vis immigration, President Donald Trump has once again been accused of being a racist, which makes Randy Boyd's new e-book, the perfect opportunity to discuss race relations.