LGBTQ Agenda: US gonorrhea, syphilis cases rise as stay-at-home orders recede
Tuesday Sep 15, 2020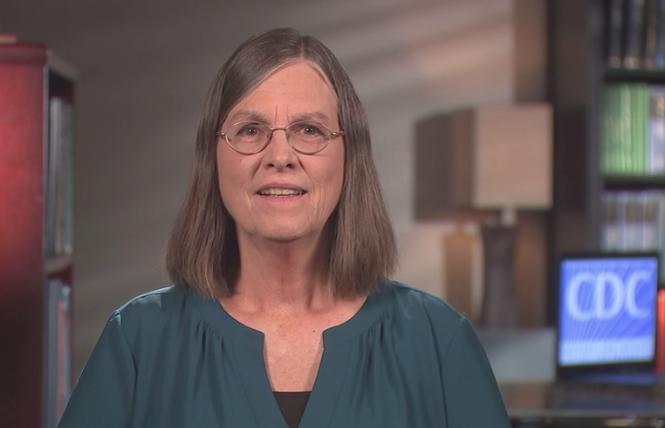 Public health experts discussed how nationwide trends of gonorrhea, chlamydia, and syphilis testing and diagnosis have been affected by the COVID-19 pandemic at a virtual roundtable as part of the 2020 STD Prevention Conference September 14.
Reported cases of the sexually transmitted diseases/infections declined upon the imposition of shelter-in-place orders throughout much of the United States in March, but by summer cases of both gonorrhea and syphilis had rebounded.
Dr. Gail Bolan, the director of the Division of STD Prevention at the Centers for Disease Control and Prevention, noted that reported numbers of STDs were at record highs at the beginning of the COVID-19 pandemic.
"Even before COVID-19 we saw sustained increases in gonorrhea and chlamydia," Bolan said. "But STD increases are not an inevitable issue."
Dr. Hillard Weinstock, chief of surveillance and data centers for the division at the CDC, said that STD numbers had been at "a record high in the U.S. in the last five years."
"Earlier this year, STD levels were above 2019 levels, but that changed in early March," Weinstock said. "Data show a drop in STD cases in the spring and summer of 2020, compared to the same point in 2019."
By June, Weinstock said, year-to-date cases of chlamydia had declined 53% from 2019 numbers, year-to-date cases of gonorrhea had declined 43% from 2019 numbers, and year-to-date cases of syphilis had declined 33% from 2019 numbers.
However, by mid-June, new cases of gonorrhea and syphilis had returned to 2019 numbers, according to Weinstock.
Weinstock gave several factors that influenced the overall decline in reported cases — stay-at-home orders impacted individuals' movement patterns and it became harder to get tested as health resources were moved toward pandemic response.
Seventy-eight percent of the sexual health workforce nationwide became involved in COVID-19 response, David Harvey, the executive director of the National Coalition of STD Directors, said. Only 2% of programs reported that they were not involved with COVID-19 containment efforts.
"Interestingly, the trends [in STD tests and numbers] I described today were consistent in sex and age groups, with only minor changes for race and ethnicity." Weinstock said, adding that there were larger regional disparities, with STD numbers declining more significantly in the Northeastern United States than elsewhere.
"While some of these [numbers] were anticipated, the recent increase in syphilis and gonorrhea is concerning," Weinstock said. "Perhaps it represents a backlog of cases."
As the Bay Area Reporter previously reported, STD testing and numbers have also been down in San Francisco, compared to year-to-date 2019 numbers, since the onslaught of the COVID-19 pandemic. The pandemic has led public health professionals to change practices to allow for better physical distancing, such as conducting at-home STD tests.
Dr. Hilary Reno, a professor at the Washington University School of Medicine in St. Louis, said that there was a 45% per-week drop in overall STD tests due to the COVID-19 pandemic as 28% of STI/HIV testing sites closed and 43% of sites that provided condoms closed in the St. Louis region.
This led health professionals to create new ways of serving clients.
"Before COVID, we partnered with a pharmacy for PrEP prescriptions," Reno said. "After, we started using teleconferencing for the initial visit, saving patients a trip. ... Usually they can get a prescription within 24 hours."
Reno said that "scaled up express STI services" allowed physical distancing to take place within clinics, leading some that had been closed to be able to reopen before the end of stay-at-home orders in the St. Louis region (which is split between the states of Missouri and Illinois).
These ideas could continue to be utilized beyond the life of the pandemic, Reno said.
Harvey said that Congress needs to allocate $1.6 billion toward STD prevention and $8 billion for contact tracing. While "Congress is delayed in its consideration of COVID relief, we are confident some funding will be placed later this fall as part of the budget process," Harvey said.
LGBTQ Agenda is an online column that appears weekly. Got a tip on queer news? Contact John Ferrannini at j.ferrannini@ebar.com
Help keep the Bay Area Reporter going in these tough times. To support local, independent, LGBTQ journalism, consider becoming a BAR member.
Comments on Facebook