Husky, hairy men inspire Chris Komater's art
Tuesday Aug 6, 2019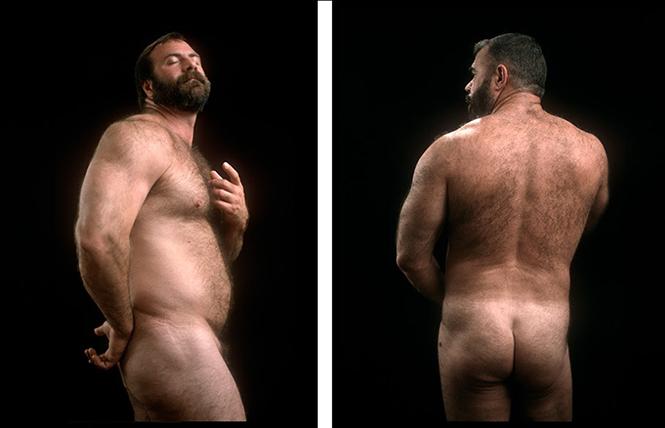 Not all models are Twiggy, and not all skin is silky-smooth. Chris Komater is a San Francisco-based artist whose career Out There has followed for a long time. His sixth solo exhibition "Jack & Mack" is currently showing at Mercury 20 Gallery, 475 25th St., in Oakland, through Sept. 7.
"Jack Radcliffe and Mack are the preeminent bear porn stars, considered icons in the bear community," say the gallery's press materials. "The bear community is a segment of the gay community that exalts the physical characteristics of bears — lots of body hair and big tummies. The movement embraces an ideal of beauty quite outside of the mainstream."
"This is a body of work that I created in 2002, but have never exhibited in its entirety," said Komater. "I'm interested in challenging and subverting received ideas of beauty by examining this new ideal. I've introduced a different kind of artifice into these images of Jack & Mack, photographing them in poses taken from Renaissance painting, bringing together two very different codes of physical expression, each of which heightens the experience of the body in its own fashion."
Komater's photographs and sound installations have been shown at galleries in SF, LA and beyond. He is the recipient of a WESTAF-NEA Regional Visual Arts Fellowship, a Market Street Art-in-Transit grant, and was the founding director of Secession Gallery, a nonprofit gallery without walls in San Francisco, and the online arts venue Marjorie Wood Gallery. OT contacted Komater via email with a few choice questions that the artist graciously considered.
Out There: Do you see Jack and Mack in primarily erotic terms, or in aesthetic terms, or in some combination of erotic & aesthetic appraisal?
Chris Komater: "The tension between the erotic and the aesthetic is where most of my work finds inspiration. Jack Radcliffe and Mack were initially part of my fantasy life. I chose poses from the paintings of Giovanni Bellini for Jack because Bellini's subjects are otherworldly, inhabitants of heaven, their faces devoid of expressiveness so that the viewer could project emotions onto them. Jack, to me, was a denizen of some divine realm. I projected my desires onto him, vicariously made love to him through his films and in photo spreads in Bear magazine. Mack seemed very much of this world, his intense sexual energy so down-to-earth. He was even available for hire! The models in Caravaggio's paintings likewise feel very grounded in Caravaggio's time and experience, and seemed an obvious pairing. Jack and Mack, my two fantasy men, graciously agreed to pose naked in front of my camera, transforming my desire for them into an aesthetic visual encounter that I could share with my viewer, a different experience of their bodies both transcendent and sublime, the sacred meets the profane."
Would a hairy man without their girth have the same appeal to you as a model? Would a plus-sized model without the hirsute hide work as well?
"One of the first times I went to the Lone Star, San Francisco's bear bar, I observed a man, really big, flabby, super hairy, shirtless, surrounded by groping men, each visibly aroused and each posturing for his attention. I realized that outside of that venue, outside of the bear community, this man would be seen in a very different way, that there were very few positive erotic or artistic depictions of this kind of body. Then I saw Mark d'Auria's 'Smoke' at the Frameline film festival in the early 90s. In the film, we see older chubby men lovingly and tenderly caressed by the camera, one of the first times I'd ever seen anything like that. But I'm not answering your question, am I? For me, husky and hairy are such a powerfully erotic pairing. I could appreciate beauty in any form, but I photograph what I love to look at, and big hairy guys are my thing. My desires and attractions guide my photographic explorations, and maybe getting older they've become more sharply defined. In my more abstract work, I photograph flesh and hair very close-up, the gaze of the lover, to bring my viewers in for an intimate encounter with a kind of body they may not have seen as sensual or beautiful. My boyfriend is a big husky redhead, and I am thrilled by the possibility of exploring his dazzling fluorescent flame-orange furscape with my camera someday. Stay tuned!"
You took these portraits or finished them as artworks 17 years ago. Are Jack and Mack still working in the field of bear erotica today? Have the standards of beauty changed since their heyday?
"I've had only fleeting contact with Jack and Mack in the years since photographing them. Jack I know is married and in real estate, he's my Facebook friend. Mack still maintains a website where one may purchase videos, see him play 'Misty' on the piano, and order Mack-soiled apparel. You could even call him for phone sex! His libido remains unceasingly effusive. I don't know that standards of beauty have changed that much in 17 years, but there seems to be a lot more visibility of bear culture and an acceptance of a wider array of body types. There has been a tendency to pathologize excess body weight, or to find extremes of humor or pathos in it, and we still see that in the antics of Seth Rogan or Zack Galifianakis. But we also see characters with more heroic and romantic appeal, like Sean Astin or Police Chief Hopper in 'Stranger Things,' for example."
"Jack & Mack" shows at Mercury 20 along with two other solo exhibitions, Nick Dong's "Mendsmith Project" and Ruth Tabancay's "Geometricity 3.0." Artists' reception: Sat., Aug. 10, 4-6 p.m. First Friday Art Murmurs: Sept. 6, 6-9 p.m. Info: (510) 701-4620.
Comments on Facebook