2 arrested in torture death of man
Wednesday Mar 6, 2019
San Francisco police have arrested two people in connection with the torture death of George Randall-Saldivar, who was the adopted son of two gay dads.

Randall-Saldivar, 23, was allegedly tortured, killed, and his body found stuffed in a suitcase floating in San Francisco bay February 18, according to the San Francisco Police Department.

Two people, Gerald Rowe, 47, and Angel Anderson, 36, both of San Francisco, were arrested last month in connection with Randall-Saldivar's death. Rowe was arrested February 21 at his apartment at 1272 Market Street, where the killing is said to have occurred, and is currently in custody. He pleaded not guilty to charges of murder, conspiracy, false imprisonment, and kidnapping, Wednesday, February 27.

Anderson, aka David Anderson, confessed to participating in the killing while in custody at the Sacramento County Jail, according to a SFPD news release. Police have not released what Anderson was in custody for. Anderson's attorney, George Borges, told the Bay Area Reporter that Anderson identifies as a transgender woman.

Anderson is also facing charges of murder, conspiracy, false imprisonment, and kidnapping. During her confession, she allegedly attempted to clear Rowe of any wrongdoing, reported the San Francisco Chronicle.

At Anderson's arraignment on March 4, she plead not guilty to all charges and remains in custody without bail, according to a spokesman from the District Attorney's office. She is being represented by private attorneys, Michael Gaines and George Borges, who did not respond to comment.

Randall-Saldivar's body was found floating near Pier 39 along the Embarcadero. An investigation began after the medical examiner determined his death to be a homicide. Police recovered surveillance video from Rowe's apartment that allegedly captured the murder.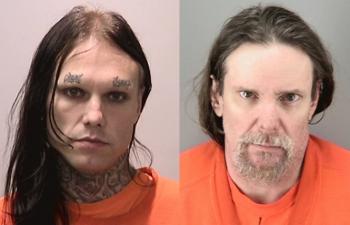 Between February 3-5, according to court documents, the video shows both defendants and the victim having consensual sex in Rowe's apartment. Then, Rowe leaves and re-enters the room while Anderson and Randall-Saldivar converse in front of the door.

The victim then sits down in a chair and has his hands tied behind his back by Anderson. Both defendants "make a noose and put the noose over the victim's neck," according to court documents. The rope is then elevated above an unknown object in the room and pulled on at various times by the defendants.

A bag was then put over the victim's head and Anderson "administers a narcotic (possibly fentanyl) with a syringe to victim," the documents state. After the victim collapses, the defendants place him on the bed and "begin to slap" him.

Anderson is then seen getting a suitcase from the closet. She stuffs Randall-Saldivar inside and eventually seals the suitcase in plastic.

"Defendant Rowe then eats junk food and plays his guitar over the suitcase," states the court documents.

The suitcase is kept in the room for a day as the defendants go about their business. On February 5 at around approximately 2:30 a.m., Anderson and Rowe are captured on video rolling the suitcase down Market Street, court documents state.

The court has ordered Rowe to have a psychological evaluation. He is being held without bail.

Years ago, the Bay Area Reporter reported on the adoption of Randall-Saldivar by Christopher Saldivar and Mark Randall. They adopted Randall-Saldivar when he was 10 years old in 2004 out of the foster care system. The young boy had bounced between three foster homes prior to his adoption by his fathers, and social workers considered him a special needs child. He had behavioral issues and was taking several medications at the time, but after sometime with Randall and Saldivar, he stopped taking his medications and stopped acting out.

"Shortly before we got involved they told us if we didn't succeed it was unlikely he would be put up for adoption again," said Randall in a March 2006 B.A.R. story. "If you go by statistics, in seven or eight years he would have ended up homeless, drug addicted, or in prison. It is pretty clear-cut and almost unbearable to think about."

Saldivar did not respond to a request for comment from the B.A.R.

Police said that while arrests have been made, the case remains under investigation. Anyone with information is asked to call the SFPD 24-hour tip line at (415) 575-4444 or text a tip to TIP411 and begin the text message with SFPD. People may remain anonymous.

Update: 03/07/19: This article has been updated to include Anderson's arraignment and attorneys.

Update: 3/21/19: This article has been updated to include Anderson's LGBT identity.

Contact the reporter at a.madison@ebar.com.
Comments on Facebook