A Fabulous Affair: Carlos Eugenio Venturo Diaz and Joseph William Copley's fabulous wedding
Wednesday Sep 11, 2019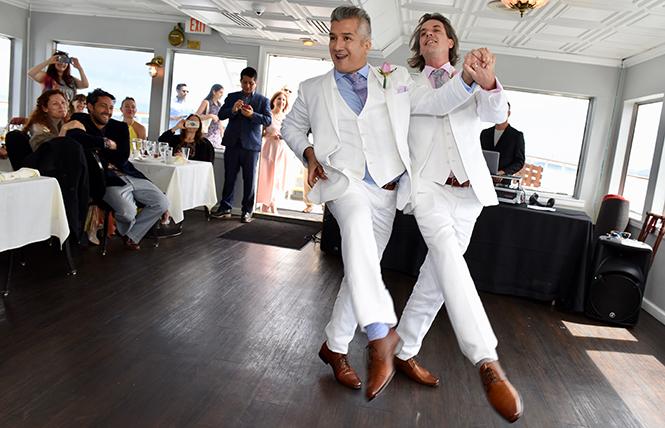 We haven't had a good wedding announcement in a while, and the betrothal of Carlos Diaz and Joseph Copley included seaside views, and dance and nightlife community fabulousness.

On Friday, August 30, after 15 years of partnership, Carlos Eugenio Venturo Diaz and Joseph William Copley's were married aboard the California Hornblower surrounded by immediate, extended and chosen family.

The couple was joined by officiant Margaret Cromwell, with whom they danced for over 10 years, and is also a Captain on the Hornblower fleet. Carlos was given away by Garza, mother of the House of Garza, and Joseph by Heklina, owner of Oasis, and hostess of "Mother".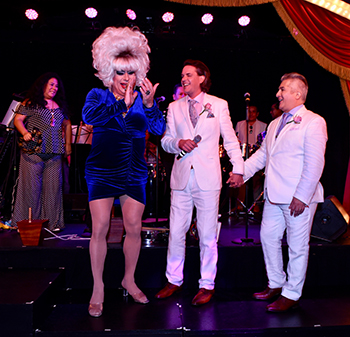 A brunch cruise of the bay followed, with the couple's first dance was a 1910's one-step, in the style of Vernon and Irene Castle. At 3pm, a community gathering took place at Oasis.

As Peruvian band SalChicha played, 200 guests celebrated, including local arts luminaries Margaret Jenkins, Brenda Way, Carlos Carvajal, John Sanborn, KT Nelson, Deborah Slater, Kimi Okada, Gabriella Shiroma, Monique Jenkinson, Kevin Clarke, Karl Soehnlein and more.

Family members traveled from as far as Bolivia, Peru, Poland, Pennsylvania, South Carolina and as close as the Mission district at a Welcoming Soiree at the San Francisco restaurant Le Colonial, and the festivities wrapped up on Saturday with a potluck and family vs. family soccer game in Golden Gate Park!

Joseph and Carlos have both had long careers dancing in they Bay Area, dancing with Oakland Ballet (where they met), Amy Seiwert's Imagery, Dance Through Time (where Carlos is now Artistic Director) San Francisco Opera Ballet, Margaret Jenkins Dance Company, Robert Moses' KIN, and other companies. They are both still working in the dance field. Congratulations to the fabulous couple!
Comments on Facebook