Harris makes history; Obama delivers harsh critique of Trump
Wednesday Aug 19, 2020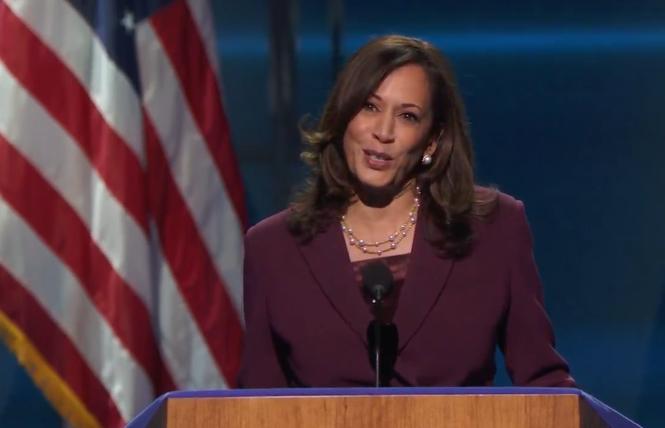 California Senator Kamala Harris received and accepted the Democratic vice presidential nomination during the third session of the virtual Democratic National Convention Wednesday night, shortly after former President Barack Obama gave a historic speech in which he lambasted his successor.

In a speech designed to introduce her to a nationwide audience, Harris discussed her identity as the first Black woman running on a major party presidential ticket.

"This week marks the 100th anniversary of the passage of the 19th amendment. And we celebrate the women who fought for that right. Yet so many of the Black women who helped secure that victory were still prohibited from voting, long after its ratification," Harris said. "But they were undeterred. Without fanfare or recognition, they organized, testified, rallied, marched, and fought — not just for their vote, but for a seat at the table. These women and the generations that followed worked to make democracy and opportunity real in the lives of all of us who followed."

Harris said she was inspired as a child by activism in the East Bay.

"[Harris' parents] fell in love in that most American way — while marching together for justice in the civil rights movement of the 1960s," Harris said. "In the streets of Oakland and Berkeley, I got a stroller's-eye view of people getting into what the great John Lewis called 'good trouble.'"

Harris referenced her time as San Francisco district attorney.

"[My mother] taught us to be conscious and compassionate about the struggles of all people. To believe public service is a noble cause and the fight for justice is a shared responsibility. That led me to become a lawyer, a district attorney, attorney general, and a United States senator," Harris said. "And at every step of the way, I've been guided by the words I spoke from the first time I stood in a courtroom: Kamala Harris: for the people."

Harris repeated what she said when she announced her presidential campaign last year, that the nation is at "an inflection point."

"We're at an inflection point. The constant chaos leaves adrift. The incompetence makes us feel afraid. The callousness makes us feel alone. It's a lot. And here's the thing: We can do better and deserve so much more," Harris said. "We must elect a president who will bring something different, something better, and do the important work. A president who will bring all of us together — Black, White, Latino, Asian, Indigenous — to achieve the future we collectively want. We must elect Joe Biden."

Harris said that future generations will ask people living today what they did at that inflection point.

"Years from now, this moment will have passed. And our children and our grandchildren will look in our eyes and ask us: Where were you when the stakes were so high? They will ask us, what was it like?" Harris said. "And we will tell them. We will tell them, not just how we felt. We will tell them what we did."

Democratic presidential nominee Joseph R. Biden Jr. appeared with Harris on stage after the speech, along with his wife, Jill, and Harris' husband, Douglas Emhoff.

Harris did not specifically mention LGBTQ issues during her remarks. A video beforehand did show her presiding over the first same-sex marriage in California in 2013 at San Francisco City Hall while she was state attorney general, after the Proposition 8 ban was tossed on a technicality by the U.S. Supreme Court.

Members of the Harris' family — sister Maya Harris, niece Meena Harris, and stepdaughter Ella Emhoff — introduced the native of Oakland (she said she was born at Kaiser hospital there), and former California AG and San Francisco district attorney.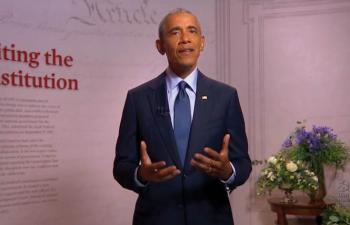 Obama: Democracy 'at stake right now'
Before Harris' nomination — in what are perhaps the most scathing public remarks by a former president about his successor — Obama gave a no-holds-barred speech in which he said President Donald Trump is a threat to American democracy.

"I am also asking you ... to make sure that the basic tenets of our democracy endure," Obama said. "Because that's what is at stake right now. Our democracy."

Obama repeated his criticisms of Trump in the starkest terms yet. He said that when Trump was elected president, he'd hoped Trump would take the job more seriously, instead of turning it into what he phrased as "one more reality show."

"I never expected that my successor would embrace my vision or continue my policies. I did hope, for the sake of our country, that Donald Trump might show some interest in taking the job seriously; that he might come to feel the weight of the office and discover some reverence for the democracy that had been placed in his care," Obama said. "But he never did. He's shown no interest in putting in the work; no interest in finding common ground; no interest in using the awesome power of his office to help anyone but himself and his friends; no interest in treating the presidency as anything but one more reality show that he can use to get the attention he craves."

The former president said that "this administration has shown it will tear our democracy down if that's what it takes to win, so we have to get busy building it up."

Obama laid the personal and economic toll Americans have suffered from the COVID-19 pandemic at Trump's feet. The administration nixed the executive branch team responsible for pandemic response in 2018.

"Trump hasn't grown into the job because he can't. And the consequences of that failure are severe: 170,000 Americans dead, millions of jobs gone," Obama said. "Our worst impulses unleashed, our proud reputation around the world badly diminished, and our democratic institutions threatened like never before."

Obama praised Biden, who served as his vice president and became a personal friend.

"Let me tell you about my friend, Joe Biden. Twelve years ago, when I began my search for vice president, I didn't know I'd be finding a brother. Joe and I came from different places and different generations, but what I quickly came to admire about him is his resilience, born of too much struggle; his empathy, born of too much grief," Obama said. "Joe's a man who learned early on to treat every person he meets with respect and dignity, living by the words his parents taught him: 'No one's better than you, but you're better than nobody.'"

Obama said that Biden would handle COVID-19 the way that the two of them handled the 2009 H1-N1 pandemic and the 2014 Ebola outbreak.

Obama said that politicians are not saviors, and it is up to individual Americans to hold politicians accountable.

"I am asking you to believe in Joe and Kamala's ability to lead this country out of dark times and build it back better," Obama said. "But here's the thing: no single American can fix this country alone. Democracy was never meant to be transactional — you give me your vote; I make everything better."

"What we do in the next 76 days will echo for generations to come," Obama said, speaking live from Philadelphia, Pennsylvania, referring to the days until the November 3 election. Obama mentioned past crises that threatened American democracy and said that the president's role is to preserve American freedom.

Obama offered encouragement to those who don't get engaged in politics because they don't understand everything or are cynical.

"This president and those in power — those who benefit from keeping things the way they are — they are counting on your cynicism," Obama said. "We can't let that happen. Do not let them take away your power. Don't let them take away your democracy. Make a plan right now for how you're going to get involved and vote."

Obama praised this summer's protests for racial justice.

"To the young people who led us this summer, telling us we need to be better — in so many ways, you are this country's dreams fulfilled," he said. "Earlier generations had to be persuaded that everyone has equal worth. For you, it's a given — a conviction. And what I want you to know is that for all its messiness and frustrations, your system of self-government can be harnessed to help you realize those convictions."

Before Obama's remarks, a video was played of the then-president giving Biden the Presidential Medal of Freedom — with distinction — shortly before he left office in 2017 — which was a surprise to the vice president.

Big night for Democratic women
Obama's remarks were preceded by those of his secretary of state during his first term, 2016 Democratic presidential nominee Hillary Clinton. Clinton's address to the convention occurred during a section of the night's proceedings celebrating the centennial of the 19th Amendment, which one hundred years ago August 18 was ratified, giving women the right to vote. (Clinton is the only woman to be at the top of a major party presidential ticket.)

Clinton said many people have expressed to her their regret for how the 2016 election — in which she won the popular vote but lost the Electoral College — turned out.

"When I said we owe Donald Trump an open mind and a chance to lead, I meant it. ... For four years, people have said to me, 'I didn't realize how dangerous he was.' 'I wish I could go back and do it over.' Or worse: 'I should have voted.' Well, this can't be another woulda coulda shoulda election," Clinton said.

"There's a lot of heartbreak in America right now — and the truth is, many things were broken before the pandemic. But, as the saying goes, the world breaks everyone, and afterward, many are strong at the broken places," she added. "Joe Biden knows how to heal, unify, and lead, because he's done all of that for his family and his country."

Clinton said "everyone knows a story about Joe's empathy," saying that he called her after her mother died.

"This is the team to pull this nation back from the brink, but they can't do it without us," she said. She recommended people vote early and, if by mail, quickly.

"Remember back in 2016 when Trump asked 'what do we have to lose?' Now we know," Clinton said. "Our health, our jobs, even our lives. Our leadership in the world and, yes, our post office. As Michelle Obama and Bernie Sanders warned us on Monday: If Trump is reelected, it will get even worse. My friends, we need unity now more than ever."

Clinton was followed by House Speaker Nancy Pelosi (D), the first and only woman to hold that position, and San Francisco's longtime representative in that body. Pelosi, of course, spearheaded the effort to impeach Trump last year for abuse of power after he reportedly withheld military aid to Ukraine in an effort to have the Ukrainian government announce an investigation into Biden and his surviving son, Hunter. Pelosi did not mention the impeachment during her speech. A video before her address showcased Pelosi's feud with Trump since she took the speaker's gavel again in 2019.

Pelosi's remarks were made live from San Francisco, with the San Francisco-Oakland Bay Bridge in the background. She mentioned the 1969 Stonewall riots that launched the modern movement for LGBTQ liberation in the United States.

"As speaker, I've seen firsthand Donald Trump's disrespect for facts, for working families, and for women in particular — disrespect written into his policies toward our health and our rights, not just his conduct. But we know what he doesn't: that when women succeed, America succeeds," Pelosi said. "We come together again, not to decry the darkness, but to light a way forward for our country. That is the guiding purpose of House Democrats. We are fighting For the people."

Pelosi said many bills passed by the House Democrats have been stopped in their tracks by Senate Majority Leader Mitch McConnell (R-Kentucky).

"We have sent the Senate bills to protect our dreamers, to advance LGBTQ equality, to prevent gun violence, to preserve our planet for future generations, and even more," she said. "All of this is possible for America. Who is standing in the way? Mitch McConnell and Donald Trump."

Pelosi did not mention Harris' time as San Francisco district attorney. After Pelosi's speech, a portion of the evening highlighted the Violence Against Women Act of 1994, which was co-sponsored by Biden.

The portion of the evening's proceedings covering the economy concluded with remarks from Massachusetts Senator Elizabeth Warren (D), who ended up in third place during the 2020 presidential primaries, after Biden and Vermont Senator Bernie Sanders (I).

Warren helped to establish the Consumer Financial Protection Bureau during the Obama administration.

"I love a good plan, and Joe Biden has some really good plans — plans to bring back union jobs in manufacturing and create new union jobs in clean energy," she said. "Plans to increase Social Security benefits, cancel billions in student loan debt, and make our bankruptcy laws work for families instead of the creditors who cheat them."

The first special portion of the evening dealt with gun violence, featuring 2018 Parkland, Florida school shooting survivor Emma Gonzalez, a bi woman.

"Until one or all of us stand up and say 'I can't do this anymore and watch the news treat these shootings like acts of God,' gun violence isn't going to top," Gonzalez said in a video.

That was followed by remarks by people whose lives were affected by gun violence, including former congresswoman Gabrielle Giffords (D-Arizona), who retired from Congress after a 2011 assassination attempt. Giffords' husband, Mark Kelly, is the Democratic nominee for U.S. Senate in Arizona.

"Words that once came easily are now a struggle to speak, but I have not lost my voice," she said. "Americans must speak out, even when you have to fight to find the words.

"We must elect Joe Biden. He was there for me, he'll be there for you too," she added. "Join with me in this fight. Vote, vote, vote!"

Immigration, climate change get some attention
A portion of the evening covered immigration policy, one of the flashpoints of conflict between the Trump administration and Democrats, as well as U.S. and international laws.

In "A Letter to Trump on Immigration," an 11-year-old identified only as Estella, whose mother came to the U.S. as an undocumented immigrant, addressed the president.

"The Obama administration told her she could say," Estella said.

Estella's father voted for Trump, believing him to be strong on the military, but during the Trump administration Estella's mother was deported from the U.S.

Following that, an undocumented immigrant from North Carolina named Silvia Sanchez was joined by her daughters, Jessica and Lucy.

"I did what any mother would do to save my daughter's life," Sanchez said in remarks translated from Spanish. "I took my daughter in my arms and traveled for days to reach the border. ... I was afraid we'd be caught, detained and deported but I had to save my daughter."

Jessica Sanchez would have been a Dreamer, one of the young people covered under the Deferred Action for Childhood Arrivals program first instituted by Obama.

"Donald Trump took away my ability to apply for the program," she said.

A portion of the evening dealt with climate change. A video narrated by a worker with the International Brotherhood of Electrical Workers said that Biden's plan to deal with climate change would create jobs. Another video highlighted young climate activists. At the end of this segment, singer Billie Eilish gave a performance.

The night's theme was "Uniting America." It was emceed by actress Kerry Washington.

Archbishop Elpidophoros of the Greek Orthodox Archdiocese of America delivered the benediction.

Thursday is the last session of the convention, at which time Biden will formally accept the Democratic presidential nomination.

Editor's note: If you liked this article, help out our freelancers and staff, and keep the B.A.R. going in these tough times. For info, visit our Indiegogo campaign. To donate, simply claim a perk!
Comments on Facebook