11 vie for 4 SF college board seats
Wednesday Aug 19, 2020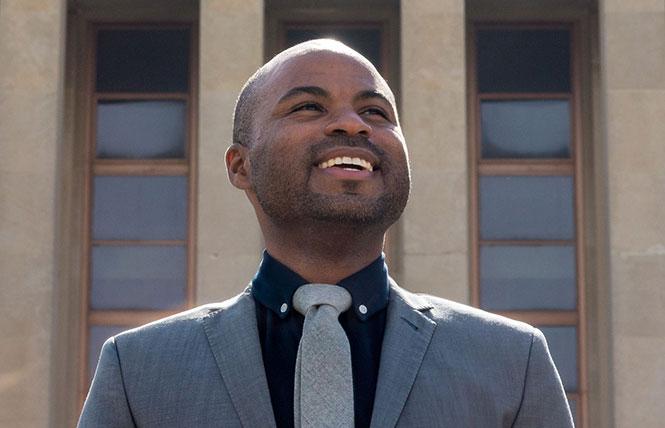 With a pair of out City College of San Francisco trustees likely to be reelected, the real electoral battle on the November 3 ballot is for the two open seats on the community college board.

Because incumbents Alex Randolph, a gay man, and straight ally Ivy Lee both opted not to seek reelection, the deadline for candidates to enter the race was extended to August 12. While 12 people qualified for the ballot, Dawson Cooper informed the Bay Area Reporter they had decided to suspend their campaign.

That leaves nine newcomers vying to join the board along with trustees Shanell Williams, who is bisexual and currently president of the community college's board, and Tom Temprano, a gay man who is board vice president, seeking reelection. The out leaders have garnered broad support, with both of the city's two LGBTQ political clubs endorsing them.

Last week, the Alice B. Toklas LGBTQ Democratic Club also endorsed Aliya Chisti, who touts on her website she would be the first Muslim woman elected in San Francisco. Chisti, who was endorsed by Randolph, is a former educator who oversees the Free City College Program at the city's Department of Children Youth and Their Families.

The Alice club also endorsed Alan Wong, an administrative aide to Supervisor Gordon Mar who has the endorsements of all of the current trustees except for Lee. His immigrant father took English classes at City College, while Wong took free classes at the community college during high school and used the credits at UC San Diego so he could graduate at the age of 19.

The more progressive Harvey Milk LGBTQ Democratic Club voted Tuesday to endorse the two incumbents, Wong, and Han Zou, a Chinese immigrant who is an administrative aide to Supervisor Matt Haney and formerly was executive director of the local Democratic Party.

Others seeking a college board seat are Geramye Teeter, a Black queer man who is an energy efficiency project manager; former City College dean of students and union leader Anita Martinez; former Georgetown University Board of Regents member Marie Hurabiell; and Victor Olivieri, a political science professor at Santa Clara University who is president of the city's Veterans Affairs Commission and who previously ran in 2018. Also running are lawyer Jeanette Quick and Dominic Ashe.

The San Francisco Democratic Party will be interviewing candidates Saturday, August 22, and will vote on endorsing in the race Wednesday, August 26.

Editor's note: If you liked this article, help out our freelancers and staff, and keep the B.A.R. going in these tough times. For info, visit our Indiegogo campaign. To donate, simply claim a perk!
Comments on Facebook