Gay SF aging services pioneer Hadley Hall dies
Friday Aug 14, 2020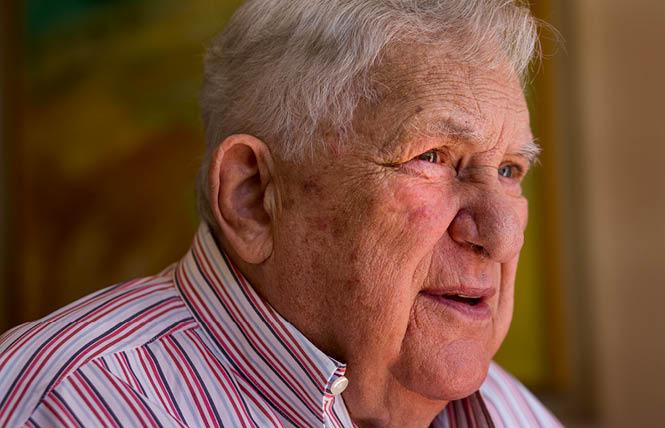 Hadley Dale Hall, a pioneer in aging services in San Francisco and a leader in the LGBTQ+ community, died August 10, following a brief illness. He was 87.
Mr. Hall, a gay man, founded San Francisco Home Health Services, a nonprofit organization, where he developed the groundbreaking 30th Street Senior Center in 1976. He formed comprehensive programs for the elderly such as home-delivered meals, congregate meals, adult day health, and home care, all while advocating for living wages and better working conditions for home health aides and homemakers.
He also created Coming Home Hospice, the first residential AIDS hospice in the country, according to his obituary. The program provided care and support for both people with AIDS and those with other terminal illnesses.
And he's the retired CEO of the Visiting Nurses and Hospice program in San Francisco.
"He was an extraordinary human being," former San Francisco mayor Art Agnos told the Bay Area Reporter in a phone interview. "When I first came to San Francisco as a social worker for low-income public housing residents, he became my role model."
Agnos, who served in the California Assembly before becoming mayor, and later worked as regional director for the U.S. Department of Housing and Urban Development under President Bill Clinton, said he often turned to Mr. Hall for advice on policy matters.
Linda Edelstein, a lesbian who worked in the aging field for many years, started out as an employee of Mr. Hall's at SF Home Health Services.
She later served as manager of Coming Home Hospice for 10 years. The two kept in touch and she served as his power of attorney for health matters, she told the B.A.R. in a phone interview.
"His focus was always for health care workers," Edelstein said. "They didn't have good benefits or stability in their work schedules."
She explained that Mr. Hall got the first In-Home Support Services contract with the city and "really pushed" for benefits for the workers.
"He didn't just talk it — he did it," she said.
LGBTQ seniors were always a key group for Mr. Hall, Edelstein added, but "he never stopped working for home health aides."
Mr. Hall, who retired in 1986, was also involved with Openhouse, the San Francisco nonprofit that provides housing and services for LGBTQ seniors, where he was a longtime board member.
Marcy Adelman, Ph.D., and her late spouse, Jeanette Gurevitch, founded Openhouse in 1998. Mr. Hall served on the board from 2004 through 2017 and remained active as a key adviser as a board alumnus.
"Hadley was an extraordinary advocate for seniors. He was a mentor, teacher, and friend not only to me, but to all Openhouse board members and staff," Adelman stated. "As a leader, he was both generous and fierce — generous with his time, praise, and compassion and fierce in his advocacy and drive to see that seniors receive the best care possible and then some. We loved him."
Karyn Skultety, Ph.D., a bi woman who is executive director of Openhouse, said that Mr. Hall's legacy lives on at the agency.
"Hadley was a beloved figure in the LGBTQ+ senior community in San Francisco," she stated. "He selflessly contributed his experience, grit, and determination to help LGBTQ+ seniors age comfortably at home rather than go back into the closet at often-unwelcoming nursing homes."
Openhouse board co-Presidents Tim Sweeney and Nanette Miller praised Mr. Hall and his work.
"Our organization and services reflect Hadley's strength and spirit, and we pay tribute to his many hours of effort and selfless contributions toward the mission and success of Openhouse," they stated.
Mr. Hall also served as an adviser and volunteer for On Lok, a senior agency that took over management of the 30th Street Senior Center in 1995. Last year the center celebrated 40 years of service.
Early life
Mr. Hall was born on July 8, 1933 in North Dakota. Edelstein said that at age 9, he moved to Washington state, where he attended college for his undergraduate degree. He moved to San Francisco around 1960 and earned a master's of social work from UC Berkeley.
Mr. Hall's husband, Warde Laidman, who survives him, was the executive director of Family Service Agency. Agnos recalled that "the two of them made a magnificent couple," professionally and personally. Edelstein said that the men had been together for about 60 years.
The couple lived in San Francisco for many years, moved for a time to Marin County, then returned to the city, most recently at Rhoda Goldman Plaza, an assisted living facility.
Edelstein said that at Rhoda Goldman, Mr. Hall continued his advocacy, and even managed to get a few rules changed. For one, dogs weren't allowed and Laidman had a dog; that rule was modified. Mr. Hall also managed to get the facility to allow residents to bring their own wine to dinner.
"He'd say, 'I'm here, I'm gay,'" Edelstein recalled. "He was such a likeable person."
In addition to his husband, Mr. Hall is survived by a sister, Carmela Sanders, of Beaverton, Oregon, as well as many nieces and nephews.
On Lok and Openhouse will observe a celebration of Mr. Hall's life at the new Openhouse Community Center in 2021 after it is safe to gather socially. A bronze tribute already cast in Mr. Hall's honor and planned for the community center will now become a memorial, and will be unveiled at the celebration of his life, Skultety said.
Editor's note: If you liked this article, help out our freelancers and staff, and keep the B.A.R. going in these tough times. For info, visit our Indiegogo campaign. To donate, simply claim a perk!
Comments on Facebook