New ED starts at trans Latina agency
Wednesday Jun 26, 2019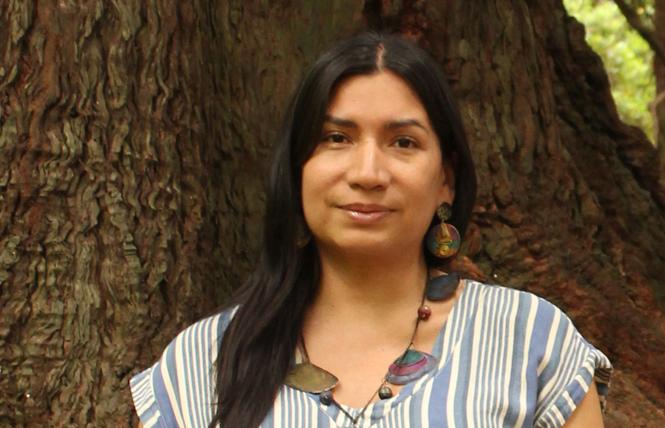 An agency that serves trans Latina women has hired a new executive director.
Nicole Santamaría started June 10 at El/La Para TransLatinas, which is based in San Francisco's Mission district.
Santamaría, a 39-year-old intersex trans woman, comes to El/La from a background in organizing for LGBTQI individuals and causes in El Salvador. As executive director, Santamaría, will assume responsibility for overall administration, direction, management, and funding development, as well as the organization's goals and objectives to protect and fight for the rights of transgender Latinas in San Francisco.
Santamaría spoke with the Bay Area Reporter via email, offering a sober view of the future.
"I have been doing this work for over a decade now, with a broader perspective of intersections that impact LGBTQI+ communities, in particular women, and trans/gender-nonconforming people of color and immigrants," she wrote.
She added that her goals include continuing the creation and implementation of programs where participants can start or continue their healing journey and where they can thrive and live fulfilling lives.
"Where diversity can be embraced and celebrated as the richness present in our cultures and build societies free of violence that benefits not only LGBTQI+ community, but the broader community, so trans women can live over 35 years and die of natural causes, and not as a consequence of violence caused by hatred, marginalization, and exclusion," Santamaría wrote.
El/La has its offices in the historic Redstone Labor Temple at 2926 16th Street, which became the subject of buyout turmoil earlier this year. The Mission Economic Development Agency, a nonprofit housing developer, made a bid to the building's longtime landlord for $15 million to buy it and secure the tenancy of the organizations based there.
Christopher Gil, MEDA's associate director of marketing and communications, spoke with the B.A.R. by phone, explaining that while the purchase price is lower than the asking price, recent inspections indicate that the building needs extensive work.
"We need help with another $7 million from the city for rehab, seismic retrofitting in particular, and to keep the current nonprofits in place. It's going to take a whole community to pull this off. I know El/La wants to stay, everybody wants to stay," Gil said.
The offer went up against a cash bid of $21 million from WeWork, forcing MEDA and the Redstone Tenants Association to scramble to beat the New York-based co-working startup. Representatives for the Redstone Tenants Association did not respond to a request for comment.
Redstone tenants delivered a petition bearing 7,000 signatures to District 9 Supervisor Hillary Ronen's office after a City Hall rally June 20, demanding that the city help preserve the below-market rents in the building for its current tenants, according to reporting by Mission Local.
Tania Jimenez, program coordinator for El/La, was present at the rally and told the crowd that the building was an irreplaceable resource for organizations like hers in an increasingly unaffordable city.
When asked about the Redstone, Santamaría agreed with Gil that preservation is a matter of community.
"We still have a lot of challenges to solve about our location stability, and the only way I can think this work will be possible is for the community to come together and keep ourselves protected from the gentrification that our communities are facing on a daily basis in San Francisco," she wrote.
On Tuesday, the San Francisco Board of Supervisors passed a resolution in support of preserving the Redstone building.
The future is uncertain for organizations like El/La; not only because of the concern over local real estate, but also because the federal government continues to roll back protections for transgender Americans and to persecute trans asylum seekers at the border.
When asked about these challenges, Santamaría was adamant.
"At this point, we have been following the high levels of violence trans/gender-nonconforming people of color are facing, that are impacting their lives in different grounds," she wrote. "We are seeing every day more murders of trans black women, and also death inside of ICE detention centers, affecting the most vulnerable, and taking valuable members from their communities."
Santamaría declined to provide her salary. El/La does not publish its funding or salary information. The B.A.R. was unable to ascertain the salary for this role, or the organization's current budget.
Comments on Facebook