SFO screens LGBT shorts for Pride
Wednesday Jun 26, 2019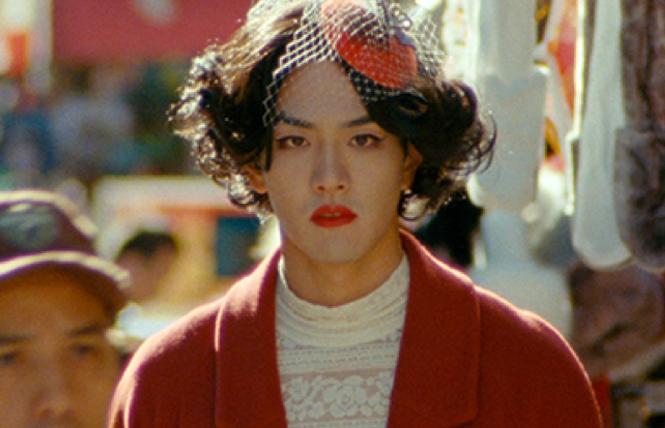 Passengers traveling through San Francisco International Airport for Pride with time on their hands can watch four LGBT short films.
The quartet can be viewed for free in the SFO Museum's Video Arts room between 5 a.m. and midnight. It is located in the pre-security area of the departures level in the International Terminal.
The screening room can be found in the center rear of the building behind the check-in areas. Look for signage that reads "Fly & Explore Visual Arts."
The film program at the airport, which this week joined the International Gay & Lesbian Travel Association, debuted in September 2017. Tim O'Brien, assistant director and curator of exhibitions for the SFO Museum, told the Bay Area Reporter that LGBT films are shown throughout the year.
But in June, for Pride Month, a collection of four films with LGBT topics is shown each year. Their addition to the lineup of films is staggered throughout the month and they screen into July.
The first film added this year was Yuchao Feng's 2018 "Red" about an introverted young man who dresses in women's clothing and encounters his father on the street one day. It debuted at the airport June 6 and runs through July 3.
Ben Joyner and Dumaine Babcock's 2017 film "I Have Something To Tell You" started screening June 13 and runs through July 10. It is a profile of Adrain Chesser, who photographs loved ones at the moment he reveals his AIDS diagnosis.
The third film, AJ Baldwin's 2018 short "Fifteen," was added last Thursday, June 20, and runs until July 17. It is a first-person coming-of-age story.
Debuting Thursday, June 27, and running through July 24 is the fourth film, Alex Boh's 2018 short "Hope." It commemorates San Francisco's 2018 Pride parade through the words of the late gay Supervisor Harvey Milk.
"We are hoping to reach some of those flying in to enjoy Pride weekend," O'Brien told the B.A.R. "'Hope' present's beautiful footage of last year's Pride festivities that really shows the range of the community against a haunting edit of Harvey Milk's audio will recorded shortly before his assassination."
The city renamed Terminal 1 at the airport after Milk, who was assassinated along with then-mayor George Moscone in 1978. A temporary installation about his life opens to passengers of the rebuilt terminal July 23, with a permanent exhibit set to debut next March. [See related story.]
O'Brien would like to work collaboratively with Frameline next June, as he said the museum staff "are great fans" of the LGBT film festival.
Those not flying out of SFO over the next four weeks can view the four shorts online at http://www.sfomuseum.org/programs/video-arts .
And filmmakers wishing to see the airport screen their works can submit them for review by museum officials via the online form found at https://flysfo.wufoo.com/forms/sk27id61er0rpt/ .
Comments on Facebook