News Briefs: Rippon, Chenoweth to headline Crescendo
Wednesday Apr 3, 2019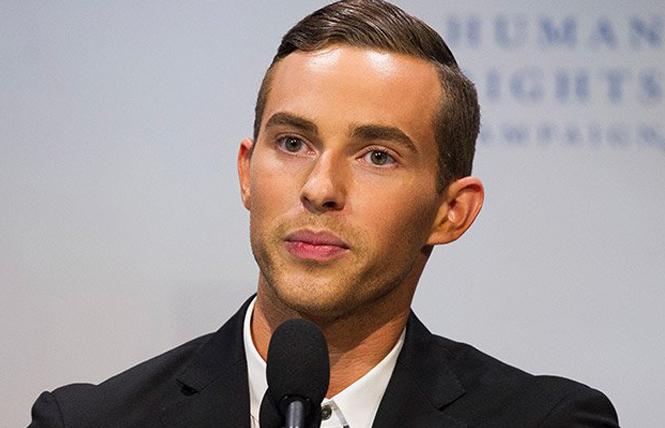 Gay Olympic medalist Adam Rippon and award-winning actress and ally Kristin Chenoweth will receive awards at the San Francisco Gay Men's Chorus' Crescendo benefit Saturday, April 27.
The event takes place at the Fairmont Hotel, 950 Mason Street. It begins with a VIP reception at 5 p.m., followed by a cocktail reception, dinner, and the awards program.
Rippon earned a bronze medal at the 2018 Winter Olympics as part of the figure skating team. Since then, he has used his platform as a gay athlete to talk about LGBTQ rights. He will receive the chorus' Trailblazer Award.
"I have always felt an obligation to use my voice to support those that are not heard," he said in a statement issued by the chorus. "To be recognized for my advocacy work is truly an honor, especially by such a prestigious group as SFGMC, who have been using their voices to champion so many causes for years.
"Plus, I get to share a stage with Kristin so it's a win-win all around," he added.
Chenoweth won a Tony Award for playing Sally Brown in "You're A Good Man, Charlie Brown," on Broadway and an Emmy for her role on "Pushing Daisies."
Chenoweth will receive the Vanguard Award.
"God gave me a voice powerful enough to show the world how important it is to love each other," she said in the statement. "Music unifies us, art brings us together, and that's a fact."
Offstage, Chenoweth has advocated for LGBTQ equality.
Chorus officials said that proceeds from this year's event will support two youth-oriented programs — Rhythm: Reaching Youth Through Music and It Gets Better.
The chorus launched Rhythm last year to bring a message of anti-bullying and acceptance through music, personal stories, and experiences. This year, the chorus will work with It Gets Better and Speak Theater Arts to launch an It Gets Better tour, the core mission of which is to reduce suicide among LGBTQ youth.
"We are privileged to recognize this year's honorees for their commitment to uplifting and empowering the LGBTQ community, especially queer youth," chorus Executive Director Chris Verdugo said in the statement.
Tickets for Crescendo are $250 general admission and $350 with the VIP reception. For tickets, visit https://www.sfgmc.org/crescendo/.
SF Rec and Park Easter fun
The San Francisco Recreation and Park Department will hold its Eggstravaganza Saturday, April 13, from 11 a.m. to 3 p.m. in Robin Williams Meadow in Golden Gate Park.
The event will feature egg hunts, carnival rides, games, live entertainment, food trucks, and the highly anticipated annual rib cook-off between Rec and Park, the San Francisco Fire Department, San Francisco Police Department, and other city departments.
Officials said that pets are not allowed. Tickets are $10; children 2 and under are free.
There will be free bike valet parking courtesy of the San Francisco Bicycle Coalition at the main (west) entrance to the event.
For more information, visit http://www.sfrecpark.org.
Schaaf to return to Oakland LGBTQ center
Mayor Libby Schaaf will return to the Oakland LGBTQ Community Center with her mobile mayor program Saturday, April 13, from 1 to 2 p.m.
Last year, Schaaf did a similar program outside of the center. Officials said that this year she will hear from residents inside the facility, located at 3207 Lakeshore Avenue (entrance on Rand Avenue).
People will be able to meet the mayor and her staff members, voice their concerns, and ask questions.
For more information, visit https://www.oaklandlgbtqcenter.org/.
Our Family Coalition to honor Wahls
Our Family Coalition will honor Iowa state Senator Zach Wahls (D) at its Night Out gala Friday, April 26. Wahls is a straight ally who gained attention in 2011 when, as a young adult, he testified before a state legislative committee against a proposed constitutional amendment that would have banned marriage for same-sex couples after such unions became legal two years earlier in the state.
Wahls, 27, has two lesbian moms, and won election last year to the state Senate seat.
OFC officials said in an announcement Wahls will receive the organization's Luminary Award "for his clarion-clear voice and potent advocacy on behalf of LGBTQ family and gender equity coast to coast."
Also being honored is San Francisco school board member Alison Collins, another straight ally. She will receive the organization's Community Partner Award for her dedication to education equity for all.
Finally, Amplify will receive the Corporate Impact Award. The company partners with teachers to facilitate next-generation curriculum.
Night Out takes place from 6 to 9 p.m. at the Intercontinental Hotel, 888 Howard Street in San Francisco. Tickets are $225 and can be purchased at http://www.ourfamily.org.
SamTrans seeks volunteers for advisory board
The San Mateo County Transit District, or SamTrans, is seeking volunteers for its citizens advisory committee.
The CAC is accepting applications to fill three seats. One represents community interests that also interact with SamTrans fixed-route service, such as schools, labor, business and industry, and environmental. The term expires in April 2022. The second seat is for a bus rider that represents the diverse population of both the county and SamTrans fixed-route ridership. The term expires in April 2022. Finally, there is a seat for a multimodal rider, representing riders who use SamTrans to connect to other transit modes such as Caltrain, BART, or other bus agencies. The term expires in April 2020.
Each CAC member receives a free yearly bus pass to use on the SamTrans system. The committee meets on the last Wednesday of each month at 6:30 p.m. at the transit district headquarters in San Carlos.
Interested people can download the CAC application at https://bit.ly/1FEfGN1 or call (650) 508-6279. The deadline is Friday, June 7.
For more information, visit http://www.samtrans.com/cac.
Comments on Facebook