SF public defender pick praised by LGBTs
Wednesday Mar 13, 2019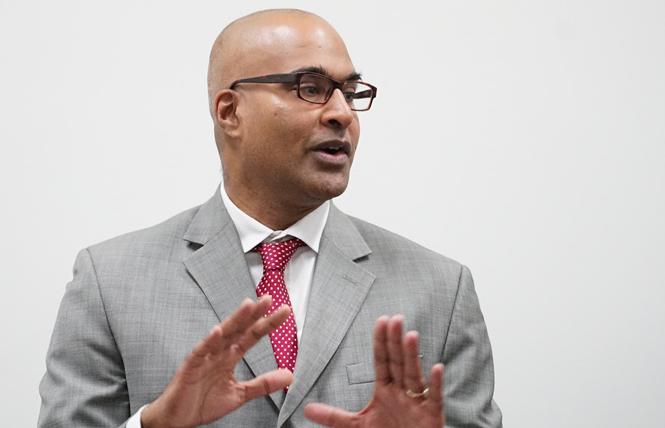 Mayor London Breed's appointment of Manohar Raju Monday as San Francisco's next public defender was met by praise from many in the criminal justice system.
Raju, 50, will replace Jeff Adachi, who died last month after experiencing a medical emergency.
The new public defender will be sworn in as soon as he relocates to San Francisco from Oakland. In the meantime, Matt Gonzalez, the office's chief attorney, will handle the day-to-day operations as acting public defender, according to a news release from the public defender's office.
Breed announced the appointment March 11 at City Hall after she and Raju met with staff at the public defender's office, according to lesbian Deputy Public Defender Niki Solis, who was in attendance. The news got a standing ovation from those in the room, Solis said.
In a news release from the mayor's office, Raju complimented the work of his predecessor.
"Jeff Adachi was a tremendous leader, trailblazer, and friend. We are deeply mourning his loss in San Francisco and nationally," said Raju. "I am honored to accept Mayor Breed's appointment to carry forward the visionary advocacy of the San Francisco Public Defender's office. Being a public defender is a spiritual calling for me — a calling inspired by the resilience of our clients and communities. I look forward to further building a vigorous, community-centered public defense office through the collective leadership of our entire staff."
Raju has been with the public defender's office for 11 years and currently manages the felony division. Prior to that he served as director of training, where he worked with staff to develop and enhance public defender practices. He is also a founding member of Public Defenders for Racial Justice, a grassroots organization dedicated to advocating and litigating for racial justice in the courts.
He will serve as the city's public defender until the winner of the November election is declared. Raju announced he would run for election to fill the remaining three years of Adachi's term.
In the release, Gonzalez said he has known Raju for two decades and indicated he would not run for the seat.
"Mano has a keen intellect, exceptional trial skills, and an awareness of the importance of being anchored in the communities we serve, all of which are essential to leading and inspiring the office," Gonzalez said. "He has my full support."
Breed praised Raju's commitment to equity and advocacy in the release and on Twitter, saying she believes he will continue to make a difference in the community.
"His advocacy for addressing systemic challenges to help those who need it most demonstrates that he will continue Jeff Adachi's legacy of not only fighting in the courtroom, but also fighting to change policies and support innovative programs that make a difference in the community," the mayor said in the release. "I am confident that in Mano our city will have someone who will continue on the mission that Jeff set for the office."
Solis, who has been with the public defender's office for 23 years, was pleased with the appointment.
"I believe she made a great decision in picking someone who has dedicated their life and career to the work," Solis said in an interview with the Bay Area Reporter. "He will continue the work of tackling the injustices in our system."
The announcement also squashed prior rumblings that Breed may have been considering someone outside the public defender's office, Solis said. She also interviewed for the position and confirmed that she would not be a candidate in the November election.
"I would not run against Mano. I think that he is capable and well-liked and more than competent to carry on the fight for social justice and inequalities in our criminal justice system," Solis said.
Although Solis was unable to comment on Raju's history of advocacy for the LGBT community, she said the various issues surrounding incarcerated transgender people need to be addressed and that she believes Raju will be open to listening to ideas.
Another LGBT community member, lesbian Police Commissioner Petra DeJesus, was also happy with the appointment. If a politician had filled the position, DeJesus said, it could have resulted in budget cuts, layoffs, and an understaffed and under-resourced public defender's office.
She told the B.A.R. that Raju is "someone who understands the value of the public defender's office and is committed to providing quality services to the city."
The police commissioner also mentioned the challenges transgender people face in San Francisco's criminal justice system and that she looks forward to Raju's response to those issues.
"In the sheriff's office trans people have been placed in the wrong holding cell or the [wrong] jail itself. I'll be interested to see where he stands and picks up the mantle," DeJesus said.
Implementing protocol around the booking process for trans people is something DeJesus would like to see Raju do, calling it an "important issue for the LGBT community."
District 9 Supervisor Hillary Ronen, a straight ally, was also pleased with Breed's choice.
"I am relieved and elated," Ronen told the B.A.R. "I know Mano. He is known for being perhaps one of the best public defenders in the country.
"While I was rooting for Matt Gonzalez, I think that when I heard the choice was Mano I applauded immediately," she added. "It is an absolutely excellent choice and I really appreciate the mayor was thoughtful about this and committed to Jeff's legacy."
Raju received his undergraduate degree from Columbia University and his law degree from UC Berkeley.
Comments on Facebook