Queers keep up momentum at ICE protests
Wednesday Aug 21, 2019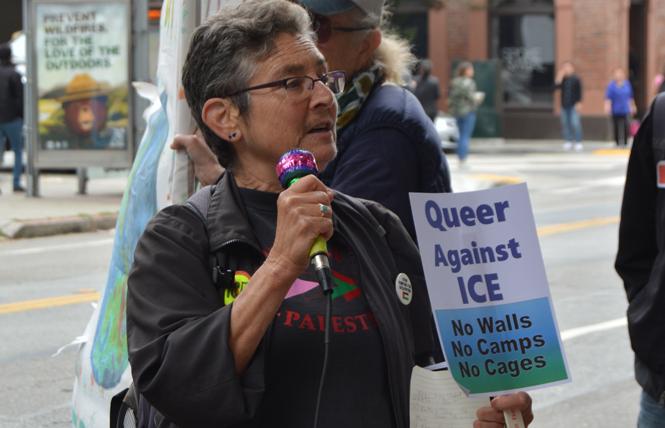 Queer and trans people joined in the Month of Momentum Monday afternoon in front of the federal Immigration and Customs Enforcement office in downtown San Francisco as they led a peaceful protest encouraging the abolishment of the agency, stopping deportations, and ending detentions and raids.
The rallies take place every day this month to protest ICE. A different community group that shares a reason to protest the agency leads each demonstration. The protests take place from noon to 1 p.m. at 630 Sansome Street.
The groups that organized the August 19 "Queers Melt ICE" protest were Queers Undermining Israeli Terrorism, or QUIT; Gay Shame; Lucy Parsons Project; and LAGAI-Queer Insurrection, along with the endorsement of the Harvey Milk LGBTQ Democratic Club.
Tab Buckner, an executive board member of the Milk club, told the Bay Area Reporter in an email that the group is strongly supportive of the march's goals.
"The Milk club regards U.S. immigration policies as being among its most abusive," Buckner wrote. "This has been the case over many presidencies but the Trump administration's escalated detentions and inflamed rhetoric has exasperated an unnecessary crisis. Club members support human rights universally, including those of immigrants."
As participants spoke to the crowd about the unfair conditions that ICE presents to LGBT immigrants in and out of its custody, the crowd was chanting at high volumes, and drivers honked horns to show support as they passed by.
"We are here for all of the trans and queer people who have died, nearly died, or suffered permanent injuries because of what they have experienced in prisons that they should have never been in," Kate Raphael, an organizer, told the crowd.
ICE's record on protecting the health and well-being of transgender people in its custody has been an ongoing issue for years and has received scrutiny following two deaths of two trans women during, or just after being in, custody.
As the B.A.R. noted in an online article earlier this month, Roxsana Hernández, a 33-year-old trans woman who was seeking asylum from Honduras, died in ICE custody in New Mexico in May 2018, suffering from dehydration and complications from HIV.
Hernández's death was followed almost exactly one year later by El Salvadoran trans asylum-seeker Johana Medina Leon in El Paso, Texas.
Leon was just a few days out of ICE custody when she died June 1. Leon, a 25-year-old nurse, had been in custody for six weeks and had pleaded with her jailers for water, salt, and sugar to treat her own symptoms of extreme dehydration, according to her family. The cause of her death was also reported as complications from HIV. Leon's family has filed a claim against the federal government.
Protesters said Monday that life in a detention facility is dangerous.
"As a queer person, it's not easy to feel safe," said Carla Schick, a QUIT organizer. "To take that feeling and times it by 1,000 is what it feels like for immigrants coming from repressive countries."
Officials at ICE did not respond to a message from the B.A.R. seeking comment on the August protests.
Month of Momentum wraps up Saturday, August 31, with an action at noon outside ICE's San Francisco office. Organizers said there will be food, music, and speakers.
Comments on Facebook