Editorial: School districts must complete EQCA survey
Wednesday May 29, 2019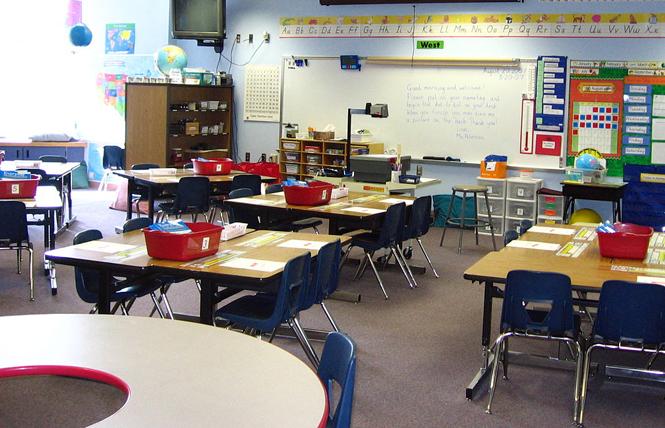 Earlier this month, Equality California Institute released its long-awaited report card on school districts that responded to its first attempt to examine state schools. Unfortunately, only 130 out of 343 unified school districts responded to EQCA's survey, even after the statewide LGBT rights group extended the deadline for the surveys, meaning nearly 62% did not take part. The 213 school districts that did not participate must be made to do so for the next report card in two years. According to EQCA's report, Bay Area districts that did not respond were: Emery (Emeryville), Fremont, Gilroy, Livermore Valley, Mt. Diablo, New Haven (southern Alameda County), Piedmont, Pleasanton, San Leandro, Sonoma Valley, and Vacaville.

EQCA's "2019 Safe and Supportive Schools Report Card," which was based on voluntary self-reporting from the districts, provides a baseline for future surveys, and gives state residents an opportunity to determine if their local district is implementing various state laws involving LGBTQ issues. But the overarching conclusion of the report, as we previously reported, is that most California schools are failing queer students. Most public schools have yet to implement state laws that aim to protect LGBTQ pupils and requirements that schools teach about LGBT history.

There was some good news in the report. For example, all 130 responding districts had an existing policy prohibiting discrimination, harassment, intimidation, and bullying against students. And, 82 districts reported that they regularly collect data regarding student sexual orientation, gender expression, and gender identity.

For trans students, 64 responding districts reported having established a process for changing a transgender or gender-nonconforming student's name and gender for purposes of official school records or databases (i.e., student transcripts). While it's a sign of progress that over 60 districts have such a policy in place, it's woefully inadequate in a state as large as California, where trans and nonbinary students are coming out at younger ages. All districts need a formal policy that mandates respecting a student's name and pronoun preference.

EQCA identified three areas for improvement: requiring LGBTQ-inclusive cultural competency training that empowers teachers and other school staff with the tools and language they need; establishing the aforementioned policy allowing trans and nonbinary students to change their name on school records; and requiring all districts use educational materials that are compliant with the FAIR Education Act, which amended the state education code and compels the inclusion of the political, economic, and social contributions of LGBT people and persons with disabilities into textbooks and social studies curricula in public schools.

San Francisco, Oakland, and Alameda unified school districts did well on the report card, scoring in the top tier. In all three, work remains in the cultural competency training area, according to the report. One of the reasons why districts aren't doing better in this regard is because training and purchasing textbooks cost money. But school boards and district administrators must make it a priority to conform to state law if students are going to be successful — and that is the ultimate goal. The Berkeley school district scored in the middle tier, along with most of the responding districts, and the report showed that many of them need to begin cultural competency training. (Berkeley did score well in the name change category.)

EQCA Executive Rick Zbur summed up the importance of this first report: "Improving school climate benefits all students, but doing so is particularly important for LGBTQ youth, who continue to face bullying, harassment, and discrimination at school simply because of who they are. When students feel unsafe at school, they are more likely to miss school, see their academic performance suffer, drop out, or even encounter the juvenile justice system than their non-LGBTQ peers, perpetuating the cycle of economic insecurity the LGBTQ community faces."

He's right.

District officials and school board members across the state must start planning to establish the policies mandated by law and they should be required to participate in EQCA's next report in two years. That is why we support state lawmakers' passing and funding Assembly Bill 2153 to train educators in the state on how to support LGBTQ students in grades seven through 12 and address issues they face in school like bullying and harassment.
Comments on Facebook