Limited supply slows COVID vaccine rollout
Wednesday Feb 10, 2021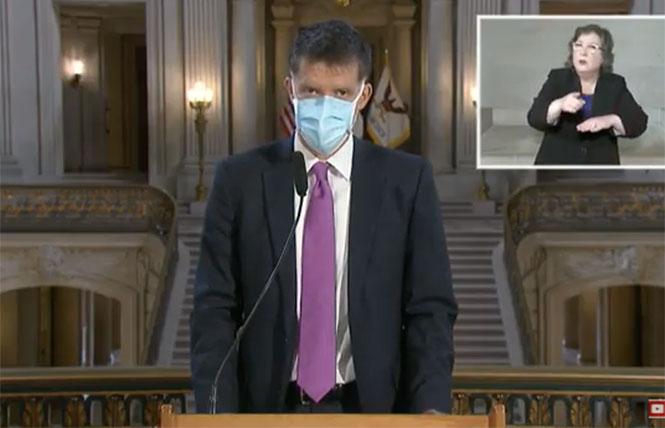 San Francisco has expanded its capacity to administer COVID-19 vaccines but is limited by an inadequate supply, Health Director Dr. Grant Colfax said this week at a media briefing and a web forum sponsored by the Alice B. Toklas LGBTQ Democratic Club.
The local and state rollout got off to a slow start after the first two vaccines were authorized in December, but the city has "built an ecosystem focused on equity, speed, and access to meet the needs of San Francisco's diverse communities," he said.
Colfax, a gay man, said the city now has the capacity to administer upward of 10,000 vaccine doses per day but is only receiving about 10,000 doses per week. Given the short supply, many eligible residents have been frustrated in their attempts to secure vaccine appointments. About 13% of city residents, largely health care workers, have received their first dose.
"The chief problem we have is supply, supply, supply," acting city health officer Dr. Susan Philip said at a January 28 virtual meeting of the city's Getting to Zero Consortium. "The vaccine supply comes in fits and starts, so it's hard to plan."
San Francisco is employing a multi-pronged approach that will include mass distribution sites, community sites in neighborhoods with high concentrations of COVID-19 cases, pharmacies, and mobile units.
The city has three mass distribution sites: at City College of San Francisco's main campus, Moscone Center, and the SF Produce Market in the Bayview. Community sites include a walk-up site at 24th and Capp streets, a pop-up at the Southeast Health Center in the Bayview, and a site in the Western Addition. The San Francisco AIDS Foundation's Strut health center in the Castro is also administering vaccines to eligible individuals.
Officials expect that the general public should be eligible for vaccines in the late spring or early summer. If the city gets up to 10,000 doses a day, all city residents could be vaccinated in six months, dropping to four months if the number rises to 15,000, according to Colfax.
"Vaccines remain our ticket out," Colfax said at the briefing. "When you are eligible and offered a vaccine, take it. The vaccines are effective and they are safe. I am hopeful and even optimistic that our supply will increase in the coming months."
Vaccine prioritization
San Francisco is currently still vaccinating health care workers, long-term-care residents, and people age 65 and older in Phase 1A. People over 65 have accounted for around 85% of COVID-19 deaths in the city. Phase 1B, Tier 1, which will start the last week in February, will add education and child care, emergency services, and food and agriculture workers.
Phase 1B, Tier 1 includes more than 115,000 individuals who live or work in San Francisco, in addition to the approximately 210,000 health care workers and people over 65 who are currently eligible, gay District 8 Supervisor Rafael Mandelman wrote on his Facebook page.
California's vaccine prioritization scheme initially included a wider range of frontline essential workers and people with underlying health conditions and disabilities, but that list recently disappeared from the California Department of Public Health website.
Governor Gavin Newsom recently announced that the state would move to an age-based system after Phase 1B, but he gave few specifics. It is not clear, for example, whether the eligibility age will step down in 10-year increments below 65.
"They're still working on the further prioritization. That's still in flux," gay state Senator Scott Wiener (D-San Francisco) told the Bay Area Reporter. Speaking at the February 8 Alice club forum, he said the goal is to avoid a situation where "people who can sit all day at a computer" are prioritized.
The age framework, according to the state website, will be "coupled with a vaccine distribution and engagement approach that prioritizes disproportionately impacted communities, settings, and populations."
But details about exactly who will be included remain scarce, leaving frontline workers and medically vulnerable groups confused and demanding that they continue to be prioritized.
State officials raised the temperature of the debate last week when they announced that cannabis industry workers would be included in Phase 1A, ahead of grocery workers, bus drivers, and others who appear to be at greater risk of coronavirus exposure.
District 6 Supervisor Matt Haney announced Tuesday that he would introduce a resolution calling on the state to prioritize people with underlying health conditions, disabilities, and comorbidities in vaccine distribution guidelines.
"The new change in vaccine prioritization pulled the rug out from people with underlying health conditions and left them completely in the dark," Haney stated in a news release. "Despite concerns that people with disabilities and health conditions, like HIV, cancer, and kidney disease, were already prioritized too low in the original guidelines, the new change moving to an age-based system completely leaves them out."
HIV and COVID vaccines
The Centers for Disease Control and Prevention maintains a list of nearly a dozen conditions known to increase the risk of severe COVID-19, including cancer, heart disease, obesity, pregnancy, and smoking. HIV is included in a secondary list of conditions that might increase the risk, meaning people living with HIV are not given a high vaccine priority.
While HIV itself does not appear to substantially raise the risk of COVID-19 complications, those with uncontrolled virus or a low CD4 T-cell count appear to fare worse. What's more, many HIV-positive people are older and have comorbidities and other risk factors, Dr. Monica Gandhi, director of the Ward 86 HIV clinic at Zuckerberg San Francisco General Hospital, said at the Getting to Zero meeting.
HIV-positive people were included in COVID-19 vaccine trials thanks to the efforts of advocates, but their numbers were small and their data have not yet been separately analyzed. However, no safety concerns have been reported.
"There is no reason to believe that people with HIV should not get the vaccine. It is not a live vaccine, and it is safe and efficacious across diverse groups," Gandhi told the B.A.R. "I will be encouraging my patients with HIV, especially those on antiretroviral therapy, to get the vaccine. I totally recommend it."
Help keep the Bay Area Reporter going in these tough times. To support local, independent, LGBTQ journalism, consider becoming a BAR member.