McElhaney opens up about loss of queer son
Wednesday Sep 23, 2020
Oakland City Councilwoman Lynette McElhaney said people are wrong about her late son, Victor McElhaney.

"The narrative most people believe was that he started drumming when he was 3," Lynette McElhaney told the Bay Area Reporter. "He was drumming as soon as he could sit up. When I asked, at age 1, 'how are you?' He'd say: 'I drum.'"

Victor McElhaney grew up to become a 21-year-old jazz musician at the University of Southern California. This month's Oakland Pride prompted his mother to open up about his killing last year.

"Victor was a very dynamic human being — one of those people who was truly renaissance," McElhaney, who has represented District 3, which includes West Oakland, Jack London Square, and nearby neighborhoods, on the Oakland City Council since 2013, said. "He was fascinated by science, read existential poetry, listened to jazz music — he was a master — and was a hip-hop head."

Victor McElhaney had rejected definitive sexual labels, his mother said, but he was dating Michael Davis, "the [person] who would be quite literally the love of his life," she stated in a September 8 email to supporters commemorating Oakland Pride.

The email is believed to be the first time that Lynette McElhaney had publicly stated that her son was queer. She said she was talking about it now because it was one of a series of "personal reflections" she wrote called the #D3Chronicles.

"It's just one in a series of personal reflections that have chronicled my life in service," she said.

Lynette McElhaney is up for reelection in November, and faces several challengers, the most notable being Carroll Fife, a leader of Moms 4 Housing that organized the takeover of a vacant house in West Oakland by homeless and insecurely-housed women earlier this year. Fife, who won the Alameda County Democratic Party's endorsement in the race, declined to comment for this story.

Longtime Pride fans
Lynette McElhaney said that she had taken Victor McElhaney to Pride celebrations for many years with other relatives, including a cousin who identifies as nonbinary.

"We have the best Pride," she said of the East Bay festivities. "That decision to always make sure the kids went to Pride — whether in San Francisco or Oakland — wasn't always fully embraced. I was the 'radical mom' with the other adults."

Nonetheless, her son began to fully embrace his identity when he was in college in Los Angeles.

"We were never able to celebrate Pride with him as his full self," she said.

It was while Victor McElhaney was at college that he met Davis, his mom said.

When Victor McElhaney told his mother about his new relationship, "he was so nervous," Lynette McElhaney recalled.

"It was so precious," Lynette McElhaney said. "It was such a long story about things like 'then I went to the farmers market.' He talked about Michael and how they were so nice and so beautiful, but he said 'I don't believe in coming out.' I said, 'I'm your momma — I love you completely.'"

Davis, who today identifies as a nonbinary trans fem, told the B.A.R. September 16 that she met Victor McElhaney at an open-mic porch poetry event.

"Victor introduced himself and we had matched on Tinder but had never had an actual conversation until then," Davis said in a phone interview. "He makes a great impression. He had the best smile. I remember meeting him and thinking 'Who the fuck is this beautiful-ass man?' I re-downloaded Tinder and we talked for a solid day."

Davis said that after meeting in person, again, at a Mexican restaurant, they spent a night together and "we were together ever since."

Lynette McElhaney said that Victor McElhaney found support from older LGBTQ role models he met through music.

"It was good to know that there was a community to embrace Victor and so many young people don't have a family or a community," Lynette McElhaney said.

Then came the tragic events of March 10, 2019.

A life cut short
As Victor McElhaney and Davis were on the way to an art show, they stopped by a convenience store about one mile off the USC campus, where they were attacked.

According to Los Angeles police, a group of individuals attempted to rob Victor McElhaney and his friends, at which point Ivan Hernandez, 23, allegedly fatally shot Victor McElhaney.
In her email to supporters, Lynette McElhaney wrote that "LAPD believe they were likely attacked because they were visibly queer."

Lynette McElhaney said that while she initially thought it was a hate crime motivated based on race, individual officers pointed her in a different direction.

"What they [police] kept saying was that it was a group of queer kids and they said 'the kids were all dressed very fancy' and I was asking questions about that and they responded 'they were dressed uniquely,'" Lynette McElhaney said, going on to explain that Davis carries a purse and was wearing a dress at the time. "[The district attorney's office] didn't want to pursue hate crime because it's much more easy to prove murder than murder with intent of hate."

Davis concurred.

"I think growing up in LA, growing up in spaces saturated in gang culture, but also just growing up as a queer, trans Black person, I think it's funny because for cis people or heterosexual people it's hard to make those connections," Davis said. "You have to explain or justify it or have all the hard evidence, but when it's your lived experience, I don't think there's ever a time I haven't been targeted or ostracized. ... It's the way you dress, the way you walk, your speech. I was wearing a dress and bamboo earrings."

The Los Angeles Police Department did not return requests for comment by press time. The Los Angeles County District Attorney's office stated to the B.A.R. September 15, that "The evidence did not establish that the crime was motivated by animus or hate toward the victim and his friends based on their protected class."

When asked for her response to that statement, McElhaney reiterated, "They were grabbing Michael's purse. As a person who's been an advocate, it's much easier to charge murder than murder with a hate crime enhancement because the bar is much lower to prove. We saw that with the Will Simms murder. We felt that was a hate crime, certainly, people felt confident he was targeted for his race, but race as an enhancement would make it more difficult to prove than just murder. How horrible: just murder."

Simms was a Black Richmond musician who was killed in El Sobrante in 2016. According to an article in the East Bay Times, prosecutors initially charged the case as a hate crime but a grand jury later found insufficient evidence a hate crime had been committed.

In the Victor McElhaney case, Hernandez was arraigned July 2, 2019 on charges of murder and attempted robbery. The special circumstances of murder while attempting a robbery and murder while participating in a street gang were added. As he awaits trial, Hernandez is being held without bail at North County Correctional Facility in Castaic, according to Los Angeles Sheriff's Department records.

"2019 is such a blur," Lynette McElhaney said.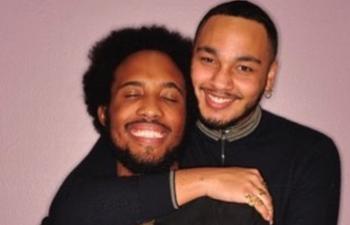 Moving forward
McElhaney took time off of work on the Oakland City Council to grieve her son. She said her husband, Clarence, finally got to meet Davis after Victor McElhaney's death.

"My husband got to meet Michael at the morgue, and his embrace of Michael was so absolute and so beautiful," McElhaney said. "I wish Victor could see how Michael was embraced by the family so lovingly."

Davis has become a dear family friend, McElhaney said. She came to visit recently and they celebrated Oakland Pride together the weekend of September 12-13.

"I will conscientiously this year celebrate Victor in all his Oakland-ness," Lynette McElhaney said. "I just felt he was a rainbow. I wanted everyone sad or sick to see Victor: come on, he'll make you happy."

In a follow-up interview September 15, McElhaney said she enjoyed watching parts of the virtual Oakland Pride weekend.

"I don't see him enough," she said of Davis and his recent visit. "We had the chance to snuggle for a bit — I'd break my COVID rules for that child."

Lynette McElhaney said she invited Davis to join her in competitive bartending against John Bauters, the gay Emeryville councilman, at a function for the East Bay Stonewall Democrats.

"[Last year] they showed up in beautiful biker shorts and a T-shirt, looking all fit and sexy, and they were getting all the tips," she said. "And I said 'Oh, I see how this goes — you just wait.'"

Davis said she enjoyed her visit to Oakland and comes to the Bay Area frequently to help with the healing process.

"My weekend was great. I've been going up for spiritual treatment," Davis said. "After Vic's transition [passing] he's been really pushing me into growing myself more spiritually and having the tools to maintain a relationship with Vic and with myself. ... It's been interesting for me to watch how everyone else has reacted and experienced Vic, just because he stood strong in his queerness, and not just that, but he was really pushing how we perform identity, how we experience ourselves on the spectrum, and Vic didn't just do that for his own shit, but for everyone else. I don't think there's ever a time, then and now, when Vic isn't challenging the whole and how everything fits."

Lynette McElhaney said that her son's death has steeled her resolve to fight on behalf of the queer community on the City Council.

"Shortly before he was killed, he did a screening of the movie 'Moonlight' and used it to have a deeper discussion in the Black community about homophobia," she said. "He enhanced my ability to see how homophobia was showing up. He said 'Mommy, we have to do more.'"

Lynette McElhaney said she looks up to her son.

"I just want to tell parents: love your baby, love them without reservation," she said. "I miss those moments."

Help keep the Bay Area Reporter going in these tough times. To support local, independent, LGBTQ journalism, consider becoming a BAR member.
Comments on Facebook