SF will cite or arrest 4/20 Golden Gate Park revelers
Monday Apr 13, 2020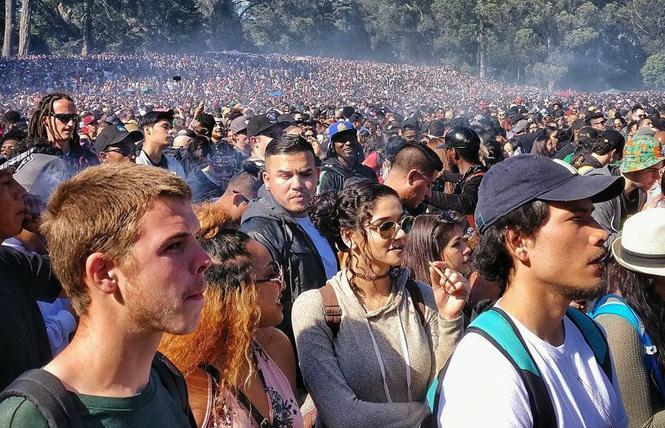 City officials have a message for potential 4/20 revelers: you may be cited or arrested.
"We have been very welcoming to the people who have come here in the past," Mayor London Breed said during a virtual news conference April 13. "This year we will not allow it. We will be prepared if people show up."
The annual unofficial celebration at Robin Williams Meadow in Golden Gate Park drew more than 14,000 marijuana enthusiasts last year, according to KPIX-TV.
"We will be there in full force," Police Chief William Scott said at the news conference. "If you celebrate at all, we encourage people to Zoom [video conference] to do this in the privacy of their own homes. If you do it at all, do it safely."
Breed said that Robin Williams Meadow will be fenced off, that the police will set up roadblocks, and both she and Scott confirmed people may be cited or arrested if they try to defy the public health shelter-in-place orders intended to slow the spread of the novel coronavirus to celebrate the annual cannabis celebration.
"We will not tolerate anyone coming to San Francisco for 4/20 this year," Breed said.
The unequivocal announcement came after a weekend where more people were visibly outside of their homes on San Francisco streets, presumably due to sunny weather and the Easter and Passover holidays — but both Breed and Scott pointed out that most San Franciscans were apparently following public health orders, and many people who were out were observing proper social distancing.
"I want to thank everyone for complying this weekend — especially our religious communities," Breed said. "I want to thank you so much for what you did to host congregations online. It made a real difference."
Scott said that officers will warn people before citing them for violating the shelter-in-place order, which is a misdemeanor. He said that the police engage small groups of people to ask if they are in the same household, but don't hesitate to warn people engaging in larger group activities such as team sporting competitions.
Police issued 67 warnings on Sunday alone at city parks, Scott said, adding that warnings have by and large been effective.
"For the most part, we saw more people at parks, more people exercising. We anticipated this" Scott said. "After warnings are given, people comply, and that is what we're after."
Nevertheless, police had to cite two non-essential businesses that remained open despite warnings: a salon, and a liquor store operating after the city curfew of 8 p.m.
Clandestine nightclub closed
By far the business shutdown that garnered the most publicity was of an alleged illegal after-hours nightclub in the Bayview neighborhood.
After being tipped off to the nightclub at 2266 Shafter Avenue, police stationed outside April 10 told people anticipating entry to leave. The following day the police executed a search warrant.
"Officers from SFPD's Tactical Unit and Bayview Station executed the warrant, entered the building, and seized DJ equipment, two fog machines, nine gambling machines with $670 in cash inside, two pool tables, bins of liquor, cases of beer, bar furniture, and other nightclub-related items," a news release from the city attorney's office stated.
"On two different nights in March 2020 more than 100 people a night entered and exited the building," the release continued. "At that time, loud music was heard and strobe lights were observed within the building when the door was opened. Security guards were also seen frisking each visitor at that time."
The police are also investigating gunshots heard in the vicinity of the club around 3:15 a.m. on the morning of March 15. The landlord of the property is evicting the tenant responsible for the club, which the landlord claimed to not know existed, Scott said.
(Both the landlord and tenant's names were redacted from search warrants, the San Francisco Chronicle reported.)
"This action indicated a willful and reckless disregard for the health order," Scott said.
The mayor touted the San Francisco response as a "model for the rest of the country" for addressing COVID-19. Indeed, the East Coast magazine the Atlantic published a glowing story about Breed's response to COVID-19, the disease caused by the novel coronavirus.
But that profile faced criticism in much of the San Francisco press, which wrote that it downplayed the city's challenges in preventing an outbreak among the city's thousands of unhoused people.
Indeed, last Friday it was announced that over 70 people in the city's largest homeless shelter had tested positive for the virus.
Breed seemed to address those criticisms during the news conference.
"If I could open up every hotel room in the city, there's no question," Breed said, before citing logistical challenges and obstinacy in some sectors of the homeless population as reasons that couldn't be done.
"I'm hopeful there will be a light at the end of the tunnel," she added.
Town hall highlights SF efforts to help business
Joaquin Torres, the director of the city's Office of Economic and Workforce Development, spoke to the Castro Merchants earlier Monday in a virtual town hall.
Torres, the son of gay former California Democratic Party chair Art Torres, touched upon city efforts to help small businesses that have been affected by the shelter-in-placer orders.
One is a cap on the fees that third-party food delivery services charge restaurants, in an effort to help the city's beleaguered restaurant industry.
Announced Friday, a 15% cap on third party commissions will last until the end of the state of emergency, or until restaurants can allow customers to dine-in again, whichever comes first.
"That was a big win for us here," Torres said. "I'm glad we can provide another level of relief."
Another initiative is the small business emergency loan fund, which provides small businesses up to $50,000 in zero-interest loans. The fund has $9 million to work with and comes on the heels of a city resiliency fund, which will provide grants of up to $10,000 and that has a budget of $2 million.
There were over 2,000 applicants to the resiliency fund, Torres said, but not all of them will be able to get a grant.
Torres also pointed business owners to relief funds being set up by private companies such as Facebook and Verizon, the latter of which is in partnership with the Local Initiatives Support Corporation, or LISC.
"We know that the need is so much deeper and so much greater," Torres said.
Torres encouraged business owners to reach out to the economic and workforce development office at (415) 554-6134 and for workers to reach out at (415) 701-4817.
SF LGBT webpage
The city has a dedicated webpage for LGBT people to consult before seeking COVID-19-related assistance.
Torres, like other public officials, hinted that the shelter-in-place orders may be extended beyond May 3. California Governor Gavin Newsom will be making an announcement about the future of the statewide order Tuesday, April 14, at noon.
Torres also asked business owners to report vandalism.
Harvey's — the restaurant at the 18th and Castro street location of the iconic former Elephant Walk — had a case of vandalism last week when a three-inch rock shattered a window April 9. The Walgreens across the street also had a broken window.
Steve Porter, the general manager of Harvey's, told the B.A.R. by phone April 13 that he had it repaired within 24 hours.
"I haven't boarded up and I'm staying open even though I am losing money every day I do. I don't want to contribute to the apocalyptic aesthetic," Porter said.
Porter said that he expected a case of vandalism, and expects further in the future, but he cited advice gay state Senator Scott Wiener (D-San Francisco) gave in a Castro Merchants virtual town hall several weeks ago not to board up.
As the B.A.R. previously reported, the city will not be enforcing restrictions on putting plywood on windows and doors, though it will not respond to complaints of graffiti, either.
"It breaks my heart to see all these other places in the neighborhood we love boarded up," Porter said.
Editor's note: If you liked this article, help out our freelancers and staff, and keep the B.A.R. going in these tough times. For info, visit our IndieGoGo campaign.
Comments on Facebook