Some Castro business openings delayed by shutdown
Wednesday Apr 8, 2020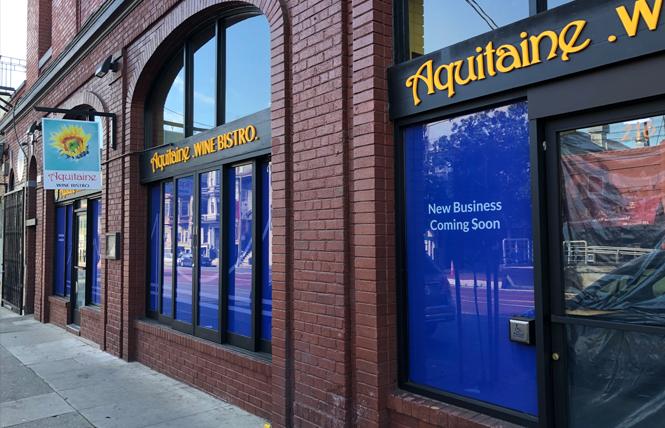 Zaid Almasser was getting ready to open his first restaurant at 417 Castro Street — the former home of Dapper Dog, which shuttered earlier this year.
But then the novel coronavirus struck, and the city was placed under a shelter-in-place order.
Now, while he is looking forward to opening, he is hardly alone among small business owners who will owe rent for time when they could not make the money to pay it.
Almasser's new eatery, the Golden Grill, will focus on "sandwiches, hot dogs, and burgers," he said.
"We'll also try to make organic sandwiches, Philly cheesesteaks, club sandwiches, chicken, an egg and bacon breakfast," Almasser said in an April 3 phone interview with the Bay Area Reporter. "I will follow what the neighborhood likes because I love the neighborhood."
Almasser, a straight ally, emigrated from Jordan six years ago. He previously worked as a manager at the 17th & Noe Market.
"I have good skills," Almasser said. "I'm a good guy and have positive energy. I will succeed."
Almasser said that he has lived in the neighborhood, near Dolores Street, for years, and loves it there.
"I can't open because, you know the situation," Almasser said, adding he may open Golden Grill as delivery-only for now so he can pay the business's bills.
Andrew Fidelman of the Aquitaine Wine Bistro said he has been prevented from opening by the shelter-in-place as well.
Aquitaine had been on Sutter Street and planned to open at 216 Church Street (at Market Street) in March.
"I used to live at Clinton Park for seven to eight years, so I knew it and always loved the Church and Market area," Fidelman said in a phone interview with the B.A.R. April 3.
Fidelman said that the Aquitaine Wine Bistro was one day from opening when he found out it could not.
"We were ready to open when we heard we had to shut down," Feldman said. "If we would have opened two weeks earlier and put money into our inventory and payroll, we would have invested a lot."
Fidelman said that Aquitaine will open as soon as it is permitted to.
"We are waiting to hear from the mayor and the governor," he said. "We have gone through the [state Alcoholic Beverage Control] process and all the permits are in place."
David Salazar advises the owners of a yoga studio that plans to open at 227 Church Street (Salazar did not identify the owners but said he was representing them publicly at this "very early" point in the process). The studio, which will be at the site of the old Aardvark Books, will be the first location of a "family-run small studio," Salazar said.
It has not been delayed primarily by the shelter-in-place order, Salazar said.
"We have a city process we're going through," Salazar said in an April 7 phone call with the B.A.R. "(Department of Building Inspection) is closed but we are still working with them."
Salazar said the closure of so many city offices, however, has hampered the owners' ability to get things done quickly.
"What's going on is everything is taking longer but the city is doing a good job," Salazar said.
The Castro Merchants has a list on its website of Castro area businesses that are open.
Shelter-in-place may last beyond May 3
Castro Merchants held a virtual town hall on its Facebook page April 6 with John McKnight, the community branch coordinator with the San Francisco Department of Emergency Management.
The department, set up during city emergencies, contains officials from many city departments, such as police, fire, and public health. The community branch coordinator represents the world of nonprofits. Until the coronavirus outbreak, McKnight had been the operations manager for the San Francisco Fleet Week Association and had experience as a director of emergency and disaster services for The Salvation Army.
McKnight told the merchants that he personally expects the shelter-in-place order to be extended beyond May 3. San Francisco Mayor London Breed extended the order from an initial expiration date of April 7 last week.
"I'm in the opinion phase here. Do I think it'll be extended past May 3? Pulling the vest off: I think we are," McKnight said, adding he is planning on canceling a Memorial Day event he hosts at Lands End in memory of soldiers who lost their lives in World War II.
"I know I'm done," McKnight said. "This viral outbreak is going to be a more protracted event."
Breed said last week that an extension beyond May 3 was possible.
McKnight said that the most important number to look at when assessing government orders are the number of hospital beds and ventilators being used by coronavirus patients.
"Last I heard, it's well under 50%," McKnight said. "As long as the number is low we can take care of people when they get sick."
At a news conference later April 6, Dr. Grant Colfax, a gay man who is the city's director of public health, said that the city has more than 1,600 acute care hospital beds (up from 1,055 before COVID-19, which is the illness caused by the novel coronavirus).
The number of the city's intensive care unit beds has increased from 277 to 530, Colfax said.
Eighty-three of the city's 583 COVID-19 cases are hospitalized, with half in intensive care, Colfax said.
McKnight said that getting back to normal will not be a return to a pre-coronavirus world.
"Businesses will be challenged to find ways to stay open while not exacerbating the spread with people coming out their doors," McKnight said. "I'm prepared for this to last a while."
McKnight said that the time has come for everyone to wear protective masks while they are in public.
"The virus is now in the general population. Any person you pass on the street could be positive," McKnight said. "After a day's work, I come home, put my clothes in the laundry, and take a shower."
McKnight said he had not seen the homeless shelter system at Moscone Center, which was roundly criticized by current and past elected officials over the weekend for being inadequate to prevent the spread of COVID-19 in the city's homeless population.
At the time of the McKnight town hall, the city planned to use Moscone West as a temporary homeless shelter. Less than three hours later, officials changed plans and said that the city would use more hotel rooms and that the Moscone West location would be used for people who have recovered from COVID-19 and people who tested negative.
If this is the layout they are going with, this looks like a very bad idea.

Let's use the hotels. Let's all work together.

This is not right. https://t.co/osRS1j31lK— Matt Haney (@MattHaneySF) April 6, 2020
Five supervisors, including Matt Haney from District 6, have been pushing for the city to buy reservations at some of San Francisco's thousands of vacant hotel rooms to house the homeless.
According to Trent Rhorer of the city's human services agency, officials initially opted not to take that approach for financial reasons.
"Given the significant projected budget shortfalls of over $1 billion that the city will likely be facing over the next two years, it would not be fiscally prudent to spend city general fund [dollars] on renting thousands of hotel rooms for a population that does not require an urgent COVID health quarantine or isolation intervention," Rhorer's statement to several news outlets over the weekend read.
McKnight said there was little he could say about that situation.
"I didn't see these reports so let me be limited. The point of opening the shelters was to give people already in the shelter system the ability to have six-foot separation," McKnight said. "I haven't seen the shelter. ... I can't speak about the HVAC (heating, ventilation and air conditioning). My guess is that'd be a pretty good place though those filters would need to be scrubbed, I would imagine. I'm out of my lane there. Let me be careful with that.
"The heart of this motion is to take care of our homeless and give them a place to be," he added. "If they choose to be sheltered, we're going to give them the safest sheltering system we can pull together."
At the news conference the afternoon of April 6, officials stated the city will need a total of 4,500 hotel rooms.
At least two people who were at the MSC-South homeless shelter in South of Market (not to be confused with Moscone Center) tested positive for the novel coronavirus, according to an announcement from the city April 6.
McKnight said he did not know if there were tents in stock, but he had heard of a "tent area being set up."
McKnight said he wasn't aware of the antibody test that was approved by the U.S. Food and Drug Administration April 2. Currently approved tests for the coronavirus can only detect a present infection, not one that an infected person has recovered from.
Antibody tests look for the evidence of the body's struggle against the virus in the bloodstream, and could be useful for determining who can and can't return to work.
The Department of Emergency Management did not respond to a request for comment about how long it may take for the general public to have access to those tests.
Police cite violators of shelter-in-place
San Francisco Police Chief William Scott said at an April 6 news conference that the police have not seen an uptick in hate crimes against Asian Americans in San Francisco due to the coronavirus, which was first reported in China. Scott said that there were six reported hate crimes against Asian people in San Francisco to this date in 2019, and five in 2020.
"If you are the victim of a hate crime please call the police, call us," Scott said. "These types of crimes are unacceptable at any time, particularly during this pandemic."
Scott said that a curfew has not been discussed but that there have been two citations issued for violating the stay-at-home order. One was, as the San Francisco Examiner reported, to an 86-year-old anti-abortion protester.
"This is a matter of life and death," Scott said about heeding the order, which is punishable as a misdemeanor.
The other was to an individual who police suspect of trespassing.
"The second citation was surrounding an incident that occurred on March 23, 2020," a police spokesman wrote in an April 6 email to the B.A.R. "At approximately 12:06 a.m. officers responded to a business located on the 2000 block of Van Ness Avenue regarding a burglary in process. Officers arrived on scene and located a suspect for burglary. The suspect was cited for trespassing and the California Health and Safety Code violation for not complying to a lawful health order."
Scott said that police have given 26 warnings to people violating the order — 22 individuals and four non-essential businesses.
Officers will cite people or businesses after one warning, Scott confirmed April 3.
Editor's note: If you liked this article, help out our freelancers and staff, and keep the B.A.R. going in these tough times. For info, visit our IndieGoGo campaign.
Comments on Facebook