Mandelman 'troubled' by police raid on journalists
Tuesday May 21, 2019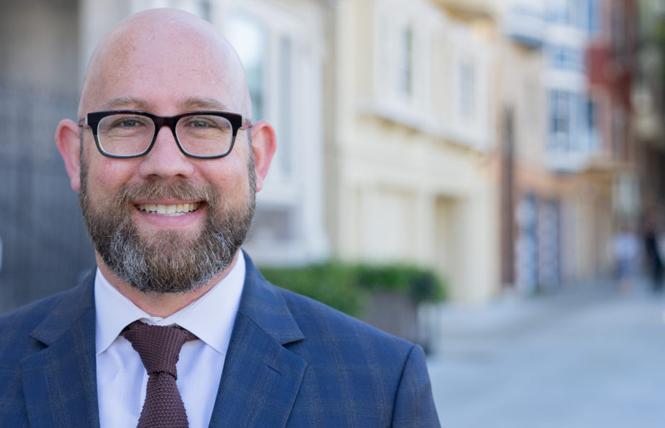 San Francisco Supervisor Rafael Mandelman told the Bay Area Reporter Monday that he is "troubled and concerned" with the San Francisco Police Department's raid on a local journalist's home and office.
During the May 10 raid, police, armed with a search warrant and a sledgehammer, arrived at freelance videographer Bryan Carmody's home. Officers conducted the raid in an effort to determine who leaked a police report to the journalist on the death of Public Defender Jeff Adachi. Police discovered Carmody had an office in another part of town and obtained a search warrant for that location as well.
Mandelman, a gay man and the only LGBT representative on the Board of Supervisors, is an attorney but stopped practicing law when he became a supervisor last year.
The B.A.R. talked with Mandelman Monday after he returned from a weekend trip to attend his 20-year reunion with classmates from Harvard's John F. Kennedy School of Government where he earned a master's of public policy. (He received his law degree from UC Berkeley's Boalt Hall School of Law.)
"I come down troubled and concerned but have not reached a final conclusion yet about whether police complied with the law." Mandelman said. "If they did, we need additional protections in place."
He was referring to the belief by many First Amendment experts that SFPD violated the state's shield law, which protects journalists from revealing their sources.
Mandelman also said that two judges looked at the search warrants and signed them. Those were Superior Court Judges Victor Hwang and Gail Dekreon, a member of the LGBT community. Neither has commented.
But the supervisor, who represents the Castro, said he does not think police should raid journalists' homes or offices.
"No, I do not," Mandelman said in response to the question. "That's the point of the shield law."
He said he doesn't want to judge the police department. He also noted Carmody has sued the department, "so a third judge will look at it."
On Tuesday, police agreed to return Carmody's possessions, the Associated Press reported. The move followed a court hearing in front of Superior Court Judge Samuel Feng. The judge did not rule on any motions during Tuesday's brief hearing.
"We're going to figure it out," Mandelman said of the incident. "Even if it's allowed under the shield law, maybe we need to do something."
Mandelman becomes the latest San Francisco official to weigh in on the matter. Mayor London Breed has been sharply criticized for her initial support of the raid. Over the weekend she walked back her comments slightly, saying in a series of tweets that she was "not OK with police raids on journalists."
District 9 Supervisor Hillary Ronen has been "baffled," as she told the San Francisco Chronicle, over the incident, and from the outset has been critical of the raid. Supervisors Aaron Peskin, Matt Haney, Vallie Brown, and Catherine Stefani have all come out against the raid.
Comments on Facebook